Miguel Cabrera convinces young fan to change jerseys, rewards him with a gift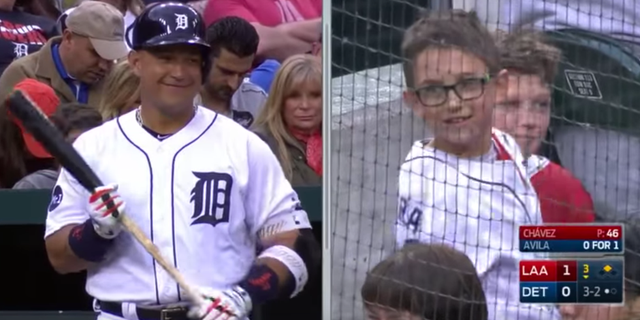 NEWYou can now listen to Fox News articles!
Miguel Cabrerainteractingwith fans hasbeen one of my favorite things in baseball for quite some time (right up there alongsideteammates messing with Adrian Beltre's head), and Tuesday night brought another great chapter.
During the third inning of the Tigers-Angels game, a young fan wearing a Mike Trout jersey campaigned to get a souvenir from Cabrera while the slugger stood in the on-deck circle. The kid got Miggy's attention but failed to secure a souvenir dueto his Angels jersey, despite the fact that he was wearing a Detroithat.
Fortunately for that kid,he had a Tigersuniform with him as well,and it just happened to be a Cabrerajersey. He made a quick wardrobe change and once again appealed to Miggy, who seemed quite satisfied. Eventually, the young fan was rewarded with one of Cabrera's bats to take home as a souvenir.
According to MLB.com, that youngster is a baseball fan from Michigan who wore the Trout jersey in support of one of his baseball heroes, even though the Angels outfielder is currently on the disabled list. It turned out to be a pretty good decision because not only did he get a bat from Miggy, but the Angels dugout also gifted him six souvenir baseballs thanks to his show of support forthe visiting team's star.
Now that's a kid who knows how toreap the rewards of playing it down the middle.