Miesha Tate vs. Amanda Nunes promoted to main event at UFC 200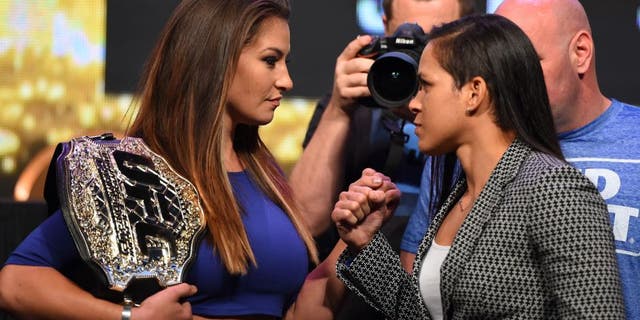 NEWYou can now listen to Fox News articles!
The women's bantamweight title fight between Miesha Tate and Amanda Nunes has been promoted to the main event slot at UFC 200 and will headline the historic event on Saturday night in Las Vegas.
The new bout order for the card was announced on Thursday night following the addition of a light heavyweight special attraction, as Anderson Silva now faces Daniel Cormier in a non-title bout.
Tate and Nunes will headline the card with Brock Lesnar vs. Mark Hunt set as the co-main event of the evening. UFC president Dana White confirmed the move on Thursday night.
Tate and Nunes take the marquee spot less than a day after White announced that Lesnar vs. Hunt would be the new main event. According to White, after examining the card, the UFC decided that the women's title fight deserved to be in the headline spot.
"Miesha is the woman who beat the woman who beat the woman. She's the champ," White said. "What she accomplished a few fights ago, you can't disrespect that. She should be the main event. She deserves that."
Typically, a title fight always would headline over a non-title fight on a UFC card, and the promotion decided to make that move after a hectic 24 hours.
The card shifted dramatically on Wednesday night after interim light heavyweight champion Jon Jones was pulled from his main event bout against Cormier following a potential doping violation from a drug test administered on June 16.
With Jones off the card, the UFC started making immediate changes, but the bout order was only finalized on Thursday after Silva was confirmed as a new opponent for Cormier.
The full main card order below:
MAIN EVENT: Miesha Tate vs. Amanda Nunes
CO-MAIN EVENT: Brock Lesnar vs. Mark Hunt
Daniel Cormier vs. Anderson Silva
Frankie Edgar vs. Jose Aldo (interim featherweight title fight)
Cain Velasquez vs. Travis Browne