Midweek Stock Report: Giannis on pace for historic season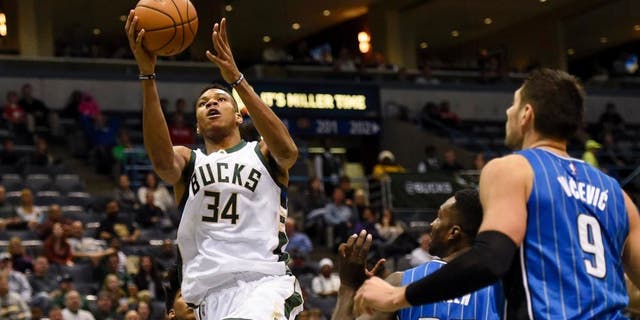 Every Wednesday, FOX Sports Wisconsin takes a look at which athletes' stock is trending up and whose is trending down.
In other words, who is making a meteoric rise, and who is quickly plummeting.
With that in mind, let's "take stock" of the current sports scene in Wisconsin.
Giannis Antetokounmpo, Bucks forward/guard
"The Greek Freak" picked up his first triple-double of the season Monday, leading the Milwaukee Bucks to a win over the Orlando Magic. Antetokounmpo finished with 21 points, 10 rebounds, 10 assists, five steals and three blocks. He's averaging 12.8 points, 8.5 rebounds, 5.8 assists, two steals and two blocks per game, putting him on pace for a historic season. The only players to top 21.5 points, 8.4 rebounds, 5.5 assists and two steals in a single season are Larry Bird, Magic Johnson and Scottie Pippin.
Jared Cook, Packers tight end
His untimely fumble aside, Cook finally broke through in his return to the lineup, racking up 105 yards and a touchdown on six receptions in a 42-24 loss to the Washington Redskins. He was quarterback Aaron Rodgers' go-to option Sunday, drawing 11 targets, while no other Packers pass-catcher logged more than six.
Aaron Rodgers, Packers quarterback
His supporting cast may be struggling, but Rodgers shined in Washington, throwing for 351 yards and three touchdowns with no interceptions. He now has 16 total touchdowns and just three interceptions in his last five games, as well as a quarterback rating of 102 over that span.
Alec Ingold, Badgers fullback
Ingold had a season-high carries in the Badgers' win over Purdue, scoring on a 1-yard touchdown run and adding a 19-yard touchdown reception. The sophomore has functioned primarily as the Badgers' backup fullback behind Austin Ramesh, but he now leads the team in receiving touchdowns.
Clay Matthews, Packers linebacker
Clay Matthews returned to the lineup after a three-game absence but struggled to shake off the rust, registering just one tackle in his first game action since Oct. 20, despite playing a season-high 86 percent of the Packers' offensive snaps.
Jeff Janis, Packers receiver
Janis has fallen out of favor with the Packers in a big way. He was on the field less than backup quarterback Brett Hundley in Week 11, playing just three snaps on offense after being on the field for 64 percent of the Packers' offensive snaps in a Week 9 loss to the Indianapolis Colts.
Greg Monroe, Bucks center
Monroe has played just 18 minutes combined in the Bucks' last four games, chipping in eight points and five rebounds over that span. Head coach Jason Kidd sat Monroe in a 96-73 loss to the Miami Heat on Thursday.