Midweek Stock Report: Davies, Thornburg sparkling on the mound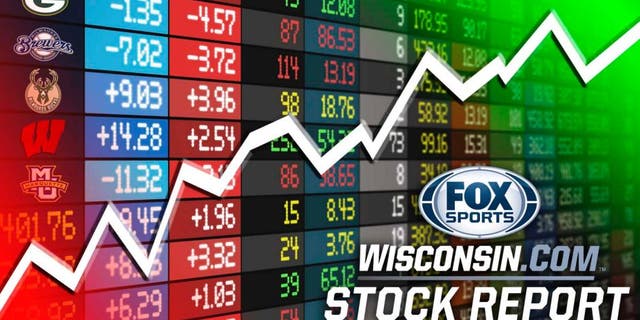 NEWYou can now listen to Fox News articles!
Every Wednesday, FOX Sports Wisconsin takes a look at which athletes' stock is trending up and whose is trending down.
In other words, who is making a meteoric rise, and who is quickly plummeting.
With that in mind, let's "take stock" of the current sports scene in Wisconsin, shall we?

UP
Tyler Thornburg, Brewers reliever
Thornburg has been pitching lights out in recent weeks, and hasn't allowed a batter to reach base since May 19, a franchise-record streak of 26 batters. Thornburg has allowed just eight runs on the season through 25 games, with the last one coming just over a month ago, on May 12.
Zach Davies, Brewers starter
Davies had a no-hitter into the seventh inning against Oakland on Tuesday, just continuing a string of good starts for the Milwaukee right-hander. In two starts last week, Davies allowed just 2 runs in 15 innings while striking out 14. After a rough April in which he had an 8.78 ERA, Davies has lowered it down to 4.29 with a strong May and June.
Jeff Janis, Packers receiver
Janis' Hail Mary catch in the playoffs last season is already the stuff of Packers legends, but his regular-season performance has never quite measured up. That could be changing. Janis continued to flash at practice on Monday, hauling in a 60-yard touchdown pass and outworking cornerback Sam Shields to do it. It took a while to leave the station, but all aboard the Jeff Janis hype train.
Ryan Braun, Brewers outfielder
Braun didn't have his best week offensively, but he joined exclusive company becoming just the fifth player in Brewers history to record 1,500 hits with the team.
Henry Ellenson, former Marquette forward
Another week, another sign that Ellenson could be a top 10 (top 5?) pick. The former Marquette star worked out for the Phoenix Suns on Tuesday. The Suns currently own the No. 4 and No. 13 overall picks in the upcoming NBA Draft.

DOWN
Joe Pavelski, former Badgers forward
Pavelski has been a force for the San Jose Sharks since the playoffs began, and currently leads all playoff scores with 13 goals, and ranks second with 22 points. There's just one problem: Through four games Pavelski has no goals, no points and a minus-3 rating in the Stanley Cup Finals, while the Pittsburgh Penguins are now on the cusp of victory with a 3-1 series lead.
Wily Peralta, Brewers pitcher
Peralta's disappointing season continued on Sunday. There's little shame in falling to Philadelphia ace Aaron Nola, but Peralta struggled mightily against the Phillies. The 27-year-old turned in his worst start of the season, allowing five runs in just 4 1/3 innings of work in an 8-1 loss to the Phillies.
Follow Ryan Lund on Twitter