Michael Jordans flu game is still unforgettable 20 years later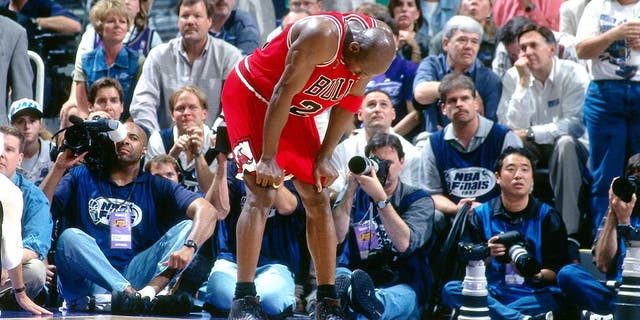 NEWYou can now listen to Fox News articles!
There is no shortage of unforgettable moments from Michael Jordans career, but one of the most indelible images occurred 20 years ago today Jordan being helped to the bench by teammate Scottie Pippen.
It would come to be known as the flu game, and just the mention of it likely leaves Utah Jazz fans sick to their stomachs. With the NBA Finals tied at 2-2 and the Chicago Bulls seeking their fifth title, play-by-play commentator Marv Albert let viewers know before the game that Jordan was suffering from flu-like symptoms a term that has grown in lore since this performance.
Jordan appeared lethargic from the start of the game as the Jazz built a 16-point lead in the first quarter. But as Utah appeared to take control of a pivotal Game 5, Jordan responded by scoring 17 points in the second quarter despite showing obvious fatigue, slumping over with his hands on his knees on the floor. He appeared even worse on the bench, where trainers gave him ice packs and fluids.
Dick Raphael/NBAE/Getty Images
Jordan battled through the symptoms and finished with 38 points, seven rebounds and five assists as the Bulls held on to a 90-88 win and eventually took the series in six games. But as great as Jordan was that day, many wondered what caused him to feel so ill.
Tim Grover, Jordans trainer at the time, released a book in 2013 titled Relentless: From Good to Great to Unstoppable and in it he said that Jordan wasn't suffering from the flu but rather food poisoning.
Flu or food poisoning, it doesn't take away from Jordan's performance, which was another chapter in his almost mythical career.