Michael Bisping rips Brock Lesnar in expletive filled rant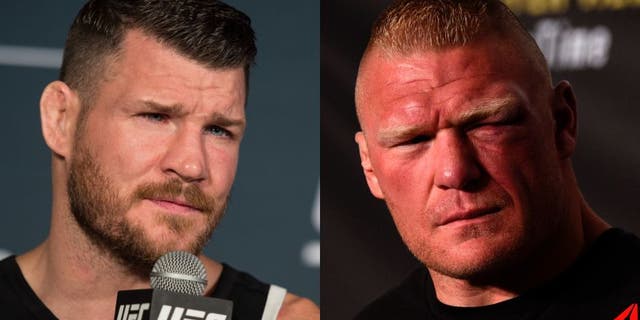 Michael Bisping has plenty of experience facing off against chemically enhanced opponents.
Throughout the course of his UFC career, Bisping has fought at least six opponents who have either failed a drug test at some point or used synthetic testosterone before the practice was banned in the sport.
So it's easy to understand why Bisping is one of the most outspoken advocates for drug testing in mixed martial arts not to mention rather harsh on fighters who have been caught cheating in the past.
Take for instance Bisping's take on former heavyweight champion Brock Lesnar, who tested positive for a banned substance ahead of his fight at UFC 200 with Mark Hunt.
Bisping was asked about Lesnar during a recent appearance on Ric Flair's podcast and the UFC middleweight champion exploded while speaking about the current WWE superstar.
"How tough do I think Brock Lesnar is? Listen, I respect any man that steps into the Octagon because it takes balls, but if you're going to go in there and take steroids to do it? (Expletive) you, you cocky son of a (expletive). Kiss my ass," Bisping said.
"I will knock Brock Lesnar out with one (expletive) punch, I will pick him up and throw him out like the Octagon like the (expletive) that he is. Am I making myself clear?"
Bisping has never been one to hold his tongue when it comes to performance enhancing drug use and it's clear he's no fan of Lesnar after his recent drug test results were made public.
Lesnar still hasn't faced punishment for the positive drug test although he's expected to appear before the Nevada State Athletic Commission for a hearing on the matter in November.
In Bisping's mind, Lesnar has already been tried and convicted and the veteran UFC middleweight has no room for another drug cheat in the sport.
"(Expletive) you Brock Lesnar. (Expletive) steroids. (Expletive) all these (expletive) who come out here and want to come out here and take steroids," Bisping said. "Am I making myself clear?
"I shouldn't have used that last word, sorry about that. Steroids are the scourge of this sport and anyone that takes them, kiss my ass."
Bisping makes no apologies for his explosive take on steroid users or Lesnar in particular because he believes cheaters have no place in MMA and they should be called out for their actions.
According to Bisping, Lesnar can use all the performance enhancing drugs he wants for his day job as a professional wrestler with WWE, but once it's time to step into the Octagon, either clean up or get out.
"He's a big son of a (expletive) but as I said, real men don't cheat in a real fight," Bisping said. "In your world, it's entertainment, you've got to look good, you've got to be big and it's expected for the audience. You guys, good for you. Real fights, we shouldn't be cheating and taking steroids."