Miami Marlins owner Derek Jeter blasts Bryant Gumbel as 'mentally weak' over tanking talk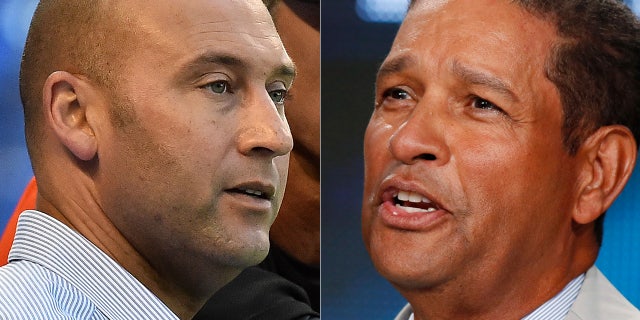 Derek Jeter, the former New York Yankees superstar and current embattled Miami Marlins owner, showed he can still take some powerful swings, slamming interviewer Bryant Gumbel as being "mentally weak" in a contentious exchange set to air Tuesday.
Jeter, the most famous member of the ownership group approved last year to buy the Marlins, has been under fire for trading away the team's entire 2017 starting outfield -- stars Giancarlo Stanton, Marcell Ozuna and Christian Yellich -- and other key players, such as second baseman Dee Gordon, in a bid to acquire minor league prospects and slash payroll.
Gumbel pointedly asked Jeter -- whose Yankees squads never had a losing record -- if his new team was "tanking" by not putting better players on the field, according to the Miami Herald.
"When you take the field, you have an opportunity to win each and every day," Jeter said. "Each and every day. You never tell your team that they're expected to lose. Never."
Jeter then accused Gumbel of being "mentally weak," prompting Gumbel to say Jeter was "delusional" if he thought the Marlins, who entered Monday last in the National League East at 5-16, could contend for a World Series title.
"If I don't believe with the -- in the players that we have on the field, who's going to believe in them?" Jeter said.
The Marlins' decision to slash payroll prior to the start of the 2018 season was criticized by many fans and writers during the offseason. MLB Commissioner Rob Manfred defended the organization's trades, which netted the Marlins several top prospects, and the team's overall commitment to winning in a December interview on "The Dan Le Batard Show with Stugotz."
"We don't get into, are you going to trade 'Player X' or 'Player Y' at a particular point in time, nor do we ask them to make a commitment to people before they even got in and made an evaluation of their talent level, their ability to win with the people that they have," Manfred said. "That's just not how the ownership process works."