MCREYNOLDS: What Is J.J.'s Legacy With Hendrick?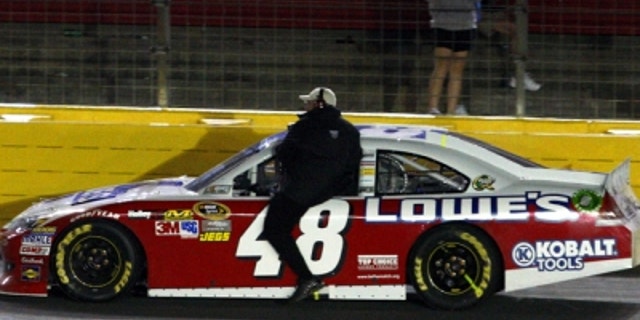 Even though he is still roughly 30 wins behind his teammate Jeff Gordon, after another amazing performance Saturday night in the NASCAR Sprint All-Star Race, Jimmie Johnson is easily sitting right next to Jeff as the greatest Hendrick driver of all time.
Jimmie also joined elite company Saturday night with that win. Now there are only three drivers — Jimmie, Jeff and Dale Earnhardt Sr. — who have ever won the Sprint All-Star Race three times.
When you stop and think about how much he has done in only his 11th full season in NASCAR Sprint Cup racing and the fact he already has one more championship than Jeff, it is simply amazing. Are we ready to say he is better than Jeff? I think that might be pushing it some. Knowing Jimmie the way I do, I doubt he would even like that type of discussion going on about him and Jeff.
Two weeks ago, until it won at Darlington, Johnson's No. 48 camp will tell you the team definitely was in a bit of a drought. The winless streak had lasted 16 races, which was close to the longest one it had ever experienced.
Crew chief Chad Knaus and I do a lot of media work together on various productions, so naturally we talk a lot. I know near the end of 2010 he was very concerned that the team was getting behind in some areas. He had a feeling that others were not only catching up to them, but also passing them.
The 2011 season seemed to bear that out. Granted, to most other teams the results would have made for a great season, but I think it wasn't up to the Hendrick team's standards. Johnson didn't win a pole all year. He had the least amount of wins he has ever had. The team finished sixth in the final points, which is the lowest it has ever finished.
This year was originally starting out sort of the same way. Johnson got wrecked out on Lap 2 of the Daytona 500. He had an oil pump issue that parked him at Talladega. Then, obviously, the big cloud over the team for a month was the controversy surrounding the penalty levied by NASCAR at Daytona on the C-Post design on the No. 48.
To me it showed the true character of that entire team, because other than in the races at Talladega Superspeedway and Daytona International Speedway, it has constantly been finishing in the top 10 every week. Plus now, backing up the win two weeks ago at Darlington Raceway with a win Saturday night for $1 million has to have them feeling really good about their 2012 chances.
This also has to send a scary signal to the other teams, because this week we are right back here at this track. Jimmie's win Saturday night now brings his total wins at Charlotte Motor Speedway to nine — three All-Star wins and six points-race wins.
Now we have to remember this Sunday's Coca-Cola 600 is a whole different animal. The All-Star Race was the shortest race we run, and Sunday will be the longest race we run this season. Also don't forget that history tells us that only 25 percent of the time does the driver who won the All-Star Race come back and win the Coca-Cola 600 the following week. Our own Darrell Waltrip was the first one to do it in 1985, and Kurt Busch was the most recent driver to accomplish that feat of sweeping both in 2010.
We saw some drivers Saturday night that we can pretty much count on to be strong again on Sunday. We also were surprised to see some drivers, like Tony Stewart and teammate Ryan Newman, who we expected to be a lot stronger clearly have a lot of work to do this week.
Except for maybe Jeff Gordon, the Hendrick teams looked really strong. So I look for the Hendrick group to be really tough out here at Charlotte Motor Speedway this weekend. The Roush Fenway Racing group tried some things during the All-Star Race that I promise you they won't mess with during the Coca-Cola 600 weekend.
Are we headed in the right direction with the format of the Sprint All-Star Race?
I believe we are. I like the fact that winning a segment is important to the overall scheme of things. I like the fact there wasn't any 10-minute break. I, for one, never liked that at all. So I really believe we are headed in the right direction and maybe just need a little more tweaking.
I like the fact the tweaks they made from last year's race had an effect on strategy this year. I like it when everyone is pretty much on a different agenda.
One area I believe needs to be worked at is once a driver won a segment, it seemed that particular winner cruised around during the others. So that might be an area that needs a massage. Again, though, I am not talking about major changes. This race we saw Saturday night just needs a little bit of tweaking.