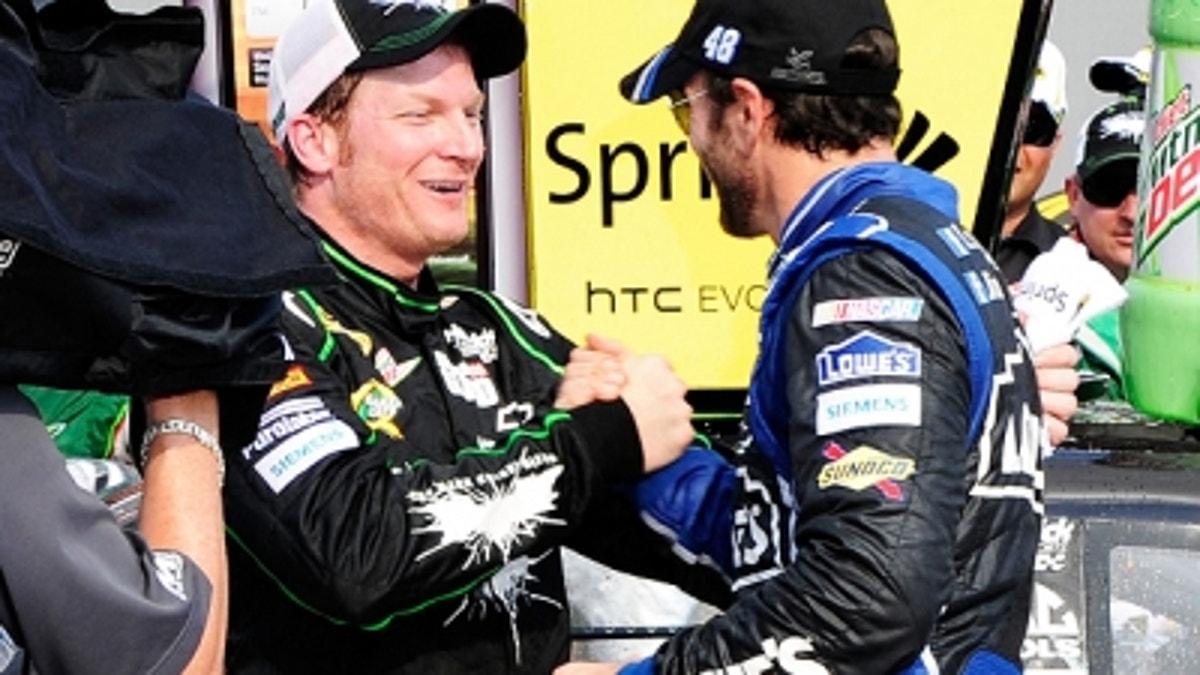 Indianapolis Motor Speedway has always been a hard place to race at for stock cars.
If you think about our typical superspeedways, they have long straightaways with high-banked corners. Now our short tracks are short straightaways with flat corners. When they built Indianapolis they married the two together. It has long straightaways with flat corners.
The other thing about Indianapolis is it features long green runs. The downside to that is it doesn't give these teams too many opportunities to adjust on their race cars. The teams that can get their car close to perfect before the race starts have a better chance of winning that event.
If you look at the statistics from our 19th race at the Brickyard, you will find something really interesting. Fifteen of those 19 races have been won by NASCAR Sprint Cup champions. This is a classic example, as I see if it, of the old saying "the cream rises to the top" when it comes to racing at the Brickyard 400. I think that is what happened Sunday at Indianapolis.
Jimmie Johnson's run may have been one of the more dominating performances that we have ever seen at the Brickyard 400.
Jimmie has to love the fact that in the previous 18 races there, eight different times the winner of the Brickyard 400 went on to win the NASCAR Sprint Cup championship. Of course, to take that one step further, Jimmie accounted for three of those eight.
I just think what we saw Sunday solidifies that his No. 48 team is a serious championship contender. Jimmie definitely has his sights set on winning his sixth series title. I mean if you watched that race Sunday, that team was all but flawless.
The other interesting development, especially to those of Junior Nation, was that Dale Earnhardt Jr. became our new points leader. Previous leader Matt Kenseth got caught up in a wreck. Taking over the lead, I believe, sends a strong statement about Dale Jr. as well.
This is the kind of season we've not seen Dale Jr. have in a long, long time. I might even wager we've never seen this out of him. Sure, he still only has the one win. What is also incredible is that his streak of finishing every single lap raced this year continues.
That's huge for a race team. It's huge to finish every race and not have a DNF showing. It becomes even more spectacular when you can finish every race on the lead lap. Those are the kinds of numbers that Dale Jr. is putting up. I think that makes a statement about every element about your race team.
This type of performance gives him and the entire No. 88 team more confidence. They also know that they have to be more than just consistent to win the championship. Again, Tony Stewart proved that to the world last year during the 2011 NASCAR Sprint Cup Chase. You simply have to put wins up on the board if you expect to walk away with the 2012 crown.
If they started the Chase tomorrow, even though he currently has the points lead, Dale Jr. would only have three bonus points from his one win. He would be behind Tony Stewart, Brad Keselowski and now Jimmie Johnson, who each would have nine bonus points from their three wins.
The other bright spot as we leave Indianapolis is we are headed back to Pocono. If you remember, Dale Jr. ran awfully well there back in June. That team played its cards a little conservative back then, but you can expect them to come out this weekend with guns blazing.
Sunday saw not only Hendrick Motorsports shine, but also Joe Gibbs Racing. Hendrick had three drivers among the top six finishers and Gibbs had two drivers in the top six. I said before the race that we would see a sprinkling of Brad Keselowski and Mark Martin. It played out that way, too, with Brad finishing ninth and Mark finishing 11th.
In Brad's case Sunday you saw them comfortable enough where they are about making the 2012 Chase to take a chance with fuel-mileage strategy. It didn't work out for them. With only six races to go before the 2012 Chase starts, they, Tony Stewart and Jimmie Johnson can now all try different things because they know they are in the Chase.
I would go as far to say you could include Denny Hamlin in that mix as well. Where they are in the points and with only a handful of races left before the Chase starts, those teams I mentioned can absolutely begin to roll the dice and try to steal not only another win, but those all-important three additional bonus points each victory brings once the 10-race championships stretch begins.