MCREYNOLDS: Control Is Behind The Wheel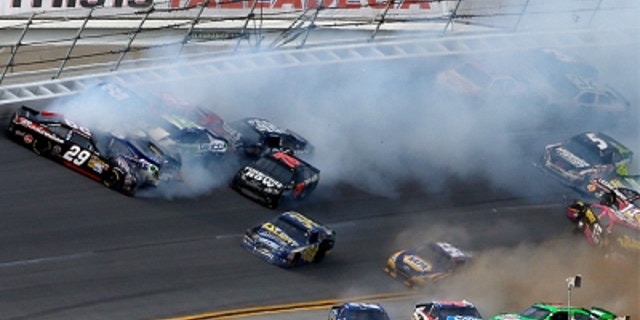 With roughly 15 laps to go Sunday at Talladega Superspeedway, we had already had right at 50 lead changes. That's a lot if you think about it. A lot of different drivers led the race, a lot of guys led it that are guys that needed good runs, in particular Jamie McMurray.
But you almost know when you have a caution flag with roughly five laps to go, and you bunch these guys up with 30-something drivers still on the lead lap, and they've got a green-white-checkered condition, meaning two laps of racing, and you've got guys that are desperate to win a race, you've got guys that are desperate to make gains in the points, that something is going to happen.
I'm shocked they made it all the way back to Turns 3 and 4 on the last lap. To see those guys run four- and five-wide for a lap and three-quarters, I know I was holding my breath. Then the big crash came.
You hate to see race cars torn up and there were 25 drivers involved in that final-lap melee.
Thankfully, no one was hurt. After the race I heard a lot of fans saying on the radio, big tip of the hat to NASCAR for all the safety innovations we have now.
Tony Stewart took full credit for causing the crash by blocking Michael Waltrip on the final lap. We could analyze that wreck and analyze it. The bottom line is with all these drivers coming through the last corner of the last lap to the checkered flag, that's what you're going to have.
I know we want to blame it on the restrictor plates, but I don't know of a single restrictor plate that has a helmet on it with two arms holding the steering wheel and two feet mashing pedals.
Obviously it's a product of restrictor-plate racing, but the drivers are the ones that control it and all I know is, you never please everybody. You would never, ever get there if you worked in this sport for 100 years.
We had kind of gotten away from this pack racing at Talladega and Daytona International Speedway with the two-driver tandems, where drivers worked in pairs to push to the front.
And the majority of the fans basically were threatening to walk away from the sport because they didn't like it. NASCAR worked the rules hard to get rid of it and go back to big-pack racing – I won't say all of our fans want it, but the majority of the fans want it.
So now, I don't know how the fans can complain about it, I really don't, because this is what they were complaining about not having once we got to the two-driver tandems.