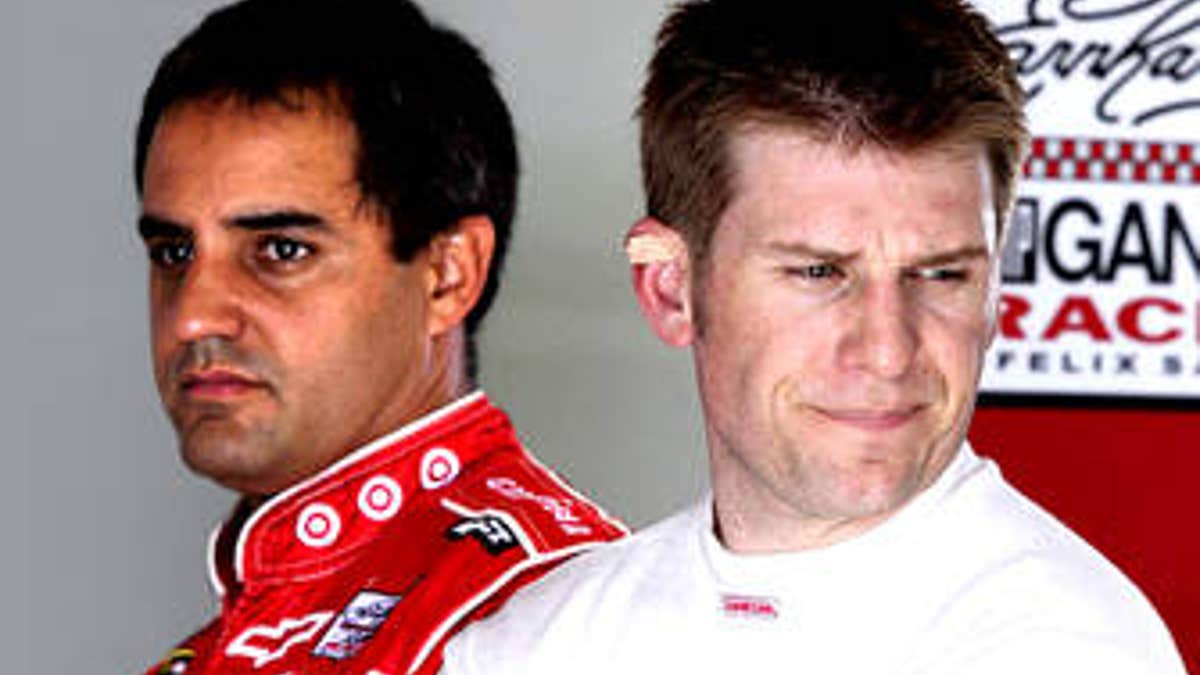 2012 Team Preview: Earnhardt Ganassi Racing
Owners: Chip Ganassi, Teresa Earnhardt, Felix Sabates (4 career wins, 0 career championships)
Drivers: Juan Pablo Montoya and Jamie McMurray (Finished 21st and 27th, respectively, in 2011)
Crew Chiefs: Chris Heroy (Montoya), Kevin "Bono" Manion (McMurray)
Key offseason changes: Red Bull Racing's technical director John Probst was added in September to serve in the same role at EGR. Veteran Ganassi crew chief Brian Pattie, who took a sabbatical in July, was replaced by engineer Jim Pohlman during the season and then Chris Heroy was hired as the permanent crew chief in November. Former Roush Fenway Racing castoff Max Jones became the team manager in December.
Overview: Chip Ganassi's description of his organization's 2011 performance as "pathetic for a team with our ability and our resources" led to an overhaul in management late last summer as it became clear that neither the Nos. 1 nor 42 teams were living up to their potential.
By July at Indy, where Ganassi had kissed the bricks one year earlier with McMurray, the No. 1 team was 28th in the points standings and Montoya was 20th after finishing 28th with the boss calling the shots in the 400. Yes, McMurray's results were plagued by two engine failures. Montoya wasn't satisfied with his cars or the "personal agendas" within the organization. From an engineering standpoint, things had to change starting from the chassis up.
When it became clear that EGR would miss qualifying for the Chase for the Sprint Cup -- again -- a plan to change the culture of the company was put into motion. Probst was brought in to oversee the technical side of the business. Probst served a similar role at Red Bull Racing during a time when that organization needed reinforcements.
With his knowledge of simulation programs that he brings to EGR, performance should improve dramatically. Probst has a history on the manufacturer side from his tenure with Ford and should be able to navigate those waters for additional engineering assistance.
Jones' arrival is somewhat curious at EGR since he lacks the people skills needed for a team manager's position. But with the departure of Ganassi competition director Hmiel and team manager Glover, perhaps it was necessary to fill a void.
Since the organization merged with Dale Earhardt Inc. in 2009, Montoya is the only driver there to qualify for the Chase. That occurred the first season of EGR; since then Montoya has scored just one win. That's hardly acceptable for a former Formula One driver and Champ Car champion. So Ganassi basically cleaned house with the No. 42 Target team - the flagship squad of the organization. Heroy, a rising star from Hendrick Motorsports, was recruited to rebuild the team and provide a fresh platform for Montoya. He brought in a slew of fellow HMS racers and only three original members remain.
It's clear that Heroy has great admiration for Montoya and if the driver returns that respect and invests himself in the team, this could be a breakthrough season in NASCAR for Montoya. While Montoya possesses tremendous car control, if he does not decide to commit himself to the program, it might be time for the 36-year-old to find a new hobby - besides racing. He's had five years to establish himself as a perennial contender and produced just two wins and one Chase berth. That's unacceptable for a driver of his talent.
This is a contract year for both McMurray and Bass Pro Shops so the pressure is on. While McMurray experienced a banner season in 2010 with three wins - half of his career victory total - he finished 27th in points last season, his worst finish in the standings since he began racing full time in the Cup series nine years ago. There's no doubt that getting caught up in someone else's wreck in the second race of the season and finishing 35th killed McMurray's momentum from the year before. But the addition of two engine failures would cause a funk for any team.
Although McMurray has experienced success with crew chief Manion in the past, EGR officials have put out feelers for his replacement. If this team doesn't make a splash early, expect a change on the No. 1 pit box.
Prediction: This is definitely a put-up-or-shut-up season for Earnhardt Ganassi Racing. With a new management group in place and a fresh engineering approach, Ganassi has removed any excuses on the equipment end of the equation. Montoya and McMurray will have the best resources available to showcase their talent this season. Both drivers are capable of winning races and qualifying for the Chase. And don't be surprised if Montoya finally scores an oval win.
But if progress isn't made by May, it's likely that heads could roll again. Ganassi is used to running an uber-successful program in IndyCar and it appears his patience has run out on the stock car side of his racing empire.