Matt Ryan wishes he could change one key play in Super Bowl LI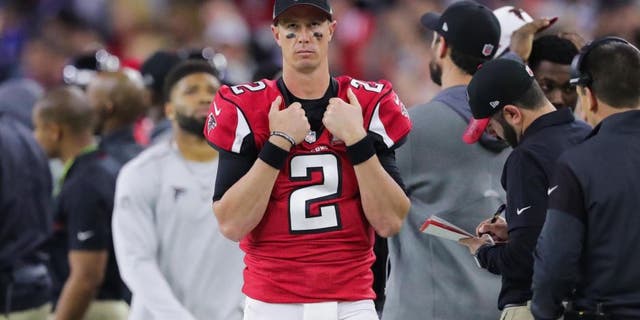 The Atlanta Falcons blew the biggest lead in Super Bowl history on Sunday night, and while it was largely the culmination of a few poor play calls, bad decisions and the sheer greatness of Tom Brady, one play was bigger than the others.
With just under four minutes to play and the Falcons leading by eight, Matt Ryan took a huge sack. It was second-and-11 from the Patriots' 23-yard line, and Ryan was sacked for a 12-yard loss. It essentially pulled the Falcons out of field goal range, leaving them with third-and-23 from the 35-yard line.
A holding penalty brought it back to third-and-33, which eventually forced Atlanta to punt. That sack changed the course of the game, considering a field goal would have all but ended New England's hopes. Not surprisingly, that sack is the play Ryan wishes he could change.
"For me, I wish I could have found a way to throw it away and not lose that yardage -- that would have been important for us," Ryan said after the game. "That drive, in particular, where we had it down to about the 20-yard line and didn't come away with points and the drive right (after) that where we had a short-field opportunity after the onside kick, to me those are two opportunities to close and it's pretty disappointing that we didn't do it."
Had the Falcons just been able to run it and not lose substantial yardage, they would have been set up with a field goal under 40 yards in all likelihood. If Matt Bryant converts, they're up 11 points with about three minutes to play. Instead, they punted and gave the ball back to Tom Brady. The rest is history.
Kyle Shanahan, the guy calling the plays on offense, agreed with Ryan with regards to the crushing sack.
"You always want to run the ball if you can. You got to look at each situation when you're getting the ball," Shanahan said. "We were trying to score there at the end. We got into field goal range where we would have ended it, but getting that sack and that holding call was tough.
"You don't think, just run the ball and make your guy kick a 50-yard field goal. You want to try your hardest to give him a great chance to for sure make it. We thought we could get some yards, but ended up getting a sack and it's not really an option after that."
If not for Trey Flowers making arguably the play of the game by bringing down Matt Ryan, the Falcons are likely Super Bowl champions.