Marlins' slugger Stanton OK'd for custom 'G' mask after brutal fastball to head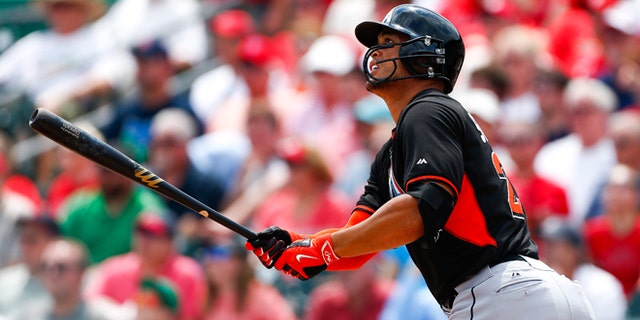 If Giancarlo Stanton is to be the face of the Miami Marlins, fans will have to look behind the customized mask he's been approved to wear, after a cringe-inducing beanball ended the season of Major League Baseball's highest paid player last year.
The black, carbon-fiber face protector features a "G" that will cover the left side of Stanton's face, which was badly injured last Sept. 11 when a fastball from Milwaukee Brewers' pitcher Mike Fiers struck him, causing multiple fractures, lacerations, and dental damage. The sickening video went viral, and raised questions about whether Stanton would even play again. But doctors said his vision would not be affected, and although Stanton, who was on an MVP pace with 37 home runs and 105 runs batted in, did not return last season, in November, he signed a 13-year, $325 million contract extension.
"Yeah, @Giancarlo818—The faceguard plays."
A spokesman from the team told FoxNews.com in an email that Stanton will wear the mask during the regular season. Major League Baseball took to Twitter in February and gave the nod of approval, "Yeah, @Giancarlo818—The faceguard plays." Stanton has already been sporting the unique device in spring training games.
The Miami Herald reported that the protective gear can withstand a 100-mph fastball. Stanton, who flew up to the helmet facility, helped design the gear, the report said.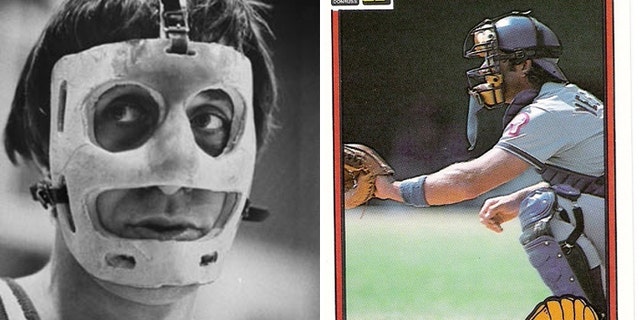 "He would stand there and mimic his batting stance and look to see if his site-line was obstructed at all," a spokesman for Schutt Sports, the guard's manufacturer, told the paper.
It is not uncommon for athletes to wear customized protective gear, especially after injuries. Pro basketball star Rudy Tomjanovich wore a full face mask after being seriously injured when Los Angeles Lakers forward Kermit Washington threw a devastating punch at him in a 1977 game. Since then, players including current stars Kobe Bryant and LeBron James have worn masks covering their faces. Los Angeles Dodgers catcher Steve Yeager had a specially-designed throat protector made for him after a broken bat pierced his neck in a 1976 game.
Stanton's gear is the first time a player will wear a customized piece of equipment with a personalized flare.
While the device may protect Stanton from future beanballs, there may be some debate about it, given that some pitchers believe anything that allows a batter to crowd the plate without fear of being hit by a pitch could confer an unfair advantage. So far, no known objections have been raised.
A Marlins spokesman said Stanton has no financial agreement with the company.