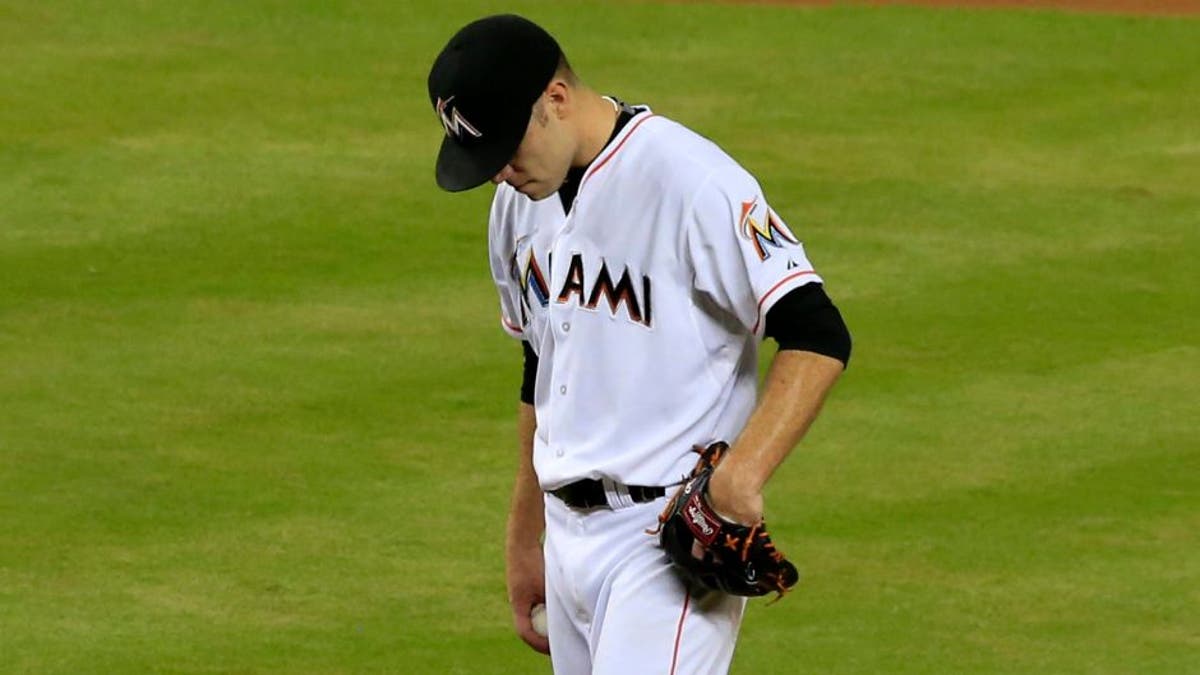 The Miami Marlins placed right-hander David Phelps on the disabled list with a right forearm strain and selected the contract of right-handed reliever Erik Cordier from Triple-A New Orleans on Monday afternoon.
Phelps exited Sunday's start vs. the St. Louis Cardinals in the third inning one pitch after surrendering a one-out, two-run homer to Jason Heyward. Without any warmup pitches, he left the field and the initial diagnosis was right elbow discomfort.
Following the game, manager Dan Jennings said Phelps would return to Miami and visit with medical director Dr. Lee Kaplan. The 28-year-old righty is 4-8 with a 4.50 ERA this season. He is one inning shy of his career-high mark for a single season at 112.
It's another blow to the Marlins, whose rotation is already without ace Jose Fernandez (right biceps strain) and 2014 All-Star Henderson Alvarez (right shoulder surgery). Righty Jarred Cosart, a member of the Opening Day group, is recovering from another bout of vertigo in the minors. Rookie southpaws Justin Nicolino and Adam Conley have taken over starting spots with fellow rookie Jose Urena also sidelined by an injury.
Another rookie, right-hander Kendry Flores, could slip into the rotation in Phelps' absence. Since being recalled from Triple-A New Orleans, he has been working out of the bullpen. Between Double-A Jacksonville and the Zephyrs, Flores held a combined 6-5 record and 2.34 ERA in 19 starts.
Miami signed Cordier, a former second-round pick by the Kansas City Royals in the 2004 draft, to a minor-league deal last week. Over 10 seasons with the Royals, Atlanta Braves, Pittsburgh Pirates and San Francisco Giants systems, he went 42-41 with a 4.04 ERA in 252 appearances.
Cordier posted a 3.38 ERA in four games for the Zephyrs, giving up three runs (two earned) on seven hits with seven strikeouts and one walk over 5 1/3 frames.
The 29-year-old righty appeared in seven outings for the Giants as a September call-up last season, compiling a 1.50 ERA. In six innings, he allowed four runs (one earned) on five hits with nine strikeouts, two walks, three hit by pitches and one wild pitch. His fastball can reach 101 mph.
You can follow Christina De Nicola on Twitter @CDeNicola13 or email her at cdenicola13@gmail.com.