Marlins' bullpen relinquishes lead, Braves win with a walk-off single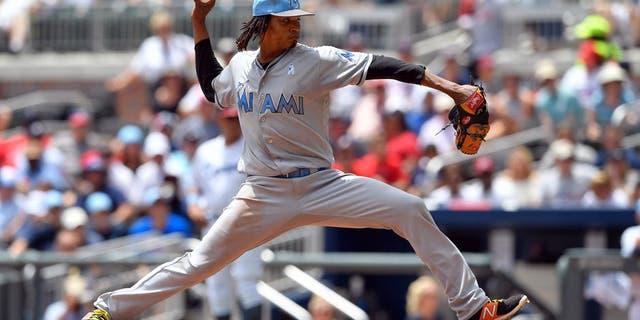 NEWYou can now listen to Fox News articles!
ATLANTA (AP) -- Brandon Phillips' single drove in Johan Camargo from third base in the ninth inning to give the Atlanta Braves a 5-4 win over the Miami Marlins on Sunday.
It was the second straight game-ending hit for Phillips, whose run-scoring single in the 10th gave Atlanta an 8-7 victory Saturday.
Camargo hit a one-out infield single off Drew Steckenrider (0-1) and moved to third on Ender Inciarte's line-drive single up the middle.
The Marlins called in Marcell Ozuna from left field to serve as an extra infielder positioned near second base for Phillips' at-bat. Phillips still managed to punch his single up the middle.
Jim Johnson (5-1) pitched a scoreless ninth.
The Braves took a 4-2 lead with four runs in the seventh. Nick Markakis slapped a tiebreaking, two-run single down the third-base line.
The Marlins pulled even on Ozuna's two-run homer off Jose Ramirez in the eighth.
Miami right-hander Jose Urena allowed two hits through six scoreless innings before he was pulled after giving up singles to Kurt Suzuki and Dansby Swanson to open the seventh. David Phelps gave up a sacrifice fly to Rio Ruiz and a pinch-hit single to Camargo that tied the game.
Justin Bour's bases-loaded, two-run single off Mike Foltynewicz in the sixth gave Miami a 2-0 lead.
Urena, who allowed two runs in six-plus innings, hit three batters with pitches. There was no retaliation from the Braves, though Foltynewicz threw an inside pitch that forced Urena, who was trying to bunt, to jump back in the third inning.
Urena hit back-to-back batters -- Matt Adams and Suzuki -- in the second after Matt Kemp led off the inning with a single. That loaded the bases with no outs, but Urena pitched out of the jam without allowing a run.
Markakis was also hit by a pitch from Urena with two outs in the third.
Foltynewicz allowed two runs on seven hits and two walks in six innings.
Braves manager Brian Snitker was ejected for arguing a called third strike on Adams to end the sixth. It was Snitker's second ejection of the season.
TRAINER'S ROOM
Marlins: LHP Justin Nicolino (bruised left index finger) will come off the DL to start against Washington on Monday night.
Braves: Kemp made his first start since straining his left hamstring on Wednesday. He appeared as a pinch hitter on Saturday.
UP NEXT
Marlins: Miami opens a home series against the Nationals on Monday night. Nicolino is 0-2 with a 6.55 ERA in three career games, including two starts, vs. Washington.
Braves: Atlanta's 10-game homestand continues with the first of four games against the Giants. RHP R.A. Dickey gave up seven runs, six earned, in his first start of the season against San Francisco, a 7-1 loss on May 28.