Mark Sanchez, Receiver Corp Could Create Problems for Defenses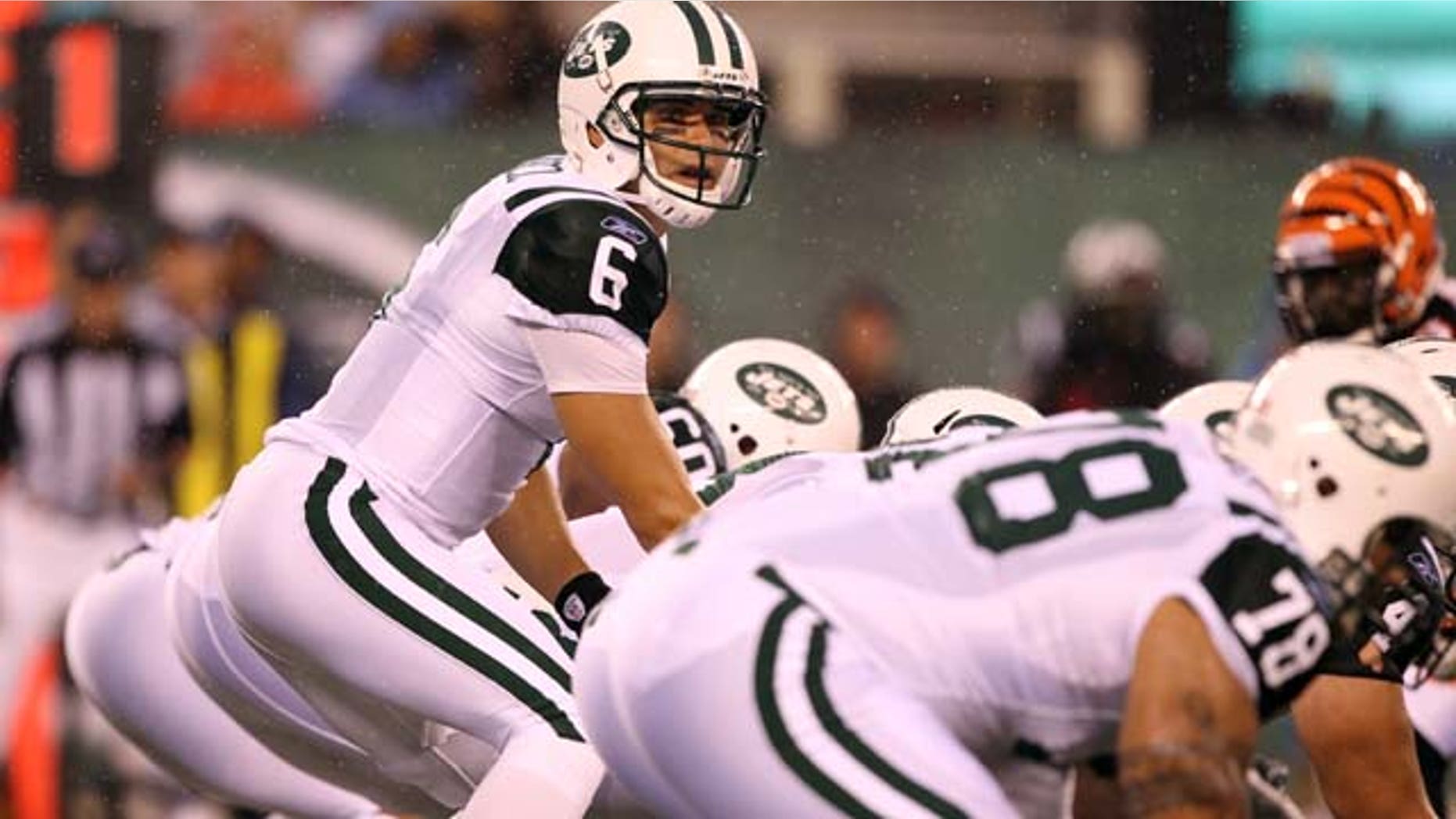 It seems that Mark Sánchez will have options galore this season.
After watching Plaxico Burress' spectacular debut, Santonio Holmes thought about how dangerous the New York Jets' passing offense can be.
So dominant, he thinks, that he almost feels sorry for the Jets' opponents.
"Oh," Holmes said, "it's going to be a long season for whatever defense comes out to play us."
That's because teams are going to have to deal with covering Burress, Holmes and Derrick Mason — not to mention rookie wide receiver Jeremy Kerley, tight end Dustin Keller and LaDainian Tomlinson coming out of the backfield.
"I think the sky's the limit for this group," the third-year quarterback said. "I know they'll go as I'll go, and it's a matter of me getting completions and being efficient, getting the ball on them."
After a three-catch performance, including a terrific touchdown grab in the Jets' 27-7 preseason win over Cincinnati on Sunday night, Burress' presence clearly makes New York's offense more formidable. He gives Sánchez a tall — he's 6-foot-5 — and sure-handed red-zone threat who has made plenty of big catches throughout his career.
"It's a nice bit of insurance there, having a big player like that, and a big body, somebody who knows how to use his body, and get completions to a guy like that," Sánchez said. "He's a great target. I think he's just a great complement for Santonio and Dustin and Derrick. We get all them rolling at the same time, then we'll be pretty efficient, I think."
Mason missed the game with a sore knee, but Rex Ryan said he would've played if it had been a regular-season game. Mason will fill the slot role that Jerricho Cotchery once did, while Burress replaces Braylon Edwards. Mason and Burress have been careful to not disrespect the guys they've replaced, but others have said they think the new guys might be upgrades.
"It's my job to make it work," Sánchez said.
If there was a concern, it was the Jets' inefficiency on third down, with the starting offense going 2 for 8 in the first half. They also managed just 16 yards rushing, but starting running back Shonn Greene missed the game while recovering from a skin infection on his right foot.
It was only one game, and in preseason at that, but Burress proved he is healthy and motivated — and still a solid receiver, even if he's a bit rusty after such a long layoff. Burress had seven balls thrown his way, and he made a few expected mistakes. But Sánchez got him in the mix immediately, connecting with Burress on a 20-yard pass on the Jets' first offensive play. They had another 20-yard hookup in the second quarter.
And, if there were still any doubters, he changed their minds with his over-the-shoulder TD grab.
Burress took off down the left side, drew separation from defensive back Fred Bennett in one-on-one coverage and hauled in the pass as he fell into the end zone to put New York up 17-7 just before halftime.
"When teams come out and run cover zero, an all-out blitz with no safety help, those are the plays you have to make on that coverage," Burress said. "It's one of the most disrespectful coverages in football."
Burress got up and bowed a few times to the rain-drenched crowd, which had seen him make similar plays for years with the Steelers and Giants. The athletic catch gave the Jets a 17-7 lead and left his teammates pretty impressed.
"On a scale of 1-10, I'd probably give it a 15," Holmes said. "The way he had to track the ball and catch it over his shoulder in the rain and never giving up on the ball, I think that just shows the sign of a great wide receiver."
Burress completed his comeback to the NFL with three catches for 66 yards. His last game was Nov. 23, 2008, at Arizona while with the Giants; a few days later, he accidentally shot himself in the leg in a Manhattan nightclub. He served 20 months in prison, dreaming of getting back on to the field the entire time.
"It just felt good to get back into the flow, to get into the game and get live competition," said Burress, signed by the Jets on July 31. "To get hit, catch the ball, just get the gist of it again."
He had been hobbled for the first few weeks of training camp by a sprained ankle, but put together a few days of full practices and felt good when he came out of the game at halftime with the rest of the starting offense.
"For me and Mark to go out there and make some of the plays that we have, I've only been practicing for three days," Burress said. "There's a lot of room for improvement. ... I think this offense can be really special."
Based on reporting by The Associated Press.
Follow us on twitter.com/foxnewslatino
Like us at facebook.com/foxnewslatino