Mark Hunt rips 'cheating bum' Alistair Overeem, reveals who he wants to fight next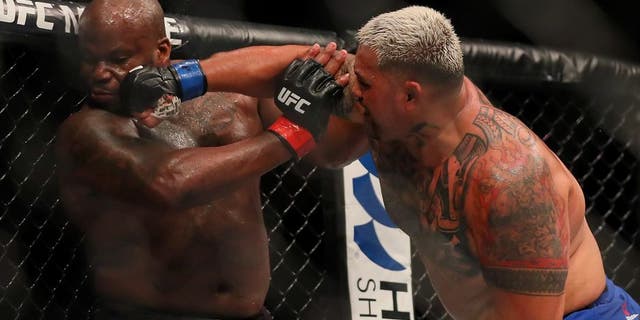 NEWYou can now listen to Fox News articles!
Mark Hunt is riding high after a victory on Saturday night over Derrick Lewis, but he hasn't forgotten his previous fight against Alistair Overeem from March.
On that night, Hunt suffered a devastating knockout loss courtesy of a knee strike from Overeem that put an end to the fight in the third round.
The loss has never sat well with Hunt, who has accused Overeem of cheating ahead of the fight after he was allowed to use an IV under a doctor's supervision due to food poisoning he suffered ahead of the event. An IV use over 50mL is typically banned by USADA (United States Anti-Doping Agency) unless prescribed and approved by a physician.
Add to that, Overeem has failed a past drug test in 2012 while competing in the UFC, and Hunt can't help but believe that the former heavyweight title contender has tainted all of his career accomplishments by acting outside the rules.
Consider that shots fired from Hunt but he's not just taking aim at Overeem with his words.
When asked about who he'd like to face next, Hunt mentioned two names in particular both fights where he suffered losses in the UFC and Overeem was obviously on that short list.
"If I can get [Junior dos Santos] for Japan. I'd like a rematch with him or Alistair [Overem]," Hunt said. "One of those two."
The next UFC card in Japan is scheduled for September and Hunt was a staple of the fight scene there during his many years competing under the K-1 kickboxing banner. It would be tough to deny him a return, especially considering how Hunt earned a knockout victory on Saturday night in the main event.
Whether he gets dos Santos or Overeem as part of that card remains to be seen.