Mark Hunt reveals his 'secret weapon' for Brock Lesnar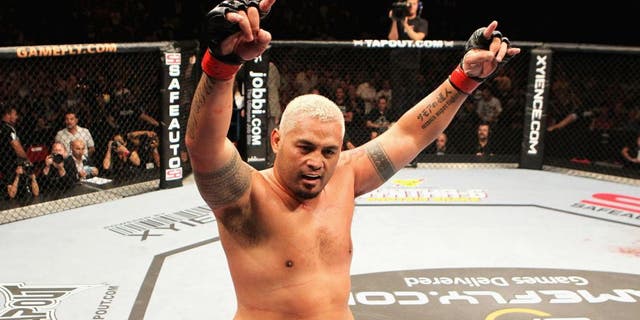 NEWYou can now listen to Fox News articles!
Mark Hunt has never kept any game plan secret and that isn't going to change ahead of his fight with Brock Lesnar at UFC 200.
Hunt is a power puncher with an incredible knack for knocking opponents out with one punch and then just turning around and leaving like he just hit a walk off home run in the bottom of the ninth.
For all the hype and attention Lesnar is receiving ahead of his first fight in the UFC in five years, Hunt says he'll go down hard just like Frank Mir, Roy Nelson and a slew of other heavyweights who have opposed him inside the Octagon.
"It only takes one (punch) in the heavyweight division. It doesn't take two or three - it only takes one," Hunt told FOX Sports recently.
In the lead up to the fight, Lesnar has stated that the strategy for both fighters comes down to two simple possibilities. For Hunt, it's looking for the knockout punch and for Lesnar it's taking the fight to the ground as quick as possible.
Some have wondered if Lesnar might just try to bull rush Hunt as soon as the fight starts in an attempt to take the fight to the ground before he eats any punishing shots from the veteran heavyweight contender.
Hunt actually invites Lesnar to go with that strategy because it won't end well for him and even if he tries to sit back and wait, the result will still be the same.
I don't think he's going to last five minutes. If he starts shooting right away, he's going to be out of there in the first round. I don't think he's going to be that stupid. -- Mark Hunt
"I think he'll try to conserve his gas tank, but I don't really care," Hunt said.
"Shoot ahead, homie -- I got you."
As much as Hunt views his knockout power as the game changer in a fight against Lesnar, who has been less than excited to get hit in any of his past fights in the UFC, it's not the biggest weapon he'll use on Saturday night.
Actually, Hunt has a secret weapon that he plans to use before knocking Lesnar to the ground and that's the one he knows will surprise the former NCAA wrestling champion more than anything.
"He's got to get it to the ground first. I'm totally confident in my takedown defense. That's the secret weapon on July 9 and we'll see if he can take me down," Hunt said.
Hunt's only focus on the fight at UFC 200 is winning, but there's no denying the attention that surrounds Lesnar's return and his potential future after this event is over.
A win on Saturday night would likely only serve to fuel Lesnar's fire to fight again but a devastating loss might send him in the other direction where he never returns again.
Hunt really doesn't care what Lesnar decides to do tomorrow or the day after the fight. So long as he shows up on July 9 and has some smelling salts nearby to wake him up after Hunt is done with him, Lesnar can do whatever he pleases.
"I can't change his mind about fighting. That's up to him whether he changes his mind. I don't really care," Hunt said. "I just care about knocking his face off come July 9. I don't care what he does afterward."