Manny Pacquiao and Juan Manuel Marquez to Meet Again in 4th Matchup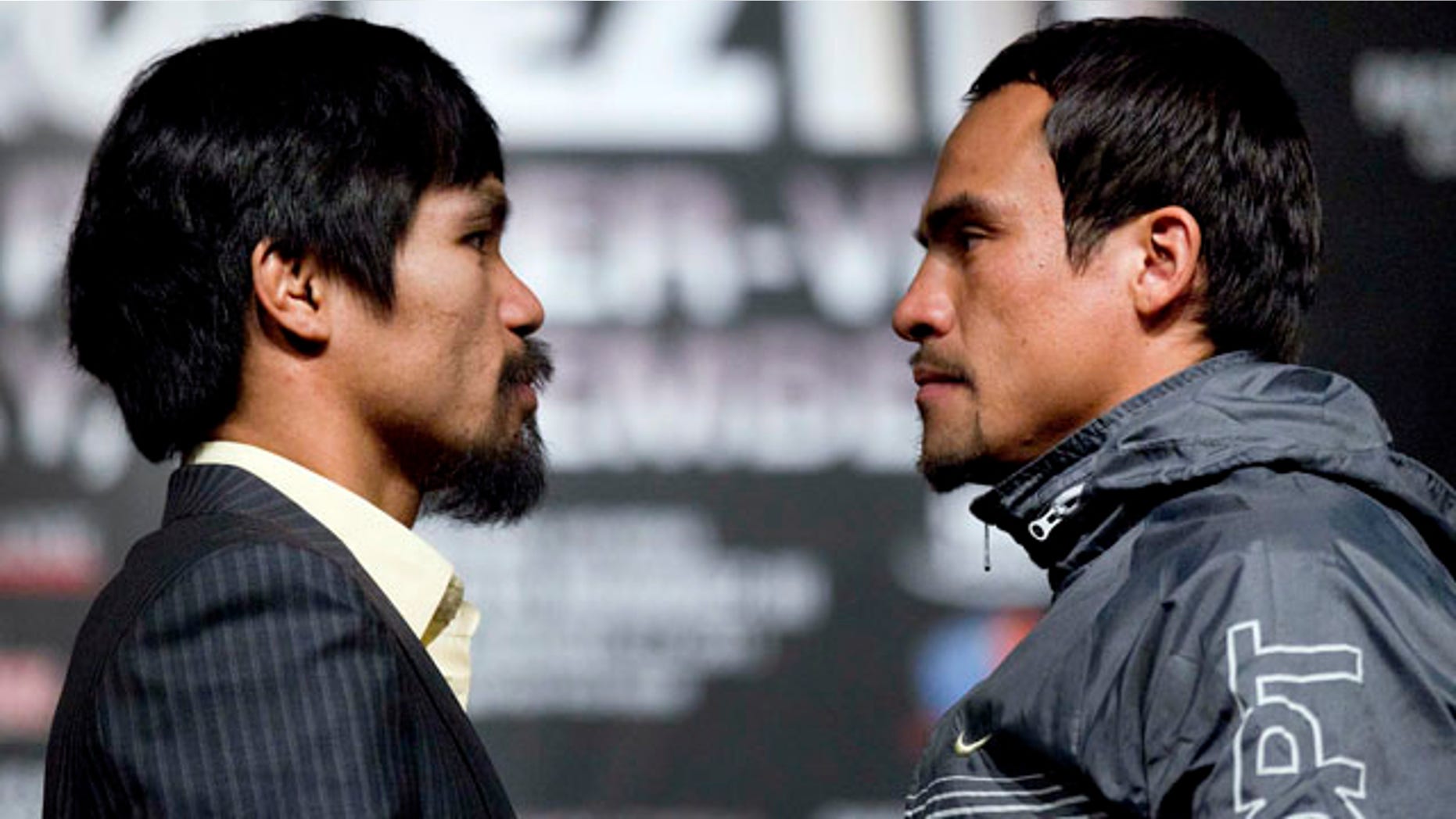 Manny Pacquiao and Juan Manuel Marquez have met in the ring time and time and time again. On Dec. 8, the two fighters will meet one more time in an apparent effort to determine who is the better boxing champion. That's four times if you're keeping score at home.
There had been rumblings Pacquiao-Marquez IV was in the works, so the announcement doesn't come as a surprise. But still, news of another iteration of Pacman vs. JMM generated hardly a blip, even among fight fans.
Pacquiao contends a rematch with Timothy Bradley, the fighter who controversially snapped Pacquiao's seven-year undefeated streak in June, would be boring. Virtually everyone – including the World Boxing Organization – agrees Pacquiao was robbed of what should have been his win.
Marquez makes for a more exciting opponent, the congressman-pugilist asserts. (Make no mistake, a rematch against Bradley is likely down the road. Pacquiao and his team were debating between Bradley and Marquez up until about a week ago.)
The first three Pacquiao-Marquez fights were memorable. The initial meeting in 2004 ended in a draw. Take two saw Pacquiao emerge with a split-decision win, aided by a third-round knockdown. Pacquiao-Marquez III was supposed to be the "deciding" bout, but -- despite Pacquiao winning on two of the three scorecards -- the third part in the trilogy ended being anything but decisive.
Each fight was close enough that many boxing fans and experts can reasonably argue the outcomes. Some believe Marquez should have emerged victorious in all three. Pacquiao wants to prove the critics wrong. Marquez wants to get his win.
Let's say Marquez is victorious. What does that mean? Will a single triumph by the Mexican legend trump the two wins Pacquiao previously claimed? Will the winner of Pacquiao-Marquez IV be declared the better of these two fighters once and for all? Or will the result just add more fodder for the seemingly never-ending debate?
Their last meeting was supposed to be the rubber match. Will this bout be winner take all? Will it be spun off yet again into best three-out-of-five?
The last thing anyone wants is for a pay-per-view matchup to feel like a rerun. Generating excitement for a fight, when viewers feel like they've seen how it ends before and before and before, is hard.
Pacquiao and Marquez are one of the most dynamic matchups in boxing, and it's undisputed that their last three meetings have delivered some exciting moments. Their Dec. 8 date will likely provide the same. But short of a knockout, which is how both boxers have said they plan to end the bout, can the fight live up to expectations?
What if it's another close one? Will that answer anything or will we find ourselves still debating who is better as we prepare for Pacquiao-Marquez XI?
Maria Burns Ortiz is a freelance sports journalist, chair of the National Association of Hispanic Journalists' Sports Task Force, and a regular contributor to Fox News Latino. Follow her on Twitter: @BurnsOrtiz
Follow us on twitter.com/foxnewslatino
Like us at facebook.com/foxnewslatino