Making the Grade: Passes/Fails for UFC Fight Night: Belfort vs. Henderson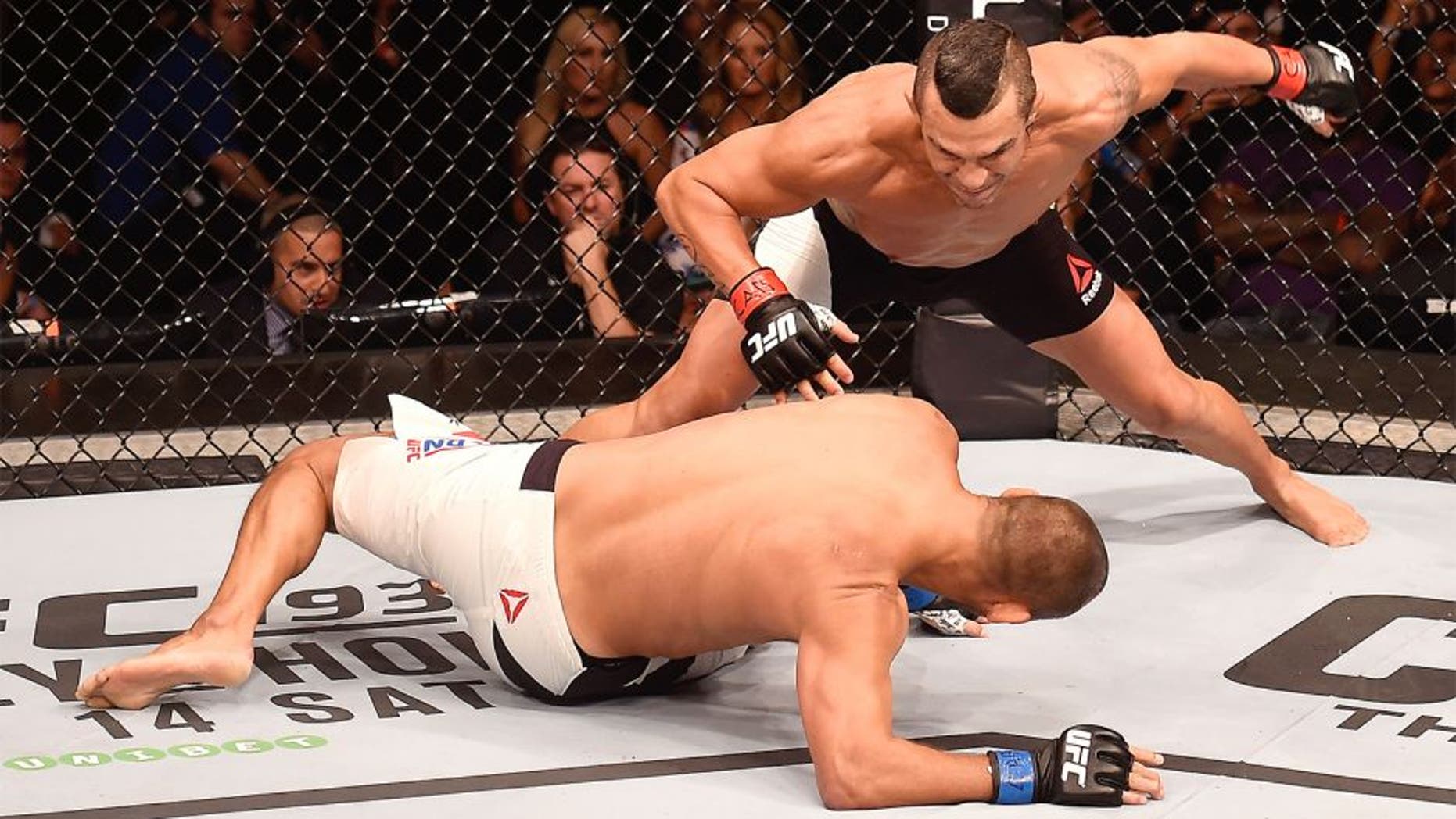 SAO PAULO, BRAZIL - NOVEMBER 07: Vitor Belfort of Brazil punches Dan Henderson of the United States in their middleweight bout during the UFC Fight Night Belfort v Henderson on November 7, 2015 in Sao Paulo, Brazil. (Photo by Buda Mendes/Zuffa LLC/Zuffa LLC via Getty Images) Buda Mendes/Zuffa LLC
Vitor Belfort shut the door on his rivalry with Dan Henderson on Saturday night as he launched another left high kick that put away the 45-year-old veteran in similar fashion to their last fight as Belfort capped off a trilogy of bouts that stretched back to 2006.
Belfort may have looked a little different on the scale compared to the last time he fought Henderson, but the performance was eerily similar. Belfort barely threw a strike before landing the high kick that put an end to Henderson's night and allowed the No. 4-ranked middleweight to get back on track following a loss to Chris Weidman in his previous fight.
Also on the card, rising star Thomas Almeida made short work of Anthony Birchak with a highlight reel knockout in one of the most brutal finishes in recent memory.
But we already know the results so we're going to dig a little deeper into the show on Saturday night to see what passed and what failed in Brazil. This is Making the Grade for UFC Fight Night: Belfort vs. Henderson.
PASSES
The Lion Still Roars
Say what you will about Vitor Belfort -- and there's a lot to be said -- he still came out on Saturday night and put on a classic performance even without the benefits of synthetic testosterone coursing through his veins.
Belfort has become the poster boy for injecting one substance or another into his body over the years, but in the age where testosterone replacement therapy has gone away and UFC-sanctioned drug testing is the norm, the once powerful Brazilian was forced to go natural for his past couple of fight camps.
While he stumbled in his fight against Chris Weidman in July, Belfort looked as good as ever on Saturday, when he waited like a lion as Dan Henderson pawed at him and then with one mighty roar he unleashed a left high kick that eventually led to the end of the fight.
Belfort may never be viewed as heroic or even honorable after all the bad things he's done -- and never paid for -- but there's still some fight left in this old lion and whether you hate to love him or love to hate him, it's still a reason to tune in every time he fights from now until retirement.
Almeida Delivers Again
Thomas Almeida got a real showcase win on Saturday, when he tattooed Anthony Birchak with his right hand, sending the American crashing to the canvas in the same fashion we saw when Lyoto Machida snatched Rashad Evans soul from his body in 2009.
Almeida is the real deal as he now sits with a 20-0 professional record and only Tim Gorman in his UFC debut managed to last to a decision with the devastating finisher out of Brazil. Almeida has three knockouts or TKO's in his past three fights and while his less-than-great defense has nearly cost him a couple of times, he looked better than ever in his last performance.
Almeida brings some real excitement to the bantamweight division in a similar way that Aljamain Sterling does the same with his flashy finishes. Despite being in the UFC for several years already, the bantamweight division is still establishing superstars and Almeida (along with Sterling) could be just what the weight class needs for the future.
Almeida is the kind of fighter you always tune in to watch and that hasn't always happened for the top fighters at 135 pounds.
There's Enough Room for Two Cowboys
For some reason every time Alex "Cowboy" Oliveira fights, inevitably someone makes a comment on Twitter saying that he's stealing his nickname from the "real" Cowboy Donald Cerrone.
Listen, in an age where there are no fewer than two fighters with the nickname 'Pitbull' at any one time in the UFC, there's no exclusivity on the name "Cowboy". Oliveira actually has just as much of a claim as Cerrone considering he was a former bull rider from Brazil.
Nicknames aside, Oliveira has become a fun addition to the lightweight division with his punishing knockouts and he landed another on Saturday night, when he put Piotr Hallman to sleep with a vicious punch in the third round. Oliveira is another up-and-coming Brazilian worth watching because whether it's the first round or the final minutes, he always seems to gun for the finish and that's a welcome fighter on any UFC show.
Actually, that's another trait he shares with Cerrone so instead of complaining about the two fighters sharing the same nickname, why not celebrate the fact that two Cowboys are always better than one!
FAILS
One More Round with Hendo
Dan Henderson is going to fight again so let's just start there.
Henderson suffered another brutal knockout to Vitor Belfort on Saturday, which immediately led to an out pouring of messages on Twitter that begged for the 45-year-old veteran to finally call it a career. Henderson has certainly faced a lot of scrutiny lately for his record, which now stands at 2-6 over his last eight fights.
That said, Henderson has no intention of retiring without competing in at least one final fight on his current UFC deal. Henderson said as much leading up to the fight with Belfort that win, lose or draw, he was going to finish out his current deal before deciding what's next.
Well, here's the deal -- Henderson has earned the right to get one more fight. He's going to be a Hall of Famer one day and the laundry list of people he's fought over the years would make most fighters cringe and twitch.
But one more might be enough and hopefully Henderson realizes that as well.
It's been an honor to watch him compete for nearly 20 years, but at some point the end has to come around for every professional athlete. Joe Montana had to stop throwing the football. Wayne Gretzky eventually had to step off the ice. And Dan Henderson needs to stop throwing punches one day.
Henderson gets his final fight because if anyone deserves it, he does, but after that hopefully the cagy veteran will look towards the future where he's teaching the next generation of fighters instead of taking punches as he closes in on 50.
EPIC FAILS
What Was That?
It feels like this "epic fail" section should just be called 'what did the referee and/or judges do wrong this time' but it just happens so often it's impossible to ignore.
The latest gaff came courtesy of Keith Peterson, who by all regards isn't a bad referee, but he made a really poor call in the fight between Gleison Tibau and Abel Trujillo.
Tibau was searching for a rear naked choke that turned into a slight neck crank while the two fighters scrambled on the mat, but during the course of the transition, Trujillo got caught and he grimaced as Tibau tried to lock up the hold. It was clear to any first-year Brazilian jiu-jitsu student that the arm wasn't actually under the chin and if anything Trujillo was about to roll through the hold to force Tibau to make an adjustment.
Instead, Peterson called off the fight as if Trujillo was asleep after Tibau locked on the choke. Trujillo was clearly fine, but the fight had already been stopped so it was too late to restart it.
There's nothing wrong with being cautious and protecting the fighter's safety at all costs, but Trujillo never got the chance to really defend himself because the fight was already stopped. Peterson made a really bad judgment call and unfortunately it's only Trujillo's record and bank account that will suffer for it.