'Madden NFL 16' trailer predicts Cardinals in Super Bowl 50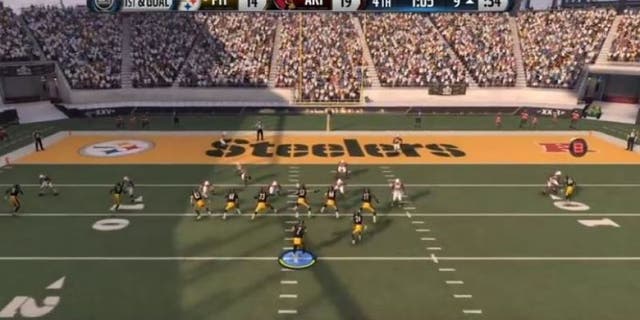 NEWYou can now listen to Fox News articles!
If "Madden NFL 16" is correct, Super Bowl 50 will be a rematch of Super Bowl XLIII, and the outcome --unfortunately for Bird Gang fans -- will be a virtual instant replay of the dramatic finish between the Pittsburgh Steelers and Arizona Cardinals.
As part of the game's cinematic opening, the folks at EA Sports take us into the Pittsburgh huddle (4:50 mark of video below) with a little more than a minute left and the Cardinals leading 19-14. After breaking the huddle, Steelers quarterback Ben Roethlisberger tells Antonio Brown to be ready because the ball is coming his way no matter what.
Sure enough, Roethlisberger throws the ball up to Brown on a fade route, and Brown outleaps corner Patrick Peterson to come down with the ball and put the Steelers ahead en route to the victory and a seventh Super Bowl title.
"The Steelers are in seventh heaven," yells play-by-play man Jim Nantz, referring to Pittsburgh's seventh championship.
The game-winning scenario is eerily reminiscent of the Steelers' Super Bowl win over Arizona back in 2009, when Roethlisberger found receiver Santonio Homes for the game-winning touchdown with just 35 seconds left for a 27-23 victory.
EA Sports was right on the money with its prediction of last season's Super Bowl, nailing the exact final score in New England's 28-24 win over Seattle.