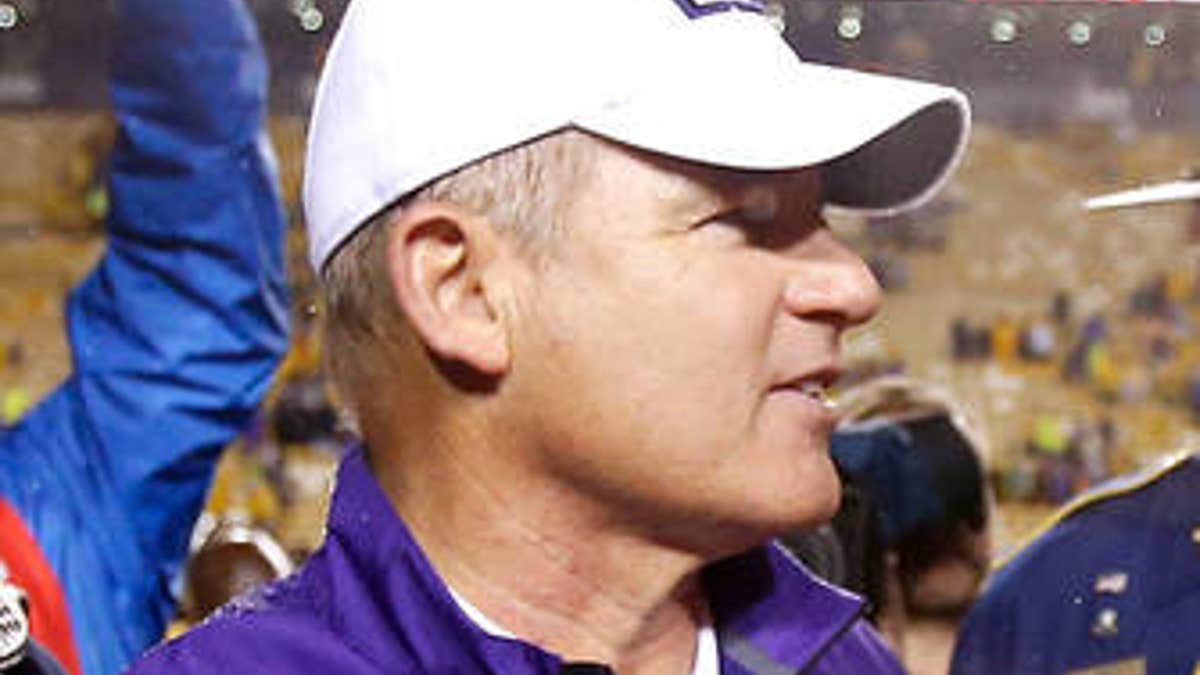 Auburn-LSU, Florida-Tennessee, Stanford-Arizona State and more from Week 4 in college football.
TIME TO RECOGNIZE LSU AS SEC, AND THERFORE BCS TITLE, CONTENDERS
It seems silly to say we underestimated this Louisiana State football team, considering it was ranked No. 12 in the preseason AP poll, but it's true. We overlooked Les Miles and all that Bayou talent.
The Tigers lost to Clemson in the Chick-fil-A Bowl to end the 2012 season, marking the beginning of a series of events that constructed this dark fort of skepticism in which we ordered LSU to exist all summer.
Quarterback Zach Mettenberger decided to return for his senior season. Now, I don't mean to type this with any semblance of surprise. It was no such thing, because, well, Mettenberger had no place else to go but back to Baton Rouge. What it did, though, was drive deeper the doubts that came with a Mettenberger-led offense.
He ranked 73rd nationally in passing efficiency (58.8), 69th in QB rating (128.34) and 53rd in yards per attempt (7.4) last season. He threw only 12 touchdowns in 13 games, with seven interceptions. In the bowl game, he had a 9.6 QBR, an advanced metric that judges a quarterback's true contribution to his team's offensive performance. The scale runs from 0 to 100.
So if you were an LSU fan last January saying, "We have Mettenberger at QB going into 2013," what you were really saying was, "We have a hell of a lot of questions going into 2013."
In February, Miles shook up his offensive staff by hiring Cam Cameron as his new offensive coordinator, leaving Greg Studwara to focus solely on his work with the offensive line. Cameron and Miles had been friends since coaching at Michigan together in the late '80s and early '90s under Bo Schembechler.
Since Cameron was hired to fill the role of OC, I supposed his previous stint in college coaching - going 18-37 as head coach at Indiana from '97-01 - isn't entirely relevant. But it is relevant to note that last December, Cameron was fired as the offensive coordinator of the Baltimore Ravens. In Baltimore, they said Cameron's offense had become predictable and he wasn't able to maximize Ray Rice's abilities. Cameron was replaced by Jim Caldwell, who then helped the Ravens win the Super Bowl.
So if you were an LSU fan last February saying, "We have Mettenberger at QB and new blood on the offensive staff," what you were really saying was, "We have ... oh god, we have so many questions."
In April, leading rusher Jeremy Hill was arrested for punching a man outside of a bar. Hill was already on probation for a 2011 arrest - he pleaded guilty to misdemeanor carnal knowledge of a juvenile - and now he faced misdemeanor battery. Miles announced Hill was suspended from the team indefinitely. These were not the best days for offense at LSU.
What happened on defense? Everybody left. Well, not literally everyone, but many.
Ten underclassmen turned pro (not counting Tyrann Mathieu, who didn't play in 2012), and the Tigers' D lost seven starters. Most everyone knew LSU had layers of talent ready to be peeled back, but most everyone also assumed no one unit can replace that much quality talent in one swoop without regressing a bit. The defense, too, had questions.
In LSU's first four games of the 2013 season - four victories, the latest coming Saturday against Auburn , 35-21 -- what has happened?
A lot of those questions found answers.
THE OFFENSE
The one thing Miles did know when he hired Cameron is that he would bring a vertical element to LSU's offense, which would fit nicely with Mettenberger. It didn't take Cameron very long around his new QB to proclaim that Mettenberger throws the football like Joe Flacco .
I don't know if NFL scouts would agree with that statement, but we can't deny the early success of the Cameron-Mettenberger partnership. Entering Week 4, Mettenberger ranked third in the country in passer rating (205.29) behind only FSU's Jameis Winston and Baylor's Bryce Petty. After beating Auburn, Mettenberger sits fourth in the country in yards per attempt (11.3) and has 10 TDs to only one interception.
Receiver Odell Beckham Jr. has been a great beneficiary of the looser offense, with 20 catches at almost 20 yards per touch and four TDs. That predictable and stuffy system Cameron was accused of running in Baltimore? We're not seeing that at LSU.
Miles has praised Cameron's ability to utilize all of LSU's offensive personnel - including making use out of fullbacks Connor Neighbors and J.C Copeland -- and a significant part of the opened-up offense, of course, is Hill.
After a judge handed Hill two more years of probation instead of jail time in early August, Miles gave the team the option to invite the sophomore back. Well, of course they did, and Hill has produced 350 yards rushing and six TDs in three games (Miles suspended him for the season-opener against TCU), including 183 yards and three TDs Saturday against Auburn.
Suddenly, there don't seem to be many questions fluttering around Mettenberger's ability or Cameron's competence. As long as Hill remains on the field, there are no questions about the backfield, either.
And so if you're an LSU fan in late September, what you're thinking is, "No, we may not be Texas A&M, but we possess all the offense we need."
THE DEFENSE
The amount of elite talent LSU lost off last year's defense really is staggering. Five starters were drafted in the first three rounds: DE Barkevious Mingo, S Eric Reid, LB Kevin Minter, DT Bennie Logan and DE Sam Montgomery. That's not including starting safety Tharold Simon, who was drafted in the fifth round by Seattle two days after being arrested on suspicion of intimidating a police officer .
But here we are now with four weeks complete, and the Tigers are fine. They're 30th in yards per play, and Anthony Johnson and Ego Ferguson are as good a D-line duo this side of Notre Dame's Stephon Tuitt and Louis Nix. Johnson is a first-round prospect for the 2014 draft, and Ferguson is rising.
Senior Craig Loston, who had one of LSU's two picks on Auburn QB Nick Marshall Saturday, and junior Ronald Martin have filled in the safety spots, and Jalen Mills, a sophomore corner, is showing flashes of being the latest LSU ball hawk. There's some inexperience at the linebacker position, but overall it is strong, with Lamin Barrow back as a senior to anchor the unit.
LSU has a lot of new names on defense this season, but as we're beginning to see, that doesn't necessarily mean something significant was lost. John Chavis still runs the Tigers' defense, and as Johnson said in August , "We don't talk about there being a drop-off. We replace talent with talent at LSU." That sounds about right.
I don't know how this season will turn out for LSU. Yes, it's only four games. But opportunities remain on the schedule to build a strong case, even if that includes a loss. LSU is at Georgia next week, has Florida (without Jeff Driskel) in two weeks, is at Alabama on Nov. 9 and then has Texas A&M at home on Nov. 23. It's a difficult slate, but that's the SEC. That's life at LSU every fall.
Five months ago, I think most of us would have been surprised if the Tigers were up for a run at a conference championship (and, therefore almost by default, a run at a national championship).
Saturday, as many were lamenting the poor Week 4 docket, I was intrigued by the possibilities ahead for LSU, from Baton Rouge to Tuscaloosa to, perhaps, Pasadena. After a month, that doesn't seem so crazy.
FOUR NOTES FROM WEEK 4
1) USC handles Chuckie Keeton and reveals nothing new
Earlier this week, I spoke with a rival defensive coordinator who has studied Utah State QB Chuckie Keeton over the last year, and he was noting Keeton's improvement this season.
"The biggest progression for him is he's more comfortable in the pocket and not antsy to get out," the defensive coordinator said. "The D-line has to keep him balled up and not let him escape, but that's easier to say then do. So you have to give him different looks."
USC defensive coordinator Clancy Pendergast did a nice job of mixing up creative blitz packages and getting pressure on Keeton. The Trojans held him to 21-of-39 for 179 yards and two TDs. They kept Keeton mostly in the pocket, and he didn't look particularly comfortable there on this day, hurrying some throws into the flat and missing some targets. The 17-14 win was a feather for USC's defense.
And yet, we didn't learn anything about USC. Cody Kessler was below average, going 13-for-26 for 164 yards and one touchdown. Tre Madden piled up 93 yards on the ground but needed 24 carries to do it. USC had only two drives longer than 30 yards, which it converted both into touchdowns.
Sure, with all the fuss following Kiffin around, the Trojan's will take the victory and move forward into next week at Arizona State. But with four weeks down, USC is last in the Pac-12 in total offense and only 0.02 yards better than last-place Washington State in yards per attempt. Nothing has really been answered about USC.
2) Will Florida be more potent with Tyler Murphy?
The comforting news for Florida is it has a second quarterback who looks capable of at least competing against SEC defenses. When Jeff Driskel went down with a fractured right fibula early in the first quarter against Tennessee, redshirt junior Tyler Murphy stepped in. Murphy hadn't thrown a pass in his college career until Saturday.
Despite that, he did quite well, completing eight of 14 passes for 134 yards and a touchdown and rushing for 84 yards (10 carries) and another TD. Most importantly, in a game that featured nine turnovers and had Vols coach Butch Jones turning maroon with anger in the first half, Murphy took good care of the football and utilized his quality pair of running backs. Mack Brown had 86 yards and a TD on 24 carries, and Matt Jones chipped in 49 yards and a TD on 12 carries.
It's tough news for Driskel, who will need surgery on his leg, but I imagine a good percentage of Gators fans are waking up Sunday and asking their buddies, "Are we a better team with Murphy under center?"
Not to diminish experience and poise and all of those things, but it does look like the Gators can do some things with Murphy that they couldn't with Driskel. Murphy has the arm strength to stretch the field and the mobility to make defenses respect the threat of a QB scramble. I think it's fair to say Driskel is less dynamic, and therefore so were the Gators with him at QB.
We'll see. The Gators still have to go to LSU and South Carolina before finishing the season at home against Florida State, but they could be better equipped now to handle those defenses.
<A href="http://msn.foxsports.com/video?videoid=db2d9331-6e33-46d7-8c0c-747e32d7efbe&src=v5:embed:syndication:&from=shareembed-syndication" _cke_saved_href="http://msn.foxsports.com/video?videoid=db2d9331-6e33-46d7-8c0c-747e32d7efbe&src=v5:embed:syndication:&from=shareembed-syndication" target="_new" title="Highlights: Tennessee vs. (19) Florida">Video: Highlights: Tennessee vs. (19) Florida</A>
3) Stanford still isn't clicking, which didn't matter against Arizona State
It's impossible to sleep on the Cardinal, as they are ranked No. 5 and have been built up as a national title contender all offseason, but I do think they will be overlooked a bit in coming weeks simply because they don't play in the SEC and they aren't an Oregon type that naturally attracts attention.
So it's a bit scary to watch them roll over ASU 42-28 and think, "Eh - they aren't even close to playing as well as they can." Kevin Hogan was efficient, completing 11 of 17 passes for 151 yards and two TDs (one pick), and Tyler Gaffney and Anthony Wilkerson combined for 155 yards rushing and three TDs on 36 carries.
Stanford's D softened a bit in the second half but did a lot of good things, picking two balls off Taylor Kelly, holding Marion Grice to only 2.9 yards per carry and allowing ASU to convert on 33 percent of third downs. None of the Cardinal's numbers scream for attention, so we're tasked with looking for other takeaways. Against ASU, Stanford's physicality and speed in the secondary stood out.
If we haven't learned much about Stanford until this point, we will soon. Starting in Week 6, Stanford plays Washington, at Utah, UCLA and at Oregon State before having a week off to prepare for Oregon. The Bruins at home may turn out to be Stanford's toughest test, non-Oregon division.
<A href="http://msn.foxsports.com/video?videoid=123e96bd-0914-4dda-83f2-041b65381955&src=v5:embed:syndication:&from=shareembed-syndication" _cke_saved_href="http://msn.foxsports.com/video?videoid=123e96bd-0914-4dda-83f2-041b65381955&src=v5:embed:syndication:&from=shareembed-syndication" target="_new" title="Highlights: (23) Arizona State vs. (5) Stanford">Video: Highlights: (23) Arizona State vs. (5) Stanford</A>
4) Taysom Hill prepares Utah for upcoming dual-threat QBs
Utah defensive coordinator Kalani Sitake laughed over the phone a couple days ago talking about BYU's running game and what it did to Texas in Week 2.
"You have to give BYU credit, they broke a lot of tackles, but 500 yards rushing is scary," Sitake said. "That's unbelievable."
Heading into the Holy War, Sitake knew the Utes would have to be disciplined against BYU's running game, but he thought the Texas game was skewing the perception of Hill, making some believe he's a run first, throw second quarterback.
"His throwing ability in the past has been underrated because of the horrible weather conditions they play in," Sitake said. "People say [Hill] can't throw, but that's not true. Unless we get a huge blizzard, we're going to face a much different guy."
There was no blizzard in Provo Saturday, and Utah did see a different attack, with Hill putting the ball in the air 48 times. He completed only 18 of those throws for 260 yards with one interception. Sure, Utah didn't totally control Hill - he also rushed for 99 yards on 20 carries - but it was good work against a legitimate dual-threat quarterback. Consider it something of a practice test for Brett Hundley and Marcus Mariota.
THE BUZZER
Five completely non-football related things that happened
Texas fans have officially started their Nick Saban campaign, with shirts and a website .
I'm pretty sure you had a better Saturday than this ref did .
Some college football players wore 'APU' on their uniforms Saturday in protest against the NCAA . Bold move.
Don't tell San Jose State's punter that kickers don't like to get after it .
Really good TV piece for Joel Klatt on returning to Boulder in support of his former college program after the town was hit with a flood.
NOTES FROM THE NATION
An assortment of links from around college football
SEC
Nick Saban made some changes in his secondary as Alabama beat Colorado State, writes Michael Casagrande.
Mistakes sunk Auburn against LSU, but the second half provided some hope , writes Brandon Marcello.
LSU got a big night from Jeremy Hill, but Les Miles wasn't pleased with how the Tigers finished , writes Jim Kleinpeter.
After Jeff Driskel went down, Tyler Murphy made the most of his opportunity , writes Dave George.
Brent Zwerneman highlights Texas A&M's easy victory over SMU .
PAC-12
USC's defense made a strong case against Utah State, writes Gary Klein.
UCLA honored Nick Pasquale at home by playing a man down on the first play , writes Chris Foster.
Utah held off BYU to win its fourth straight Holy War , writes Jay Drew.
Stanford overpowered Arizona State in its Pac-12 opener, writes Ron Kroichick.
Washington smoked Idaho State and now prepares to begin Pac-12 play , writes Adam Jude.
BIG 12
Beating Kansas State doesn't cure Mack Brown's ills , writes Tim Cowlishaw.
Baylor crushed Louisianan-Monroe and is ready for Big 12 play, writes Daniel Hill.
Texas Tech beat Texas State, but it was the second straight sloppy offensive game for the Red Raiders, writes Don Williams.
What looked like a good matchup for Kansas State turned out to be a mismatch , writes Kellis Robinett.
Kansas beat Louisiana Tech on a last-second field goal from a kid who spent last season in the students' section , writes Rustin Dodd.
BIG TEN
Against UConn, Michigan once again had far more drama than necessary , writes Mitch Albom.
Joe Rexrode grades Michigan State's loss to Notre Dame.
Nebraska's replacements put on a good show in a big win over South Dakota State, writes Sam McKewon.
Wisconsin leaned on its ground game to crush Purdue, writes Jeff Potrykus.
Braxton Miller sat out another game, and Ohio State beat Florida A&M by 76 points , writes Bill Rabinowitz.
ACC
Georgia Tech spotted North Carolina a 13-point lead and then made a comeback , writes Ken Sugiura.
The Tar Heels were so close to winning in Atlanta, but again their misery continued , writes Andrew Carter.
Pitt and Duke engaged in an offensive shootout, and the Panthers were a little bit better , writes Laura Keeley.
Maryland shut out West Virginia to improve to 4-0, and it finally looks like Randy Edsall has the Terps on the right track , writes Jason Reid.
Florida State enjoyed another easy win, but the Seminoles have plenty of room to grow , writes Bob Ferrante.
OTHERS
Louisville smoked another one of weak opponents, and Adam Himmelsbach is thinking it's going to be a special season for the Cards .
It's hard to know if Notre Dame's win over Michigan State was hard-fought or just plain luck , writes Brian Hamilton.
Northern Illinois remained undefeated after beating Eastern Illinois, writes Shannon Ryan.
Cincinnati beat Miami (Ohio), but it sure was ugly , writes Paul Daugherty.
Houston beat Rice to retain the Bayou Bucket , writes Joseph Duarte.
Teddy Mitrosilis edits and writes college football for FOXSports.com. You can follow him on Twitter ( @TMitrosilis ) and reach him at tmitrosilis@gmail.com.