Lovie Smith on holding call: 'Of course I thought it was a good call'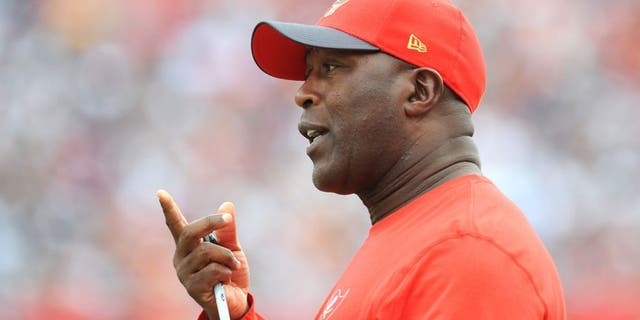 When the game came to a close, the Tampa Bay Buccaneers had walked away with a hard fought win and an impressive defensive performance.
What the box score won't show, was the nearly disastrous ending to Sunday's 10-6 victory over the Dallas Cowboys.
As Jameis Winston took off towards the end zone and dived to cross the line, it looked as though he was clear to give his team the win. Then you could spot the ball bouncing on the ground short of the goal line.
Dallas picked it up, but a flag saved Winston and the Buccaneers from a brutal meltdown. Tampa Bay got another shot, thanks to the defensive holding call, and Winston came through on a bootleg touchdown run.
So, what'd Lovie Smith have to say about the defensive holding call? According to Eric Horchy of Pewter Report, he obviously thought it was a good call.
"Right away we saw one of our guys was held," he told Pewter Report of receiver Russell Shepard being grabbed by Heath. "I thought it was a good call. Of course I thought it was a good call."
Shepard was definitely held on the play, but Smith is right that it was a good call, all jokes aside.
Tampa Bay moves to 4-5 and absolutely keeps those playoff hopes alive. Next up? Another NFC East opponent in the Philadelphia Eagles.
MORE NEWS: Want stories delivered to you? Sign up for our NFL newsletters.