Los Angeles Lakers Gain Momentum, Top New York Knicks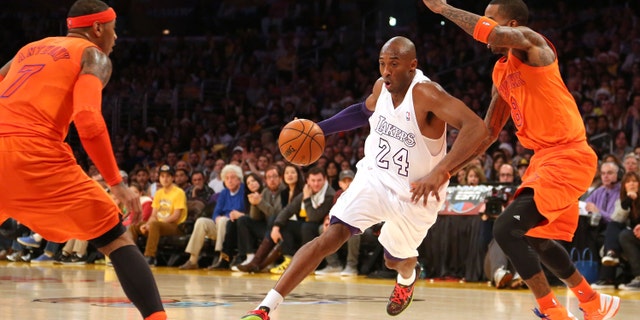 LOS ANGELES – After a confounding start to the season, the Los Angeles Lakers pulled off some Christmas Day magic.
With a second-half comeback engineered by Kobe Bryant, the Lakers beat the New York Knicks 100-94 on Tuesday, extending their winning streak to five games.
"We're .500," a smiling Dwight Howard said. "We did it on Christmas, too. I knew this day would come."
Bryant scored 34 points in his NBA-record 15th Christmas Day game and Metta World Peace added 20 points and seven rebounds while defending Carmelo Anthony, whose 34 points led the Knicks. Anthony said he hyperextended his left knee, but expects to play on Wednesday in Phoenix.
Bryant, the league's leading scorer, has topped 30 or more points in nine straight games.
"If you're going to play on Christmas, it's always better to win. Makes it all worthwhile," said Bryant, who would soon hop a flight to Denver, getting there ahead of the Nuggets, who played the Clippers in the other half of the holiday doubleheader at Staples Center.
The Lakers improved to 14-14 — 9-9 under new coach Mike D'Antoni — and upped their holiday record to 21-18, including 13-9 at home. They returned to .500 for the first time since they were 8-8 on Nov. 30.
It was an important win for us as we were a little bit desperate.
"It's so early in the season to have turned a corner," Bryant said. "We have everybody in the lineup and we're starting to see how we want to play."
The Knicks controlled most of the game behind Anthony and J.R. Smith, who had 24 points. But they struggled offensively in the fourth, when Anthony was limited to seven points and Smith had five as the Lakers' defense clamped down. World Peace fouled out with 1:58 to play and the Lakers ahead by four.
World Peace credited his defense on Anthony to "old-school basketball."
"I'm back in shape and it's a little tough to guard me," he said.
Steve Nash said: "This is what he's been doing all year. He gets his hands on a lot of balls, pounds on the other team's best guy. You can't win without that type of effort."
Smith's 3-pointer pulled New York to 96-94. After Pau Gasol made one of two free throws, Smith missed another 3 that would have tied the game at 97 with 32 seconds left.
"We missed a lot of easy shots, a lot of little chippers around the basket, shots that we normally make," Anthony said. "There were some plays that we thought should have went our way down the stretch, but for the most part, we fought. I'll take this effort any night. If we continue to play with this effort, we'll win a lot of games."
With Bryant double-teamed, Nash passed to Gasol, who dunked with 12 seconds to go, punctuating a win that sent Lakers fans, frustrated by the team's struggles and coaching change, home happy. The Lakers avenged a 116-107 loss in New York on Dec. 13.
A smiling Howard called Gasol's driving slam "a submarine dunk because he was very low to the ground."
Gasol responded, "I don't dunk as often as I used to so it felt good. I took it right down the lane and finished strong."
Nash had 16 points, 11 assists and six rebounds in his second game in nearly two months. He missed 24 straight games while recovering from a small fracture in his lower left leg. Howard had 14 points and 12 rebounds, and Gasol had 13 points and eight rebounds.
"It was an important win for us as we were a little bit desperate," Nash said. "We've gone through a lot since Mike Brown — new coach, new offense. It's been a difficult transition."
Bryant had eight of the Lakers' first 10 points to open the fourth during a run that provided their first lead since the opening quarter in a game matching the two teams that have played the most on Christmas Day.
They took the lead for good on Bryant's basket with 7:38 remaining. Anthony and Tyson Chandler were in foul trouble in the fourth, with Chandler fouling out late.
"They just were a little bit more aggressive," Anthony said. "Kobe got it going and Steve Nash hit some big shots down the stretch. When you have a guy like Nash doing that, it's kind of tough. Those guys know how to play. They've been waiting for Steve Nash to get back, so it's just a matter of then sticking it out until he did."
The Knicks opened the third on a 15-5 run, with Anthony setting up on the perimeter and hitting two 3-pointers as part of his 10 points that stretched their lead to 61-53. His jumper provided the Knicks' largest lead of the game, 69-60.
Bryant and Nash ignited the quiet atmosphere by leading a 17-9 run that drew the Lakers to 78-77 going into the fourth. They combined to score 15 points, although Bryant missed two free throws to end the third that would have given the Lakers their first lead since early in the game.
The Knicks' earlier roll dissolved in missed shots and a technical on Chandler for arguing a call.
"We were more determined, fought for everything," Nash said about the second half.
World Peace scored 16 points in the second quarter, including eight in a row, when the Lakers played catch-up most of the way. His 3-pointer gave the Lakers their first lead of the period with 1:10 remaining. Smith tied it up with a free throw before Nash's jumper sent the Lakers into halftime leading 51-49.
"We're playing really well together," World Peace said. "Kobe is really playing excellent now. He's still being aggressive on the offensive end, but he's giving everybody a chance to be aggressive. Pau is making strong, aggressive moves."
Bryant scored the Lakers' final nine points of the first quarter to give them a 25-23 lead. D'Antoni's plan of having Darius Morris guard Anthony didn't last long after he scored five of the Knicks' first seven points.
"I thought he'd get warmed up before he started firing," World Peace said.
Based on reporting by the Associated Press.
Follow us on twitter.com/foxnewslatino
Like us at facebook.com/foxnewslatino