Los Angeles Dodgers' Yasiel Puig Sets Records With 'Dangerous' Style Of Play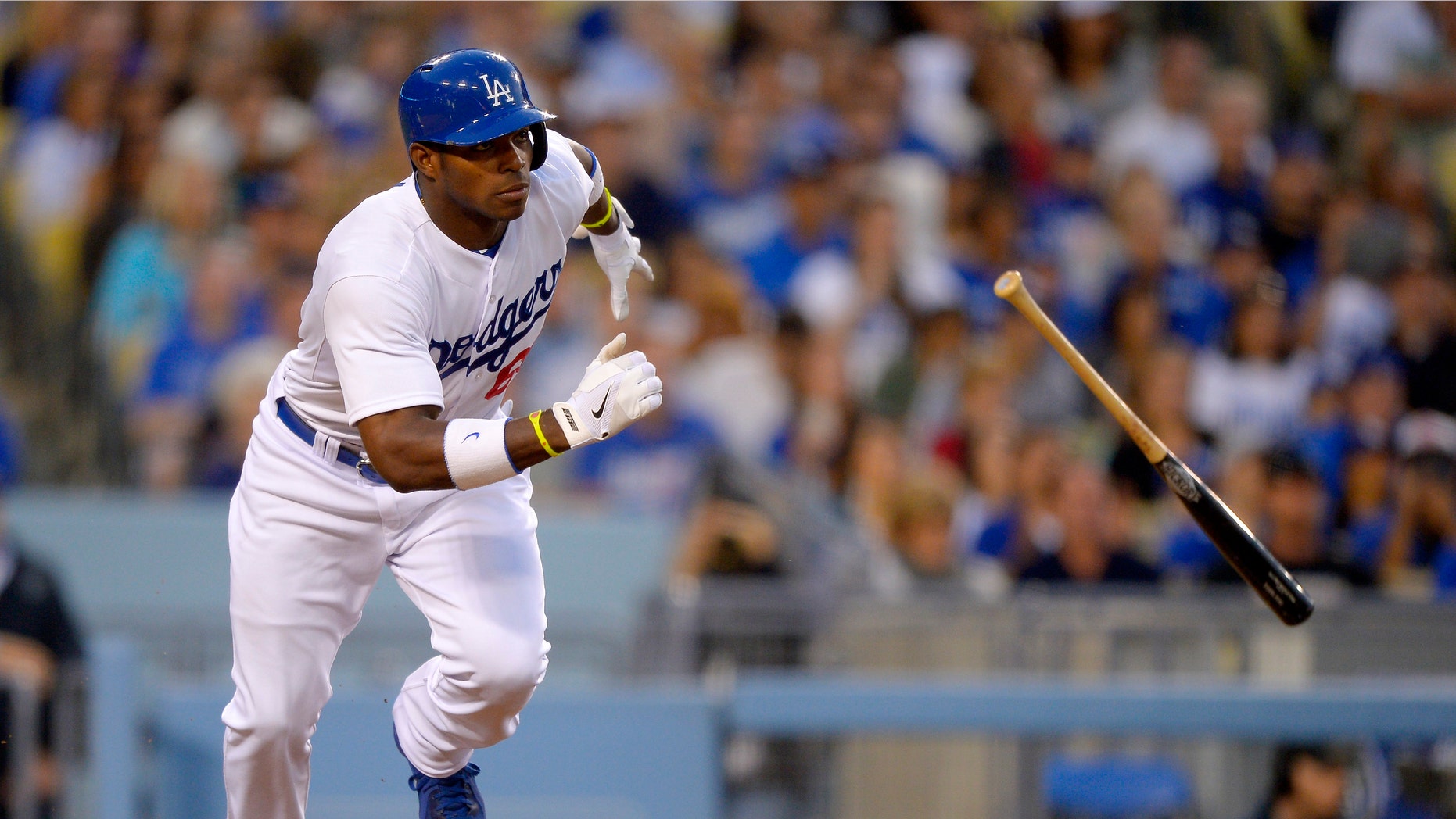 Just seven games into his major league career, Cuban sensation Yasiel Puig is already setting records with the Los Angeles Dodgers.
While his team may be in a slump, Puig is proving he was a worthy addition to the Dodgers already bloated payroll.
Since making his debut with the team on June 3, the 22-year old Cuban defector has earned 13 hits in his first 28 at-bats and 10 RBIs.
Puig has also managed to become only the second player in the modern era of major league baseball to hit four home runs in his first five games.
As the Dodgers continue to get criticized for their pricey team's meager performance, analysts are calling the acquisition of Puig a major coup for the organization.
Some are even calling Puig's seven-year, $42 million contract a "steal."
"When you're told he's somebody who can be another Matt Kemp, those players are $20 million a year," Dodgers chairman Mark Walter told ESPN.
"Six years for that player is $120 million, so it's only got to be a 1-in-3 shot [the $42 million over six years the Dodgers signed Puig for] is worth it. It's a lot less if he really is ready for it."
Dodgers manager Don Mattingly is impressed with his newest player but believes he still has a lot to learn.
After Puig dove headfirst into first base on Saturday night, Mattingly called the move "a little dangerous."

"But you know what, with guys like him, that play with that kind of energy, the game just comes out of them, you know," Mattingly added. "It's just coming natural."
Puig's talent and the lift he's given to the injury-riddled Dodgers remind some of Angels star Mike Trout and Washington left fielder Bryce Harper, whose breakout seasons boosted their teams.
Puig's ability to speak English is limited, and Mattingly was asked how he communicates with the rookie during games.
"I don't have to communicate, just kind of go," Mattingly said, smiling and putting his hands together in a clapping gesture.
Puig's exploits last week drew four curtain calls. Actor and fellow Cuban Andy Garcia came to check him out. The Dodgers rushed T-shirts and jerseys with his No. 66 into production and had them for sale late last week.
"I'm very happy because the fans are wearing my T-shirt and saying my name," he said.
Even if some of his teammates aren't quite sure how to pronounce it.
Count Skip Schumaker among them.
"There's a different energy from the Cuban," the second baseman said. "He's just been amazing for us and it feels like something is going to happen every time he comes up."
Each time Puig comes to the plate, he pauses on the edge of the grass and uses the tip of his bat to draw a cross in the dirt.
"Just giving thanks to God for all the good things he's doing for me," he said.
Puig is the first Cuban to play for the Dodgers since pitcher Danys Baez in 2006 and the first position player since Zoilo Versalles in 1968.
He lives in Miami, where he bought a house for his parents and 17-year-old sister, all of whom attended his big-league debut last week.
Puig's first week heroics may have taken fans by surprise, but the Dodgers knew what he was capable of. They saw his talent in spring training with the big-league club, although he was sent down to start the season, with the front office hoping he could learn the game and hone his hitting away from the spotlight.
Attention found Puig in April when he was arrested for driving 97 mph in a 50 mph zone in Chattanooga, Tenn. On the field, he was hitting .313 with eight homers and 37 RBIs in 40 games before getting called up.
Puig has seemingly adjusted well in the clubhouse, where his corner locker is located between fellow Spanish speakers Luis Cruz and Adrian Gonzalez, whose fatherly advice for the rookie was "just be yourself."
"He's an energetic guy, eager to get on the field, loves the game, always has a big smile on his face," Gonzalez said. "This isn't something he's not prepared for."
Taped above Puig's locker is a photo of a Hanley Ramirez bobblehead with Puig's face superimposed on it. Ramirez's name has been crossed out and Puig's written in.
As he goes out in Los Angeles to search for his beloved Mexican food, Puig is getting recognized and gladly signs autographs for all comers.
"I'm really happy that I'm living my dream," he said.
The Associated Press contributed to this report.
Follow us on twitter.com/foxnewslatino
Like us at facebook.com/foxnewslatino