Lonzo Ball talks about his dad, his favorite sneakers and meeting Kobe in an exclusive Q&A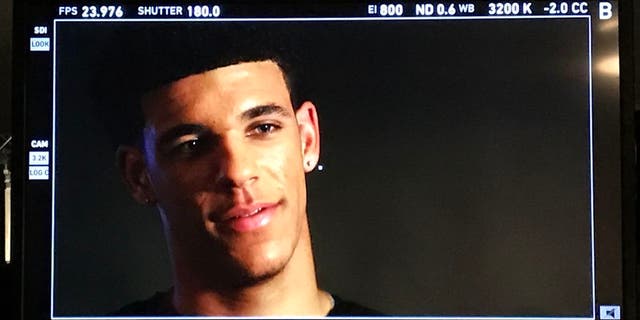 NEWYou can now listen to Fox News articles!
Lonzo Ball is projected to be one of the top picks in the upcoming NBA Draft, but most of the attention has been focused on his father for the past several weeks, and with good reason. LaVar Ball has brought plenty of publicity to his family for saying sometimes outlandish, but always entertaining things when given a chance to shine under the national media spotlight. It's led many to wonder how Lonzo feels about all of this, but as it turns out, he isn't fazed by it in the slightest.
In celebration of Father's Day, the latest spot from Foot Locker provides a comedic take on Lonzo's relationship with his dad, while also featuring top draft prospects De'Aaron Fox, Jonathan Isaac and Jayson Tatum. They play it straight, while Lonzo reminisces about all the seemingly crazythings LaVar has said and done in recent months -- including going on national television and explaining how his son is already better than the reigning league MVP.
FOX Sports sat down with Lonzo on the set of the commercial shoot in Los Angeles a few weeks ago to discuss his relationship with his father, how he's preparing for the NBA, his desire to land with the Lakers, and of course, those Big Baller Brand sneakers.
*****
FOX SPORTS: Is this your first time filming a commercial?
BALL:Yeah well, kinda. If you want to count the shoe, but I mean, pretty much.
FOX SPORTS: I saw that one, was that a big production?
BALL: It was more low-key, I think. But it was fun.
FOX SPORTS: So, Foot Locker has done a lot of these types of spots in the past, right? They had Carmelo Anthony, sort of poking fun at people that question his legacy which is obviously ridiculous. Russell Westbrooks triple-doubles, D'Angelo Russell theres been a bunch, theyre all hilarious. Did the fact that theyve had successful spots like that in the past with big-name athletes, did that make it easier to trust them with a potentially sensitive subject?
BALL: Yeah, for sure. Just because, you know, like you said, in the past they always line stuff up to be good and funny, and everybody likes it. So why not be able to come here if you have the chance?
FOX SPORTS: Your dads obviously been doing a lot of media recently, and people have some opinions about that. Whats that whole thing been like from your perspective?
BALL: I kind of just dont deal with it. I just let him deal with it, and all the people that, you know, have their opinion on what they have on him, and I kind of just focus on what Im doing. So, I mean, its kind of just outside noise to me.
FOX SPORTS: Are you on social media a lot? Do you pay attention to that stuff?
BALL: (laughs) No, not really. No.
FOX SPORTS: I feel like more and more athletes are not on it.
BALL: Yeah, its just a lot of drama and stuff you dont need to be looking at.
FOX SPORTS: Whats something you can tell us about your dads personality that we dont know, or that he doesnt reveal in those appearances?
Icon Sportswire (A Division of XML Team Solutions) All Rights Reserved contact: info@iconsportswire.com http://iconsportswire.
BALL: I think yall pretty much got it all, for sure. Just cause hes done so many interviews, and yall see he's loud, obviously very confident. Hes a great supporter (laughs). But um, yeah he kind of puts it all out there, he doesnt really leave much behind.
FOX SPORTS: Thats been your whole life, though. So its nothing new for you.
BALL: No, its the same for me. Thats what I keep telling people.
FOX SPORTS: Thats a positive, right? That hes so supportive of his kids and his family?
BALL: I think so. I think it definitely helps us, you know, as a whole, and it definitely helps us want to strive and be better.
*****
FOX SPORTS: Alright, so a couple of basketball questions for you. Who were some of your favorite players growing up?
BALL: My favorite player growing up is definitely LeBron. Just because he can get a triple-double every night, and the way he plays. He can shoot the ball every time, but he decides to get his teammates involved. I just like the way he plays.
FOX SPORTS: Every players game is unique, but is there a current or even a past NBA player that you can compare your game to?
BALL: I try to be my own player, but a lot of people have compared me to Jason Kidd.
FOX SPORTS: Do you see that?
BALL: I mean, yeah, Ill take it. Hes a great player, for sure.
FOX SPORTS: Really? Youll take being compared to Hall of Famers?
BALL: Yeah (laughs).
FOX SPORTS: I watched a bunch of film from your last season at UCLA, its clear that you have a lot of skills that will be immediate assets to an NBA team. Whats the one part of your game you think youll need to work on the most to be successful at the next level?
BALL: To be honest, Im just trying to get stronger, because I know thats a big part of it. Youre not playing kids anymore, youre playing grown men, and theyre 25, 26. Im 19. So, definitely got to get in the weight room and pound the weights, just because theyre grown men. Thats probably No. 1.
FOX SPORTS: And then whats the one thing you think you do really well thats going to translate to the NBA game right away?
BALL: I think my passing will help a lot. Everybody in the league has skills, obviously, and its not hard for me to get people the ball. If you get it to them in the right spot, theyll definitely thats their job, to score and stuff. So I think thatll definitely help a lot.
FOX SPORTS Were obviously still a few weeks away from the draft, but whats the pre-draft process been like for you so far? Has it gotten hectic yet?
BALL: Not really, just mostly been working out, to be honest.
FOX SPORTS: Obviously the Lakers would be a dream scenario for you, but does it matter ultimately where you get drafted?
BALL: Youre in the NBA, so it doesnt really matter. But if I had a preference, Id like to stay home, just to be with my family and stuff. But at the end of the day, the NBAs the NBA. It doesnt matter who you play for.
FOX SPORTS:The Lakers would be a good fit, though. Not only because you like them and youre staying home, but it seems like theyre in the right spot. Theyre building with young talent, a young coach in Luke Walton, Magics on board now what did you think of Magic taking over as president of basketball operations?
NBAE/Getty Images
BALL: Magics arguably the best point guard ever. I mean, to go there and learn from him thatd be crazy. Thats a good move for sure.
*****
FOX SPORTS: So tell me about what youre wearing in the shoot, tell me about this RAISEDT-shirt youve got on.
BALL: I guess its a new brand thats coming out, its going to be exclusively in Foot Locker, so thats pretty cool, and I kinda like the saying on it it looks nice to me.
FOX SPORTS: And what about shoes?
BALL: Ill wear my own shoes, I guess [meaning the ones he brought] the Jordans.
FOX SPORTS: True Blue 3s. Was it a conscious decision not to wear the ones that you have in the works? The Big Baller Brand?
BALL: No. I can wear whatever I want, so, yeah. Just picked them out of the closet, and got in the car.
FOX SPORTS: Do you have a big sneaker collection?
BALL: Yeah, kinda.
FOX SPORTS: How many pairs?
BALL: Probably about 25-30.
FOX SPORTS: What are some of your favorites?
BALL: Jordan 3s of course, I have three or four pairs of those. I like the 11s, and I like Yeezys, too.
FOX SPORTS: So you can actually get you hands on some Yeezys unlike someone like me. Ive got no shot. Whats been the most special moment for you coming out of college and getting ready for this draft process?
BALL: I think when we did the shoe thing. That was a big moment, especially in my life, just because I never imagined doing that, especially out of college. It was a lot of fun, and it was just cool seeing all the feedback from it. That was a good moment.
FOX SPORTS: I think people were surprised how good looking of a shoe it is. I mean, Im not here to bash any other brands, but a certain reigning MVPs shoes arent that nice to look at. You know what I mean? So I think a lot of people were surprised how good they turned out. Did you get involved in the design process at all?
BALL: Yeah, I designed the shoe. I just kind of wrote it up, and my man D-Mo (Darren Moore, Lonzos manager) drew it up, gave it to the people, they brought it back to us, we were happy with it, and now weve just got to release it.
FOX SPORTS: Whos been the most famous person thats tried to meet you or has met you? Whos made the effort?
BALL: I dont know, I dont want to say people made the effort, I kind of just run into people. But its probably Kobe. I just met him a couple months ago. That was pretty cool.
FOX SPORTS: How did that come about?
BALL: I was doing something for ESPN, I was coming out and he was walking in. Thats when I first met him, and he asked me if I had a post game. I could tell he was very competitive.
FOX SPORTS: Whatd you say?
BALL: I just said yeah, smiled, and he just started laughing. It was pretty cool meeting him.