Lions players: 'We stand by' head coach Jim Caldwell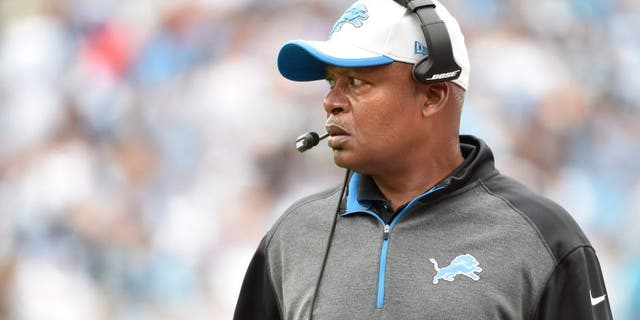 The Detroit Lions are seemingly directionless at 0-5, but not everyone is ready to jump ship. But after a report said head coach Jim Caldwell was starting to lose the team, Lions safety James Ihedigbo and a couple other players quickly ran to his defense.
Ihedigbo said the following, per Kyle Meinke of MLive.com:
That's BS. You can write whatever you want, and try to throw an anonymous player at the end to get some credibility. He's our head coach. We stand by him. We believe in him and everything he's doing and how he's leading us.

We owe it to him to play our best football come Sunday. And to each other.
Several of Ihedigbo's teammates seem to be on the same page. Wide receiver Golden Tate backed up his comments and expressed his confidence in Caldwell's ability to get the team back on track, via MLive.com:
I think Coach Caldwell is far from losing us. I know he still has my attention, and the respect we give him in the meeting today, and last week, and the week before and all year. We trust in Coach Caldwell, and we know we're going to get out of this slump.

It's just tough right now. It's tough on this city, it's tough on this organization. But we got to find a way out, and we will find a way out. And I'm going to make it my duty to be a big part of that.
Running back Joique Bell, who missed the Lions' Week 5 loss to the Cardinals with ankle/Achilles injuries, said the players deserve more blame than the coaches.
"I'm pretty sure he took a lot of blame for it, but it was definitely all on us," Bell said, per MLive.com. "Six turnovers in a game? It's hard to come back from that. Pretty sure Caldwell took a lot of the blame, when in reality, it wasn't him at all."
Caldwell led the Lions to an 11-5 record and a playoff berth last season, so many of the players still believe they can win with him in command. Detroit's current, five-game losing streak has most outsiders in serious doubt, though.
MORE NEWS: Want stories delivered to you? Sign up for our NFL newsletters.