Lionel Messi & Father Called To Court Over Tax Fraud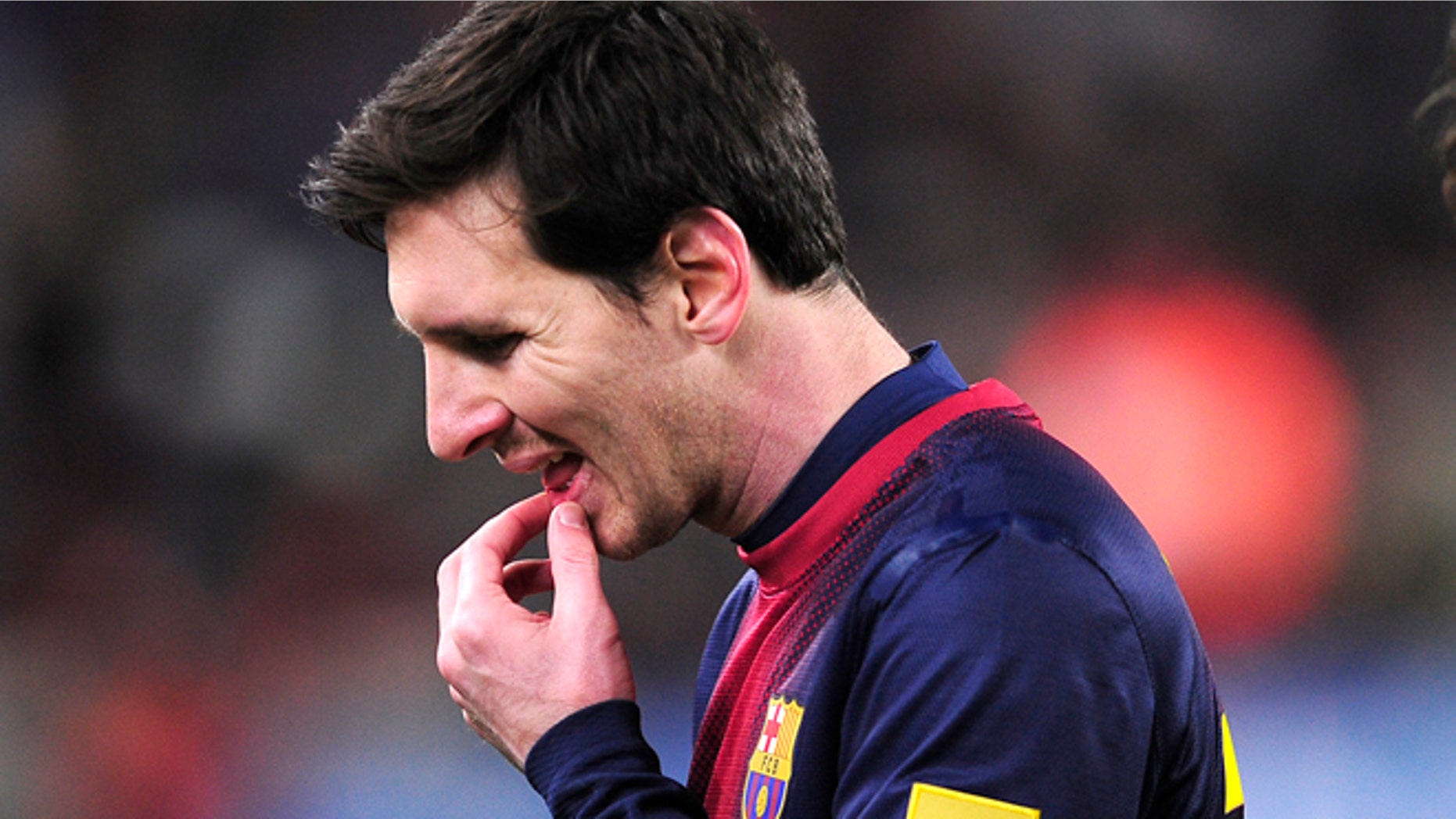 It doesn't matter how big you get, everyone answers to somebody, in this case the Spanish government.
Argentinean football player Lionel Messi and his father were ordered by a Spanish court Thursday to appear for questioning in September as part of an investigation into tax fraud allegations.
A court in the Mediterranean coastal town of Gava near Barcelona accepted a state prosecutor's complaint alleging that Messi and father Jorge defrauded the Spanish tax office of $5.3 million.
The Barcelona and Argentina star and his father will appear before judge Anju Deb Rani in Gava on Sept. 17. That will form part of an investigation to determine whether grounds exist to charge them with tax evasion.
The court said in a statement the judge's acceptance of the complaint was a "routine step."
If charged and found guilty, Messi and his father could face a fine amounting to 150 percent of the concealed earnings and between two and six years in prison. An out-of-court agreement is another possible outcome.
Messi and his father will have to appear in person for a session that will be closed to the public, court officials told The Associated Press. The timing could coincide with Barcelona's opening game in the Champions League — Sept. 17 or 18.
The court accepted the complaint lodged by prosecutor Raquel Amada on June 12 accusing the pair of not paying the correct taxes from revenue earned from image rights on Messi's income tax returns from the years 2007, 2008 and 2009. The complaint said they supposedly used a network of shell companies in tax havens such as Belize and Uruguay to avoid Messi's tax obligations.
Messi has denied wrongdoing. He has received public backing from Barcelona club president Sandro Rosell and former president Joan Laporta, who was in charge during the years of the allegations.
The 25-year-old Messi is widely considered the best player of his generation and one of the best in history after winning an unprecedented four straight FIFA world player of the year awards. He scored 60 goals in the Spanish league this season before hurting his right hamstring, but it was still more than enough to guide Barcelona to its fourth domestic title in five seasons.
Messi is rated by Forbes as the world's 10th highest-paid athlete. He reportedly earned $41.3 million to June this year, with $20.3 million coming from his club salary and $21 million in endorsements.
He leads an apparently quiet life focused on his family — he became a father last year — and has never been linked to any unsavory episodes, making him a widely liked figure across the world.
Even though the legal process could be drawn out, Messi's brand value is unlikely to be hurt too much, according to Coventry University Sport Business Strategy and Marketing Professor Simon Chadwick.
"It could damage his brand because you've got activity that goes against his image of a boy-like figure," Chadwick told the AP. "But my own personal take is that Messi is of such stature that it will be relatively insignificant. Tiger Woods had affairs with women and they (his sponsors) stuck with him and he is back at the top of the Forbes list."
The complaint lists Messi's sponsors that paid him revenues on image rights that he allegedly didn't pay taxes on. They include Barcelona, Adidas, Danone, Konami, Procter & Gamble, Pepsi-Cola, and Telefonica, among several others.
Based on reporting by The Associated Press.
Follow us on twitter.com/foxnewslatino
Like us at facebook.com/foxnewslatino