LeBron saves Cavs from fourth-quarter collapse vs. Pacers in playoff opener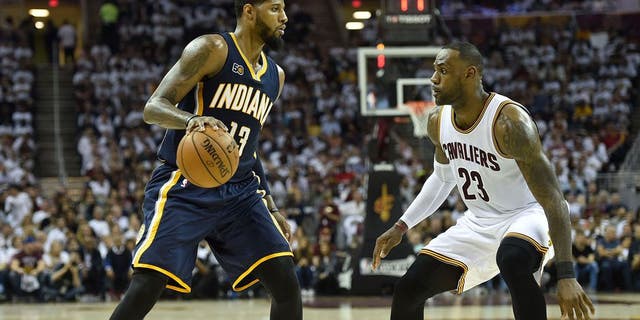 LeBron James had 32points and saved the Cleveland Cavaliers from a fourth-quarter collapse in Saturday's 109-108, playoff-opening victory over the Indiana Pacers.
James, who has won 18 straight first-round games, added 13assists and sixrebounds for the top-seeded defending champs. Kyrie Irving had23points and two big steals down the stretch.
Paul George led the way for seventh-seeded Indiana with 29points but had only four in the fourth quarter.
The Cavs led most of the way but the Pacers kept it close and took a late lead on a three from Jeff Teague. But James answered with a dunk to tie it, then found Irving for an assist as the Cavs took the lead for good.
The Pacers had a chance to take the lead in the final seconds, but James doubled George and forced a pass to C.J. Miles, who missed a jumper at the buzzer.
"Anyone but Paul George can take that final shot and we live with it," James told ABC's Lisa Salters after the game.