Kyle Larson rockets to pole for Monster Energy Series race at Michigan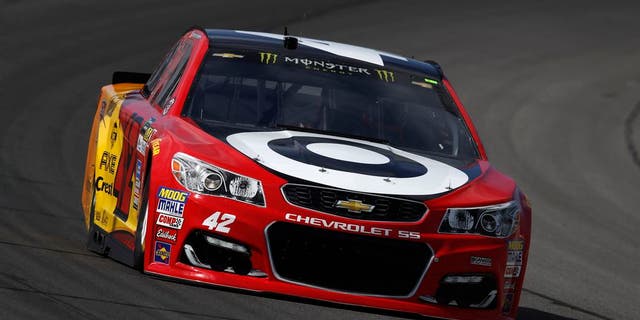 NEWYou can now listen to Fox News articles!
BROOKLYN, Mich. -- Kyle Larson is establishing himself as the driver to beat after earning the pole for Sunday's Firekeeper Casino 400 at Michigan International Speedway (2 p.m. ET, FS1)
After setting the fastest time in Friday morning's opening practice session, Larson posted a lap of 202.156 miles per hour to earn his second pole of the 2017 season.
"I haven't been the best at qualifying over my career, but this year I've been pretty good," Larson said after his run.
In a matter of five-minute final knockout qualifying round, Joey Logano, Denny Hamlin, Clint Bowyer and Martin Truex Jr. all had their turn at the top of the board before Larson's blazing fast lap.
Truex qualified second with a lap of 202.117 mph, followed by Clint Bowyer, Kyle Busch and Denny Hamlin.
This is the third consecutive week that Truex has had the pole snatched away from him in the final moments of qualifying.
"We just need to figure out how to get from second to first," Truex said. "I wish we could have gotten our first pole of the year today, but we'll keep plugging away at it."
Jimmie Johnson failed to make it into the final round after Matt Kenseth's knocked him off the bubble with less than a minute remaining in Round No. 2.
Along with Johnson's 13th-place qualifying run, Hendrick Motorsports teammates Kasey Kahne and Dale Earnhardt Jr. also failed to make the final round, qualifying 16th and 17th, respectively.
The only other on-track activity for the Monster Energy Series will Saturday morning's final practice session, beginning Saturday morning at 9 a.m. on FS2.