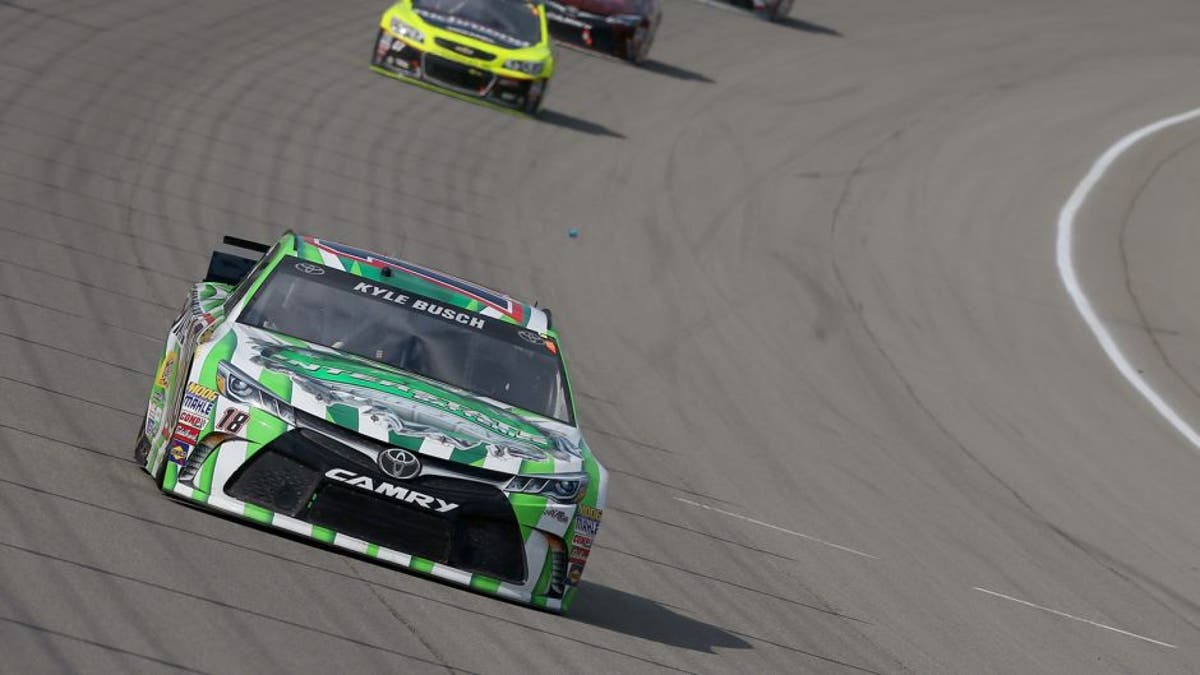 Kyle Busch's march toward the Chase took another step forward during Sunday's Pure Michigan 400, but it certainly was not easy.
After showing speed on Friday, Busch's team -- led by crew chief Adam Stevens -- was forced to pull out the backup No. 18 Joe Gibbs Racing Toyota after the driver spun through the grass during Saturday morning's practice session. Although he did not hit anything, the grass destroyed the front end of the car.
By going to the backup, Busch gave up his sixth-place starting spot and was forced to drop to the rear of the field for the start of the race. Entering the race only six points inside the top 30 in driver standings, Busch knew starting at the rear could be difficult and simply hoped to make it through the day unscathed.
Instead of charging to the front right away, Busch played it cautious at the drop of the green flag by lagging far behind the field as they raced into the first corner. The move was a smart one, as David Ragan spun on the first lap to bring out the first caution of the day.
With the initial lap jitters gone throughout the field, Busch methodically began working his way through the field. By Lap 50, the driver of the No. 18 Toyota was inside the top 20. Eleven laps later, he was leading the race as green-flag pit stops cycled through.
Busch would remain a factor in the top five and top 10 throughout the remainder of the race, taking the lead once again on Lap 165 and holding the top spot for eight more laps.
When teammate Matt Kenseth took the checkered flag at the end of the day, Busch crossed the line in the 11th spot. While it was not a victory, finish was enough to move Busch to 29th in the series standings with an 18-point advantage over Justin Allgaier.
"It was a success, it wasn't what we wanted. We had a really, really fast car (Saturday), but I screwed up and wrecked that car," said Busch. "It was a winning car, maybe not the winning car, but congratulations to our teammate Matt Kenseth and the 20 bunch. It's really good times for Joe Gibbs Racing right now, the guys are doing a great job.
"If all things would have worked out a little better we might have finished fourth or fifth, but where we ended up there just outside the top 10 doesn't matter. We just have to continue on with our points gathering and go on to next week."
Busch must remain in the top 30 in the standings through the next three races if he wants to be part of the 16-driver Chase field.