Kyle Busch sets limited XFINITY Series schedule for 2017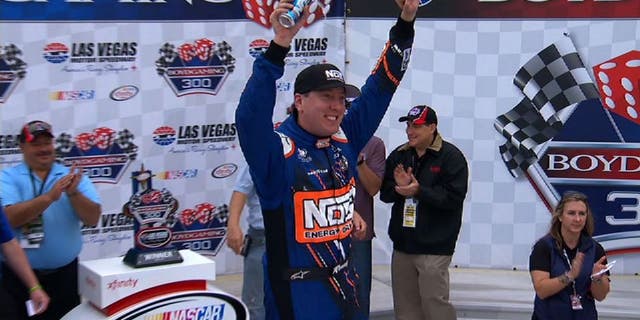 Kyle Busch, the all-time victory leader in NASCAR XFINITY Series race victories, will run 10 XFINITY races in the No. 18 Joe Gibbs Racing Toyota Camry this year.
Busch has 86 XFINITY race victories in his career, including 10 in just 17 starts last year, a staggering 58.8 winning percentage.
For the first time this year, NASCAR has capped the number of races that Monster Energy NASCAR Cup drivers can race in its lower series. Those limits are no more than 10 XFINITY races and seven more in the NASCAR Camping World Truck Series.
In the past six seasons, including his injury-shortened 2015 campaign, Busch has averaged running 21 XFINITY Series races per year.
This season, Busch's JGR Toyota will again be sponsored by NOS Energy Drink.
Busch will race in the following XFINITY Series races, the team announced on Thursday:
• Atlanta Motor Speedway, March 4th
• Las Vegas Motor Speedway, March 11th
• Auto Club Speedway, March 25th
• Michigan International Speedway, June 17th
Kentucky Speedway in Sparta, July 7th
• New Hampshire Motor Speedway, July 15th
• Indianapolis Motor Speedway, July 22nd
• Watkins Glen International, August 5th
• Bristol Motor Speedway, August 18th
• Richmond International Raceway, September 8th
Scott Graves, last year's XFINITY Series championship crew chief with Daniel Suarez, will move to the No. 18 with Busch and team's other drivers for 2017. The team will run the full schedule with a variety of drivers and race for the division's owners' championship.
"Owners' points continue to be important to our XFINITY Series programs so it's key for us to keep striving for that team goal," said Graves. "I'm looking forward to having NOS Energy Drink return with Joe Gibbs Racing this year and I'm looking forward to my first Victory Lane with them and with Kyle (Busch)."