Kevin Durant abruptly ends his news conference due to an unusual noise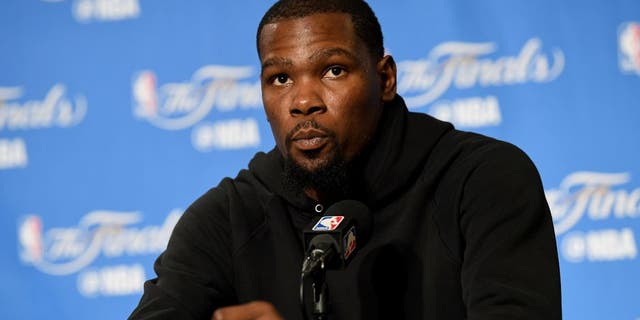 NEWYou can now listen to Fox News articles!
Usually a player will storm out of a news conference because of a reporters question, but Golden State Warriors star Kevin Durant had an unusual reason for abruptly leaving Tuesdays media availability.
As Durant was being asked a question about teammate Draymond Green, the air conditioning unit above Durant began making a loud, strange sound. It was so unnerving it startled the reporter and caused Durant to look up at the ceiling multiple times.
Its scaring me a little bit, Durant admitted. Yeah, that things shaking a little bit, buddy.
Durant wasnt willing to wait out the disturbance and opted to leave early.
The four-time scoring champ obviously prescribes to the better-safe-than-sorry philosophy.