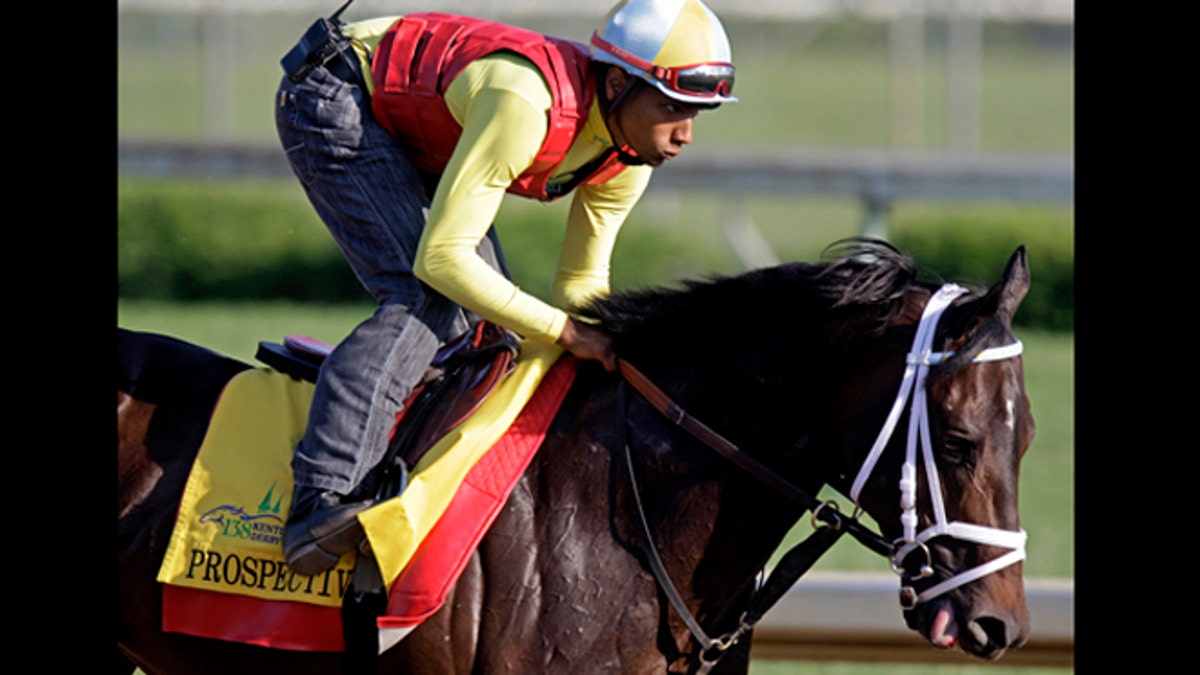 Animal Kingdom's shocking win at last year's Kentucky Derby changed everything for Team Valor International founder Barry Irwin.
Irwin along with his team are no longer unknowns.
Trainer Graham Motion joked that he remains unknown, something that was apparent last week when the attendant at the car rental company asked him if he'd ever been to the Derby before.
Now the two are back with Went the Day Well.
With jockey John Velázquez again on board, the trio is looking to become the first jockey-trainer-owner combination to win the Derby in consecutive years since 1972-73, when Ron Turcotte, Lucien Laurin and Meadow Farm pulled it off with Riva Ridge and Secretariat.
So far, they've done nearly everything the same for Saturday's race with their precocious and sometimes petulant bay colt ,who often looks lousy in practice and then turns it on when the competition heats up. Went the Day Well is staying in the same stall and will likely post similar odds as Animal Kingdom did, but that's where the comparisons stop.
Motion and Irwin say they have a much different colt on their hands.
"I don't think he was particularly impressive when I first saw him," Motion said. "The thing I have noticed so much about him is how much he has developed since he came to our barn. He came to us from Europe in the winter into a warm climate and horses change so much at that time of year.
"For some reason when horses come over here, they seem to do better. He's just grown up physically and turned into a big strong attractive horse. And I don't think he was like that when he first came here."
The son of Proud Citizen was winless in two starts in England last year, but finished fourth in his first race in the U.S. before consecutive victories capped by the Spiral Stakes.
While Irwin insisted he had a quality horse from the moment he sent an email in October to syndicate members, it was last month's run at Turfway Park in which the horse faced adversity before winning with an impressive final kick that had them believing they had a shot at the Kentucky Derby.
"Barry had certainly bought him with this in mind, but I don't think it was until he won the Spiral until either one of us could've thought about it," Motion said. "Certainly, we'd hoped he was going to be that caliber, but he really had to step up in the Spiral and he did. If it wasn't for that, we wouldn't be here. I think it was that performance that showed us he belonged here."
Irwin, a former journalist, and his group have never followed a traditional path when seeking horses and Went the Day Well is the latest example. Irwin purchased the New York-bred colt in England while spending a weekend in Europe.
"I don't really care where they come from. I've bought horses in many strange little places, Zimbabwe, whatever. As long as the horse has quality, that's all I care about," Irwin said. "The number one thing I look at is how they move, next is what they look like, then what their temperament is like, then their pedigree.
"Pedigree is way down the list. I don't really care about the pedigree. I think a good horse can come from anywhere."
And Irwin's last Triple Crown horse, Animal Kingdom, turned out to be great here after going off at 21-1 odds. Went the Day Well will likely draw similar odds after Wednesday's post-position draw.
"He's a tough horse to gauge," Irwin said. "The only thing you can really go on is what he did in that last 50 yards of the Spiral and he just dropped down and took off into a different gear."
He'll also be wearing small-cupped blinkers for the first time on Saturday and could be on his way to peaking after a lighter 3-year-old campaign than planned.
He was shipped to Motion at Palm Meadows to start the year and was mistakenly quarantined in Miami because of a test that showed he had a tick-borne blood disease that also affects mules, donkeys and zebras.
With the horse stuck in the stall for nearly two weeks and unable to go outside or exercise at all before re-tests came back negative, Irwin estimated they lost four or five weeks of conditioning and the chance to run one additional prep race.
That means he will not be a favorite, and that scenario suits Irwin and Motion.
"I'd say last year we probably floated in under the radar a bit," Motion said. "And I'm fine floating under the radar."
Based on reporting by the Associated Press.
Follow us on twitter.com/foxnewslatino
Like us at facebook.com/foxnewslatino