Kennedy seeks first win of season while Royals seek third in May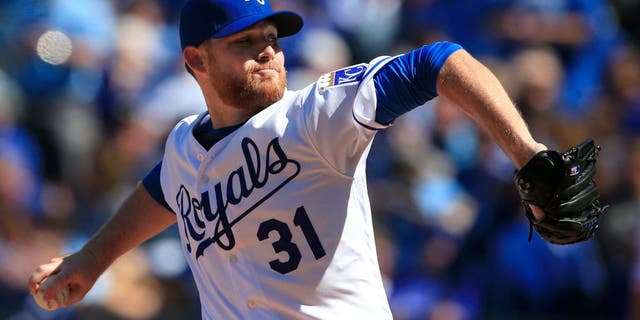 An optimist would tell you the Kansas City Royals have won two of three games to start May.
The pessimist, though, would say the Royals have still lost 10 of 12 and sit in last place in the American League Central.
The Royals will try to take three out of four from the Chicago White Sox when the teams square off Thursday afternoon at Kauffman Stadium.
"We still feel good with the future," Royals second baseman Whit Merrifield said.
Right-hander NateKarns dominated the White Sox on Wednesday, giving up only one hit over six scoreless innings in a 6-1 Kansas City victory.
He struck out four in the sixth, becoming the first pitcher this season to have a four-strikeout inning.
"That was quite an accomplishment," Royals manager Ned Yost said.
What would be a better accomplishment is for the Royals to turn it around in May after a 7-16 April.
The White Sox are 6-10 against right-handed starting pitchers, compared with8-2 vs. lefties.
White Sox manager Rick Renteria said that is not alarming -- and Karns was on top of his game Wednesday.
"I thought Karns did a nice job," Renteria said. "Just tip your cap to him. He attacked the zone. He used his breaking ball effectively. He kept us off balance. He did a nice job of attacking the hitters. He needed to keep them in the ballgame and then they just kind of opened it up."
The White Sox will see another right-hander Thursday in an afternoon contest. The Royals will start right-hander Ian Kennedy, who will be searching for his first victory of the season, a feat Karns achieved Wednesday.
The 32-year-old Kennedy is winless in his past nine starts. His last victory was Sept. 11, 2-0 in Chicago. During his victory drought, he has posted a 3.07 ERA.
Kennedy has faced the White Sox six times and is 2-1 with a 3.30 ERA against them. He went 1-1 last year.
Kennedy has not won at Kauffman Stadium since Aug. 20, when he tossed eight scoreless innings in a 10-0 rout of the Minnesota Twins.
The White Sox, meanwhile, will counter with left-hander Derek Holland, who has not beaten the Royals since April 22, 2011, while with the Texas Rangers.
Holland is 2-1 with a 4.10 ERA in seven appearances against the Royals. He is 0-1 with a 4.21 ERA in four starts at Kauffman Stadium.
Holland is 2-2 with a 2.17 ERA in five starts this season. Left-handed hitters are 1-for-11 with one walk off him this year. Right-handers are hitting .216 with 11 walks and three home runs.
Royals left-handed first baseman Eric Hosmer is 4-for-10 off Holland, while shortstop Alcides Escobar is 4-for-13.
The Royals are 1-8 in day games this season, while the White Sox are 6-5.