Kawhi Leonard locked in a playoff duel with Mike Conley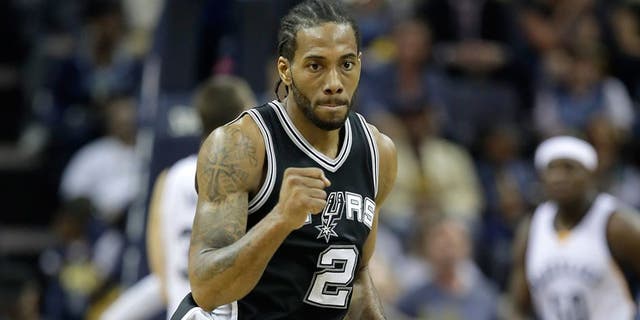 NEWYou can now listen to Fox News articles!
Memphis Grizzlies coach David Fizdale sat down behind the microphone after surviving a 110-108 overtime thriller that tied their first-round series with the San Antonio Spurs at two games apiece.
After Marc Gasol hit the game-winner with 1 second to play, the only thing better than the shot to Fizdale was that there wasn't enough time left for Kawhi Leonard to get a chance of his own.
"I'm taking suggestions on how to guard Kawhi Leonard," Fizdale with a sigh. "I've tried everything. The guy, he's tough. Man, he's a superstar."
After an MVP-caliber regular season, Leonard has been even better in the playoffs for the No. 2-seeded Spurs. He is averaging 32. 5 points, 6.5 rebounds and 3.3 assists, and has been astonishingly efficient, shooting 58 percent from the field and 53 percent from 3-point range.
Long known for ball movement and spreading the wealth offensively, the Spurs have become Kawhi-centric in these playoffs while getting pushed by the Grizzlies. Trailing by eight points with four minutes to play in regulation of Game 4, Leonard scored San Antonio's final 16 points of the quarter, including a jumper with 12 seconds to play to put them up 96-94.
"We trust him to make big plays and not only score on the ball, but making the right play," Spurs forward David Lee said. "Sometimes that's a good pass. He made a couple of unbelievable shots to tie it late."
In overtime, Leonard hit two 3s in the final 23 seconds to tie the score at 108, finishing with 43 points before Gasol came through. The only jaw that wasn't dropped was that of Leonard, who is known for his unflappable demeanor.
"He was standing next to me the other night, and he wasn't breathing," Fizdale said earlier in the series. "So I'm going to check the rulebook to see if robots are allowed to play in the NBA. … I think he bleeds antifreeze or something."
As relentless as Leonard has been, Mike Conley has been every bit his equal after a disappointing Game 1. With his Grizzlies in a 2-0 hole coming home to Memphis, Conley averaged 29.5 points, 8.0 assists and 5.0 rebounds while shooting 56 percent from the floor and 46 percent from 3-point range to even the series.
"When he first got into the league, he wasn't very comfortable shooting the ball from 15 feet out," said Spurs forward Pau Gasol, a teammate of Conley's in Memphis earlier in his career. "He was a rookie, just like we've all been there. You can tell that he has worked on his game, has tremendous confidence on his outside jumper. This year, he's been shooting more threes at a higher percentage. He's become an elite point guard."
The series shifts back to San Antonio for a pivotal Game 5 on Tuesday, and Leonard is less focused on the points he has piled up than he is on shoring up the team's defense.
"They took care of home court, but it's not about that," said the two-time defensive player of the year, who has guarded Conley periodically throughout the series. "We've got to do a better job defensively. We can't let them get up to 100 points."
The Grizzlies lost by a combined 33 points in Games 1 and 2 in San Antonio, in part because Conley was outplayed by Spurs veteran Tony Parker at point guard. Conley managed just 13 points in Game 1 before rebounding to hit four 3s and score 24 points in Game 2. But Memphis also managed just 82 points in each of the first two games and was unable to sustain any kind of offensive production in San Antonio.
Conley dominated the matchup in Memphis, galvanizing the Grizzlies.
"Of course we are in desperation. According to the media, we were supposed to get swept anyway," Conley said. "So every game is like our last game, like we are going home. We have to keep that mentality because at this point we just have to find a way to win on the road. In order to win the series, you have to win on the road."