Juventus storm back to stun Premier League leaders Man City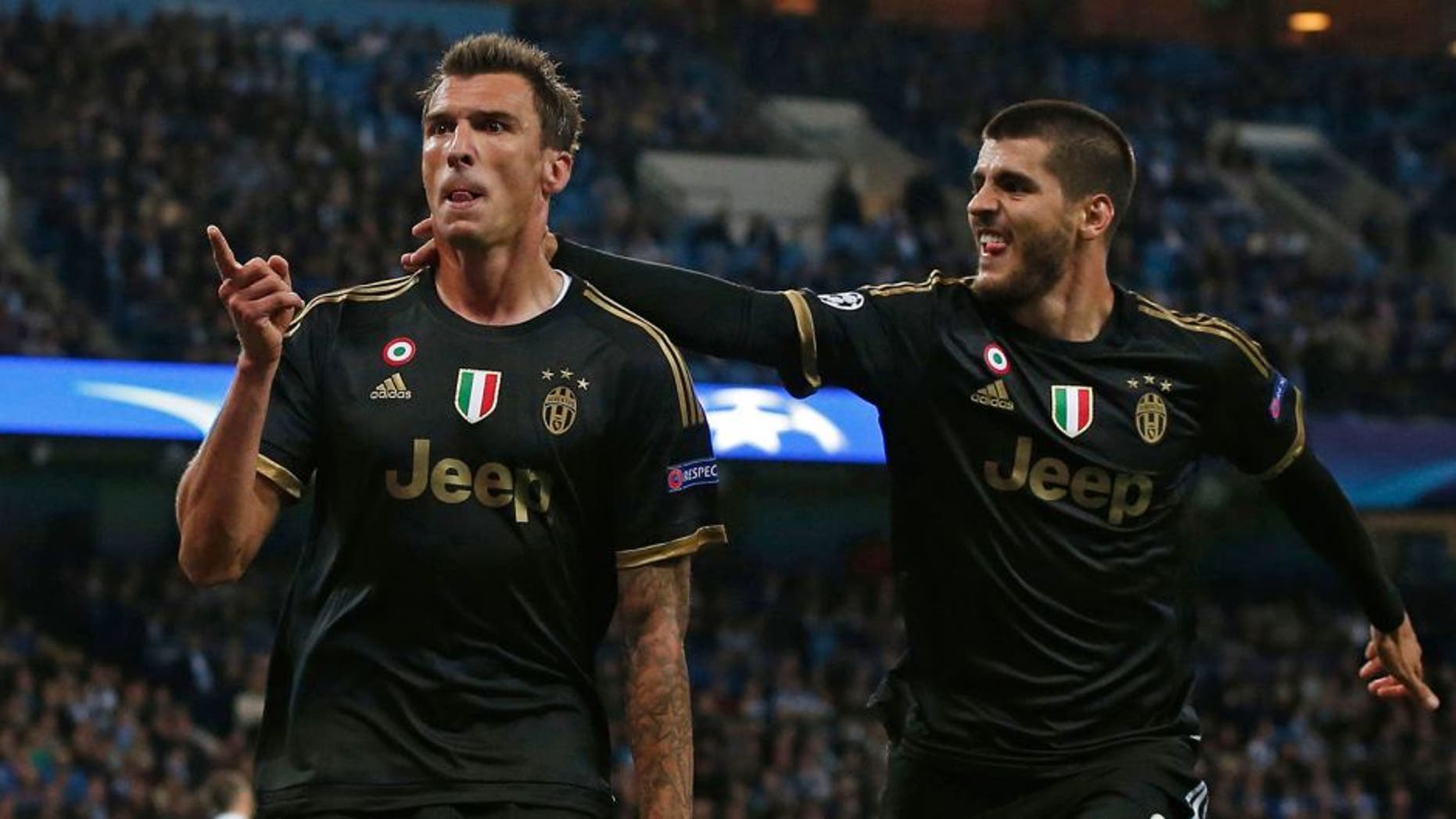 MANCHESTER --
Some day, Manchester City will work out the UEFA Champions League, but not yet.
The failings that have become all too familiar in the competition for City fans were evident again as it began its campaign with a home 2-1 defeat to Juventus, in an awkward group, immediately puts pressure on the rest of a tricky group. And what makes it worse is that it had begun the league season so well. This is not a matter of form, but of some strange mental block.
"It was a disappointing result," Manchester City boss Manuel Pellegrini told reporters after the loss. "I don't think that we deserved to lose this game. I think that was a typical game for the Champions League. Both teams were guilty that they didn't create many chances."
To lose to last season's beaten finalists is no disgrace, and perhaps City will sweep aside Sevilla and Borussia Monchengladbach to qualify easily for the Round of 16, but the sense had been that Juve was there for the taking. It has, after all, undergone significant changes of personnel and had taken just a point form its opening three league games this season. Instead, in front of the club's chairman, Khaldoon Al Mubarak, who was making a rare visit from Abu Dhabi, this was another highly frustrating European night.
City even had a major stroke of luck of the sort that has largely eluded it in the Champions League -- and still couldnlt take advantage. It had struggled to find its rhythm in a scrappy first half and Juve had begun the second well. Vincent Kompany has been magnificent this season, twice scoring from David Silva corners -- against West Bromwich Albion and a vital nerve-settling header against Chelsea -- and once again it appeared he had tired of the uncertainty and had, almost by force of will, turned the game City's way. As Silva sent in a left-wing corner, he rose above Giorgio Chiellini -- and probably fouled him -- forcing the defender to head the ball into his own net.
Two minute later, Gianlugi Buffon made a stunning double save to deny Raheem Sterling in a one-on-one and then the follow-up from Silva. That was City's chance. To blame Sterling for City failing to win would be absurd, but it was the second one-on-one he missed in the game, a worrying reminder -- and there have been a couple of others this season -- of how his finishing isn't up to the level of much of his creative play.
He could have killed the game, but it remained alive and Juve seized the opportunity, levelling after 70 minutes as Paul Pogba bending a superb ball over the City defense for a stretching Mario Mandzukic to touch in -- the first goal City had conceded this season. That was bad enough but the second followed 11 minutes later. A simple ball forwards from Stephan Lichtsteiner hit Aleksandar Kolarov, bounced square and with a huge gap emerging between Eliaquim Mangala and Nicolas Otamendi, who had come on for Kompany, the victim of a calf injury, Alvaro Morata curled a brilliant finish in off the post.
The reasons are many, specific to this game and more general. When Sergio Aguero is not there, City is a diminished force. The knee injury that forced him off on Saturday restricted the striker to a place on the bench -- he came on with seven minutes to go -- and in his absence Wilfried Bony led the line. The Ivorian is yet to rediscover his Swansea form for City, seemingly always beset by over-anxiety. An incident after 32 minutes seemed typical. Fed by Silva, he nutmegged Giorgio Chiellini magnificently but then, as Lichtsteiner was distracted by the run of Sterling and space opened up, slashed his shot high and wide, rather snatching at the effort.
Perhaps, given Juve's struggles at the start of the season, City could have been more assertive, but given how often the criticism has been that it has been too open in Europe, a certain caution may have been understandable, perhaps even advisable. The central midfield, certainly, looked less flawed than it often has in Europe.
Fernandinho, who has started the season well, had another good night. There seems a renewed bite about him this season. It was he who won possession two minutes in before laying in Raheem Sterling for an effort saved by Buffon, and he was then sniffing on the edge of the box just after the half-hour to lash a shot just wide after Silva's cross was headed out. Yaya Toure, although nowhere near as dominant as he can be, drew a fine late save from Buffon.
City, perhaps, will feel that on balance of chance it should have won, but that's so often been the way for it in Europe. Samir Nasri was ineffective. Kevin De Bruyne, making his debut from the bench, was involved only fleetingly. Even Silva struggled to find space.
But whether it could have or should have, the fact is that it didn't. It may have been a smash and grab from Juve, but it was one that was permitted by the fact it just looked smarter than City. It's one game, and things may improve, but at the moment it feels as though no lessons have been learned.
"We are disappointed today," City midfielder Toure told BT Sport. "Definitely not (the start we wanted). I think the Italian team played very well and they defended very well. I think they've been lucky today -- I don't think we played so bad."
He added: "We just have to be strong and try to bounce back in the next game. We had a couple of chances. We've been brave and I think what we have to do is learn (from this) opener and try to do better in the next game."