Jurgen Klinsmann needs to start his best playmaker: Darlington Nagbe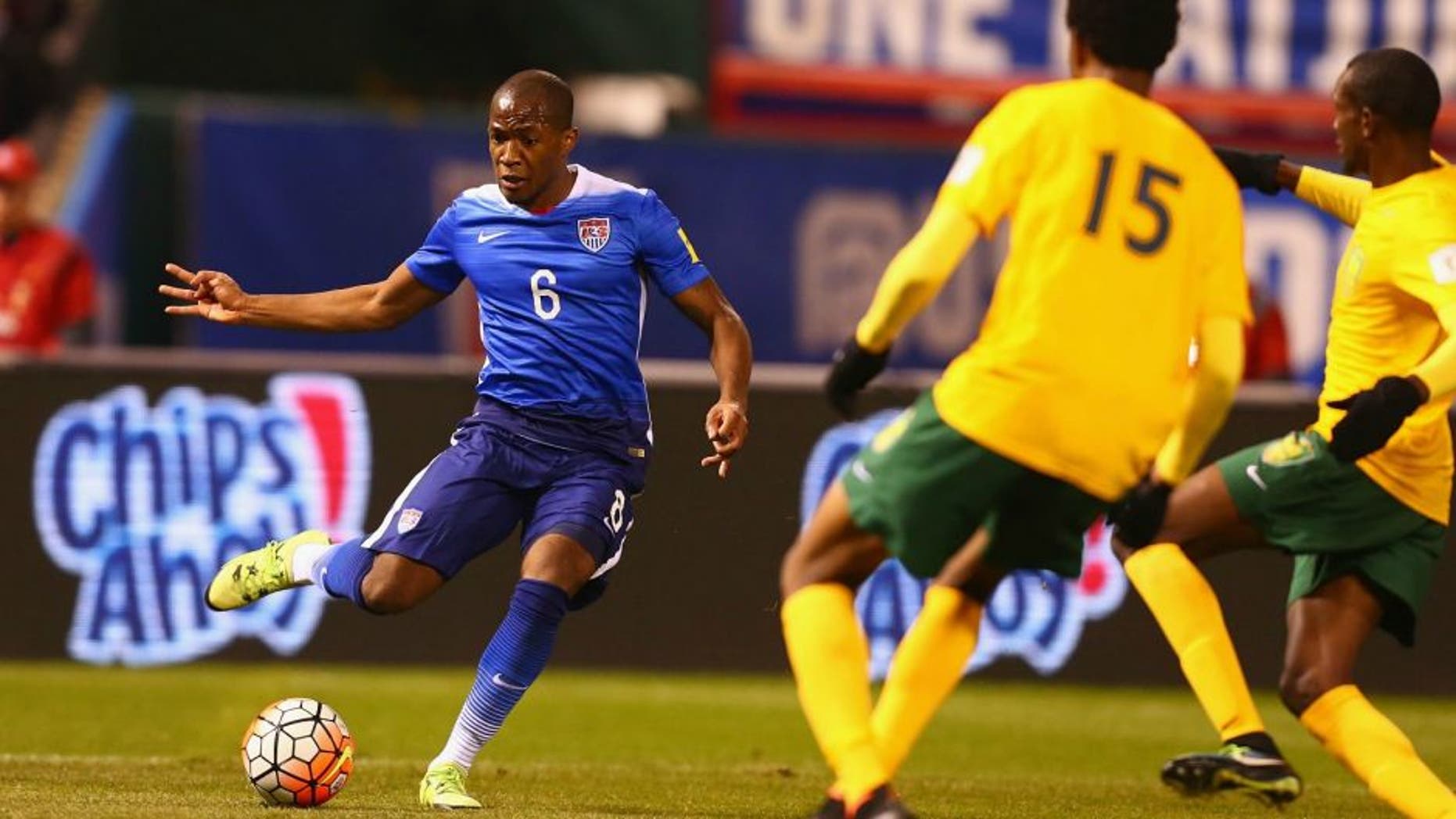 Darlington Nagbe is a creative force.
On the dribble. Through traffic. Tip-toeing down the sidelines. Quick one-touch passes. Lofted through-balls.
Anywhere on the field, at any moment, Nagbe can spark an attack forward and create an opportunity for his teammates. He is the kind of dynamic player that the U.S. men's national team has been missing.
And yet, despite Nagbe's proven quality and creativity for both club and country, coach Jurgen Klinsmann has been reluctant to rely on the midfielder and give him a prominent role with the U.S.
Nagbe, 25, has started exactly zero times for the USMNT, but it's difficult to argue he hasn't earned the chance. In his limited playing time with the national team -- nine second-half substitutions -- he has developed a track record of being a reliable distributor who changes games and drives the American midfield.
He has only played twice in this Copa America Centenario: 24 minutes in a loss to Colombia and 12 minutes in the loss to Argentina. Though Nagbe came on so late that he didn't get too much of the ball in either game, he successfully completed all his attempted passes and helped the Americans pick up their tempo.

Meanwhile, the rest of the USMNT midfield has looked relatively static and stale for much of the tournament. While the individual efforts of forwards like Bobby Wood and veteran Clint Dempsey have helped, the movement has been lacking. Even when the Americans have won games or stayed within striking distance with possession in the final third, the midfield still created relatively few chances and were short on creativity.
It's easy to imagine what a USMNT midfield with Nagbe would look like, though. Given more minutes in pre-Copa America friendlies, Nagbe made a tangible impact for the Americans and proved his value.
Against Ecuador, Nagbe came on in the 46th minute as a central midfielder, allowing midfielder Michael Bradley to sit deeper and defend more. In his 44 minutes, Nagbe was the engine of the attack, completing all 33 of his passes and scoring his first international goal. He followed that up against Bolivia in the USMNT's final pre-Copa America match where, in a wide role, he earned a give-and-go assist and made six recoveries in 27 minutes.
It almost doesn't matter who Nagbe would replace in the USMNT midfield because he adds much-needed dynamism wherever he goes. But Nagbe, as Portland Timbers coach Caleb Porter knows better than perhaps anyone, is at his most menacing in the middle of the pitch.
Last year, a formation change that moved Nagbe from the wing into the central midfield was widely credited with pushing the Timbers toward their first MLS Cup win. In a central role, Nagbe can pull the strings, propel his team forward and give everyone around him more looks on goal.
"You almost have to watch his games five times to really see the subtle things he does that are world-class," Porter said after he made the formation change last year. "I'm not shy saying that he does things that are world-class.
"He's not waiting for things to happen -- he's making them happen, and that's what makes him scary."
Just as Porter figured out that it was worth changing his formation to get Nagbe in the center of the pitch, it might behoove Klinsmann to find a way to get Nagbe somewhere centrally as well. That could mean anointing Nagbe the USA's new "No. 10."
It's a role that seems to fit Nagbe's skill set to a tee. While he is an adept passer and excellent at finding seams to distribute the ball, Nagbe is also capable of taking the ball himself and dribbling through defenders. He makes things happen and, in a No. 10 role, he has the space to make the most happen.
When the U.S. has relied on a dedicated No. 10-type of playmaker -- a player whose main responsibility is to act as maestro in the central midfield and create scoring opportunities -- Klinsmann has turned to Bradley, almost by default. It was the role Bradley was asked to play in the 2014 World Cup and, while Bradley was perhaps the USMNT's best option at the time, Klinsmann now has a better option in Liberian-American Nagbe, who became a U.S. citizen in September.
Just compare the stats between Nagbe and Bradley in Major League Soccer play. With the Timbers, Nagbe is second overall in the league for passing accuracy at just over 90 percent, according to Opta Sports. Bradley is just below 84 percent with Toronto FC. Stats for passing accuracy in the attacking end of the field paint a starker portrait: Nagbe is first in MLS for passing accuracy in the opponent's half at 90 percent, and Bradley doesn't even crack the league's top 50 at 76 percent.
Klinsmann has tried to shoehorn Bradley into an advanced role, but that's not necessary anymore. With Nagbe in front of him, Bradley can play in his natural deeper-lying position as a more box-to-box midfielder that tracks back and puts in defensive work. Bradley is the type of player who you can tell put in a good shift when he finishes having run more miles than anyone else on the field.
The USMNT doesn't always play with a designated No. 10 playmaker in the midfield and there may be valid personnel and formation reasons as to why. But even then, Klinsmann should find a place for Nagbe, who still brings his unpredictable skillset to wide roles and can spark attacks in the flanks.
Nagbe has played both centrally and wide throughout his MLS career, and there's a reason why he has been the most fouled player in MLS over the past five years. For opposing teams, it's just the only way to stop him.
The prevailing argument against starting Nagbe -- or at least the one it seems Klinsmann is leaning on -- is that Nagbe doesn't have experience on the national team level. But of course, every player lacks national team experience until he is given minutes. It's a problem with a simple solution.
At 25 years old, Nagbe is in his prime with the 2018 World Cup in Russia is just two years away. Nagbe doesn't need to be eased into the national team -- he's ready -- and Klinsmann is only wasting Nagbe's best days.
When the USMNT takes the field against Colombia on Saturday, Klinsmann will have his pick for the starting lineup. Without the suspensions, Klinsmann can revert to the lineup he used three times in Copa America already if he wants. But he shouldn't.
It's time to start Nagbe, beginning on Saturday and through World Cup qualifying. He brings too much to the table to be left on the sideline.
MORE FROM FOX SOCCER