Jose Canseco may be out of work after tweets on sexual misconduct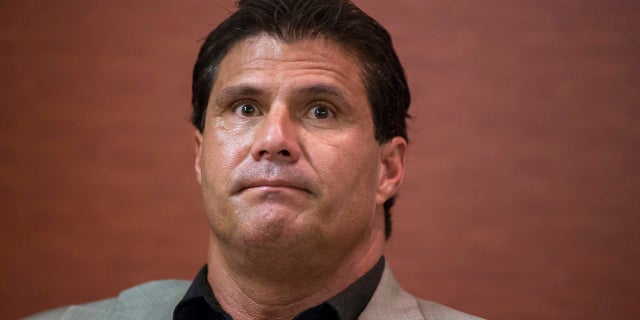 NEWYou can now listen to Fox News articles!
Former Major League Baseball player Jose Canseco chimed in on the topic of sexual harassment on Tuesday — and it appears he has struck out.
Canseco posted a series of tweets that seemed to make light of an issue that has cost several high-profile figures their careers and sparked the #MeToo movement encouraging people to speak out against harassment.
"What is going on with all these politicians molesting women I've been molested by several women and never complained," Canseco tweeted, adding that he was also "beaten by women taken advantage of by women…but it was kind of a turn-on."
In another tweet, comparing his situation to those of disgraced politcians, Canseco said: "I see the difference I guess cuz I was a good-looking guy and these politicians look like a bag of boogers."
But the Twitter rants could cost the former A's hitter his job as a studio analyst on the team's telecasts after just one season.
"Jose Canseco is no longer an employee with NBC Sports California. His agreement with us ended after the 2017 baseball season," the network said in a statement. "We certainly don't agree with his comments, which do not reflect the values of our network or our team partner."
The 53-year-old did the pre- and post-game shows for Oakland games last season on the channel, which has yet to announce its broadcasters for the upcoming season.
The Athletics also felt the need to distance themselves from its former star's comments. In a statement via Twitter, the organization said Canseco's comments "were disappointing," adding that he was no longer an employee and "his statements do not reflect the values of our organization."
Canseco, who was the 1988 American League MVP with the A's and helped them win the 1989 World Series, has a history of baffling comments, from claiming he can hit a softball farther than New York Yankees' slugger Aaron Judge can hit a baseball, to the time he reminisced about shooting his finger while cleaning a gun, the New York Post reported.
Tuesday's Twitter rant comes at a time when sexual harassment has become almost a daily topic of discussion, as politicians, media icons and even renowned journalists have faced the chopping block over allegations.
On Nov. 30, the Toronto Blue Jays fired analyst Gregg Zaun over "inappropriate behavior" toward female employees, Fox News reported.
The Associated Press contributed to this report.