Jose Aldo vs. Max Holloway expected for UFC 212 in Rio de Janeiro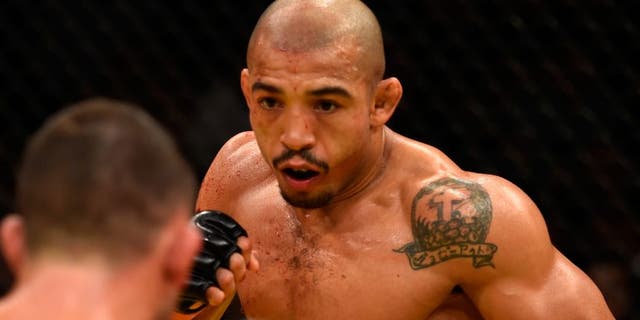 The long awaited clash to unify the featherweight title is finally happening.
Featherweight champion Jose Aldo is expected to meet interim champ Max Holloway at UFC 212 currently slated for Rio de Janeiro in Brazil on June 3.
Sources close to the contest confirmed the information to FOX Sports following an initial report from Flo Combat. UFC president Dana White also announced that the fight between Aldo and Holloway was a done deal on Friday when speaking to ESPN but no date or location was available at the time.
The fight was first rumored for UFC 208 taking place in Brooklyn this weekend, but Holloway suffered an ankle injury in his TKO victory over Anthony Pettis at UFC 206 last December that prevented him from accepting the bout on that date.
Now Holloway will bring his 10-fight win streak and the interim title to Brazil, where he looks to solidify his place in the division by facing Aldo.
Aldo has been out of action since last July when he defeated Frankie Edgar to win the interim featherweight title with hopes of eventually earning a rematch with Conor McGregor, who knocked him out to win the belt in just 13 seconds in 2015.
McGregor ultimately ventured up to lightweight, where he won the title in that division before giving up the 145-pound belt, which was then awarded to Aldo.
Now Aldo will square off with Holloway as the UFC returns to Rio de Janeiro, Brazil for a pay-per-view for the first time since Ronda Rousey defeated Bethe Correia in the main event at UFC 190 in 2015.