Jorge Masvidal reveals if he would fight teammate Tyron Woodley for the UFC title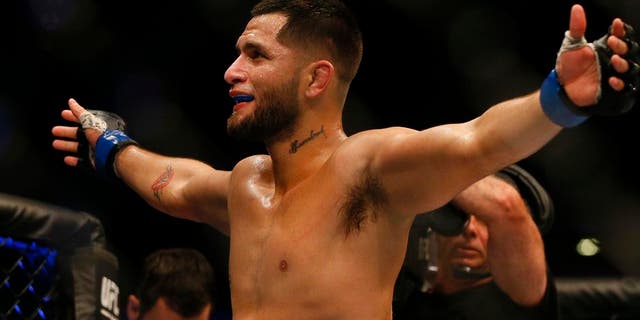 NEWYou can now listen to Fox News articles!
Jorge Masvidal could be staring down a very interesting situation if he gets past Demian Maia at UFC 211 in Dallas.
The surging welterweight contender is fresh off a knockout over Donald "Cowboy" Cerrone, and if he can beat Maia on May 13, there's little doubt Masvidal would be the next person in line for a title shot.
That means Masvidal would target current welterweight champion Tyron Woodley as his next opponent, but the two fighters also happen to be stablemates at American Top Team.
Now, Woodley doesn't spend the bulk of his time training at the main American Top Team academy in Florida where Masvidal trains, but retired UFC fighter Din Thomas is one of the champion's main coaches, who works with him throughout his preparation for any upcoming title defense.
Despite those close ties, Masvidal says he would have no problem accepting a title fight with Woodley and he wouldn't expect the champion to say any differently either.
"No, not on my end or Tyron Woodley's end," Masvidal told "UFC Tonight" about facing his teammate in a title fight. "We're both good friends, I get along just fine with Woodley. He's actually shown me secrets in the past and I've worked with him in the past to help him get ready for fights.
"So there's no hard feelings if me and him have to scrap."
Ron Chenoy-USA TODAY Sports
This situation has come up in the past when Woodley won the title by knocking out Robbie Lawler, who was also a mainstay at American Top Team ahead of their fight this past July.
Lawler eventually split from the gym amidst rumors about the fallout from his fight with Woodley, but Masvidal doesn't foresee any of those problems if he had to face his teammate with the belt on the line.
Both Masvidal and Woodley have been stalwarts of American Top Team for most of their mixed martial arts careers but as tough as it might be to face a teammate, the No. 5 ranked welterweight contender says it's just business and not personal at all.
"Just like I said before, I'm LeBron [James] and he's Dwayne Wade and we split up teams, we meet at the finals, we're going to sit out because we were teammates at one point?" Masvidal said. "Hell no!
"I'm here to get this money. I got kids to feed."
Mark J. Rebilas | Mark J. Rebilas-USA TODAY Sports