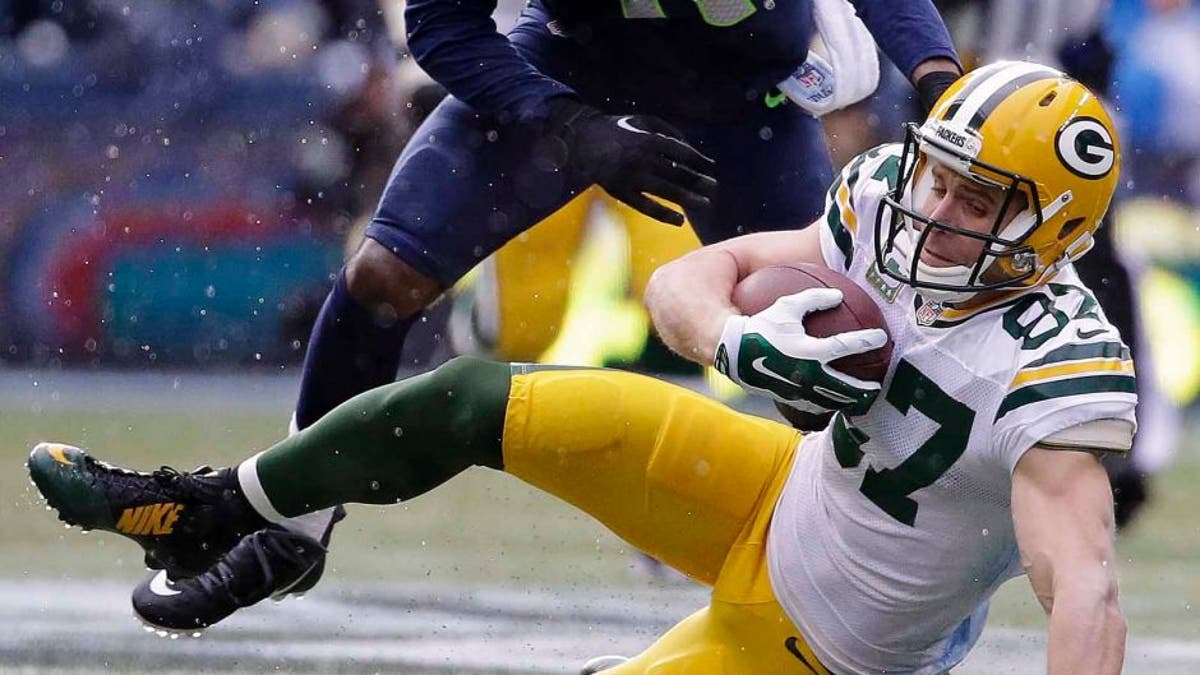 Down goes another top fantasy receiver.
Just days after the Carolina Panthers learned Kelvin Benjamin tore his ACL, the Green Bay Packers and Jordy Nelson may have suffered a similar fate.
Nelson is feared to have torn his ACL in a non-contact injury. The team is awaiting MRI results to confirm the diagnosis, FOX Sports 1's NFL Insider Mike Garafolo confirmed.
If it is in fact a full ACL tear, Nelson would be sidelined for all of the 2015-16 season, which would have massive fantasy implications.
Let's take a look at some of the burning questions following Nelson's injury, assuming he is out for the season.
Where will Davante Adams go in drafts now?
Prior to Nelson's injury, you could safely draft Adams right around the 8th round and expect him to off the board sometime in the 9th. If your league already drafted and you were lucky enough to get him, mazel tov.
For everyone else, expect Adams to skyrocket into the late 2nd or early 3rd round. While it's dangerous to assume Adams will just walk right into Nelson's 155 vacated targets and put up the same incredible stats (98/1519/13), the upside for a low-end WR1 campaign is there
Adams was already generating lots of hype before the injury, based mostly on his great performance in last year's playoff game against Dallas (7/117/1) and Packers head coach Mike McCarthy calling him the "MVP of OTA's."
All the stars have aligned for Adams to have a breakout second season. The Packers seem committed to playing at a faster tempo, Aaron Rodgers is at the peak of his powers, and Adams will tuck in right behind Randall Cobb in the passing game pecking order.
There are only about 9 receivers (A. Brown, J. Jones, D. Bryant, D. Thomas, O. Beckham, C. Johnson, A.J. Green, R. Cobb, A. Jeffery) that I'd absolutely rank ahead of Adams for the upcoming season. You could put Adams above Colts WR T.Y. Hilton on your draft board and I wouldn't bat an eye – both are in great offenses with elite quarterbacks and should rack up plenty of big plays. Adams could be this year's Emmanuel Sanders: a player who walked into a great opportunity and produced massive numbers.
There's no doubt in my mind Rodgers could turn Adams into a star, and after being drafted in the second round last year, the organization almost certainly feels the same way. Take him in the third round with confidence.
Where do I rank Randall Cobb?
Cobb's 2014 contract year campaign felt a bit fluky (91/1287/12), as the reception to target ratio (91 to 127) and red zone conversion rate were pretty abnormally high.
With Nelson out of the picture, though? Cobb is solidified as a WR1 without question, and will likely slide right into Nelson's old 2.3 ADP in PPR leagues, according to FantasyFootballCalculator.com.
Should Cobb be considered as a first-round pick now, though, considering the offense he plays in and all the targets he should get with Nelson gone?
It's a tough call. The opportunities should undoubtedly increase, and Cobb is very talented, but someone like Dez Bryant feels like a much safer bet for touchdowns. I've bumped Cobb up to my 7th ranked fantasy WR, but could certainly see why someone would take him over Calvin Johnson (injury concerns), or even Odell Beckham Jr. (fluke year from he and Eli Manning?).
The adjustment on Cobb will be interesting to see in upcoming drafts. He went from possibly overrated at a 2.8 ADP with Nelson to one of the safest bets for production in all of fantasy. It's hard to imagine he doesn't return top-end WR1 numbers now, and it wouldn't be surprising if players with pick 12 paired him with someone like ODB or Johnson with an increasingly viable WR/WR strategy.
How much does this help Eddie Lacy, and how much does it hurt Aaron Rodgers?
Not much, on both accounts.
Lacy and Rodgers shouldn't move a whole lot on your draft boards. While the Packers may lean on the run a bit more without Nelson, the few extra carries or red zone touches shouldn't move the needle a ton. You can always argue that if Adams falters, defenses may be willing to put more men in the box against Lacy, although that seems pretty unlikely with Rodgers behind center.
Basically, if you were torn on Lacy and, say, Jamaal Charles, this helps make that decision a little easier. But if you had Le'Veon Bell as your top back and Lacy ranked fourth before Nelson went down, I wouldn't boost Lacy to the first overall pick. The impact shouldn't be all that great, as the Packers will keep rolling right along with Rodgers at the helm.
Speaking of Rodgers, I'm taking a similar stance with his fantasy outlook. While losing his most trusted receiver is obviously a tough pill to swallow, he's still in a clear-cut top QB tier with Andrew Luck. No other quarterback is jumping him.
That said, if you had Rodgers rated above Luck, you can switch them now. It was close to a toss-up before, and Luck's volume might beat out Rodgers' efficiency without Nelson. There will be an adjustment period, especially for whoever wins the third receiver role in an offense that likes to go three-wide quite a bit. Speaking of which...
Which late-round Packers receiver should take Adams' spot?
It's probably wise to wait and see who wins the battle, if possible, but around the 12th round seems like a safe time to target the Packers third receiver.
So who will it be?
The battle will likely come down to Jeff Janis and Ty Montgomery, but both are worth drafting.
Janis has the size (6-foot-3, 219 lbs) you want in a flier pick, and he's likely the favorite to take the job. The second year receiver came off the bench for Nelson when he went down, which could mean he'll be the next man up.
Third-round pick from Stanford Ty Montgomery has generated more buzz in training camp, however, and his explosiveness and ability to play multiple positions might win him some substantial playing time. Just keep in mind that despite being the team's new top receiving option, Randall Cobb does most of his work out of the slot. That might give Janis and his size the edge on the outside.
Until we find out more in Week 3 of preseason and practices, side with Janis. Again, the 12th round seems like a good time to strike, but keep an eye on his ADP in the next few days.
I own Nelson in a Dynasty league. What do I do?
Cry into a pint of Ben & Jerry's and think about how good it used to be?
No, really, you should just stay put. Don't panic.
Selling at the absolute lowest possible value is just bad trading business, unless your team is comprised solely of veterans and has a title window that basically closes after this year.
With that being said, the outlook going forward isn't great. Nelson was already coming off hip surgery this offseason, and now he'll have to rehab his knee at age 30. ACL tears aren't as career damaging as they once were, and Nelson could easily come back and compete at a high level, but it certainly seems like his best football days are probably behind him now.
Let's put it this way: I'd rather have Adams than Nelson in a Dynasty league moving forward.
Hang on to him, hope for a resurgence next year, and then deal him.
Extra Points
The Patriots brought in Reggie Wayne for a physical, perhaps fearing that WR Julian Edelman won't be ready right away. Edelman hasn't participated in a full practice since August 2nd, although he's ramping up his individual work.
If Bill Belichick wants a smart veteran receiver to quickly learn the system and fill in, Wayne can do that. Just don't get too excited about his fantasy outlook, as Wayne caught only 64 of 116 targets with 2 TD in an elite offense last season. At age 36, there might not be a whole lot left in the tank. Leave him undrafted for now, but if he signs, he's a low upside WR4 type.
Falcons WR Roddy White underwent elbow surgery, but is expected back for Week 1. He should start falling in drafts, as there's real concern whether he'll hold up for a full season at age 34.
Cowboys RB Joseph Randle is sitting out for the second straight preseason game with an oblique injury, and Darren McFadden will start. You can still trust Randle to win the job, but don't be surprised if ADP starts to come down a little bit from the third round until he actually gets on the field. No one's stock will be more dependent on their Week 3 dress rehearsal performance.
TWITTER: @FOXSportsFowler | @jhalpin37 | @FOXSportsMeyer | @FOXSportsFoster

RANKINGS (PRINTABLE SHEETS UPDATE 8/13): Top 200 (PRINT) | QB (PRINT) | RB (PRINT) | WR (PRINT) | TE(PRINT) | DST (PRINT) | K (PRINT) | Print Draft Kit | PLAY FOX FANTASY FOOTBALL