Jordan Matthews showing the drive of his famous cousin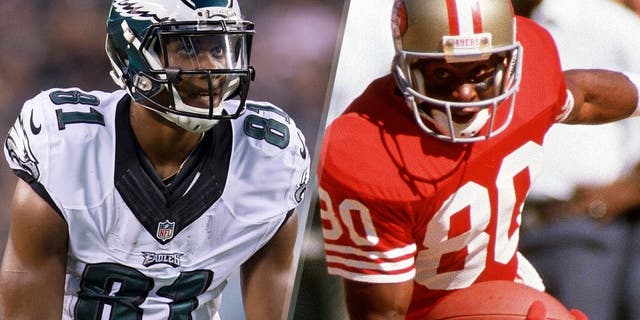 NEWYou can now listen to Fox News articles!
Philadelphia's Jordan Matthews isn't just related to Jerry Rice.
Matthews shares the same maniacal work ethic Rice become the greatest wide receiver in NFL history.
Matthews is usually at Eagles headquarters by 6 a.m. to get in extra work before most of his other teammates have arrived. This isn't apple-polishing or a new development. Matthews punched the clock early at Vanderbilt University and once gave Reese's Senior Bowl executive director Phil Savage an unexpected wake-up call asking him to open the gates at Ladd-Peebles Stadium so he could have access to the field.
Such diligence helped Matthews flourish as a 2014 second-round draft pick. He became only the 13th rookie in NFL history with at least 65 catches (he had 67), 800 receiving yards (872) and eight touchdowns.
"I've always felt the need to make sure you try and be one of the first in the building," said Matthews, whose mother is Rice's first cousin. "If you know some of the guys who are successful in this league are getting there at 6:30 (am), you should put it on yourself to try and get there at 6. Even if I don't know how to fill that time, I'm going to find something to do to make myself better."
Matthews has some company with him on the dawn patrol in rookie wide receiver Nelson Agholor and jack-of-all-trades tight end Trey Burton.
Matthews said the trio usually catches 100 footballs each from a JUGS machine with the focus on difficult or back-shoulder grabs. Burton, who played some quarterback at the University of Florida, also throws passes when Matthews and Agholor want to mix-up their routine.
"We're not able to run the routes and do it against defenses, but it gets your system going," Wallace said. "We believe in our receiving room you catch with your eyes and not your hands. If the first balls you catch are ones at practice, you're already behind the eight ball."
So is every other Eagles wideout who isn't putting in the same time as Matthews.
Jordan Matthews was interviewed by Alex Marvez and co-host Bill Polian on SiriusXM NFL Radio