Jon Jones: Weight training didn't cause me to tire at UFC 197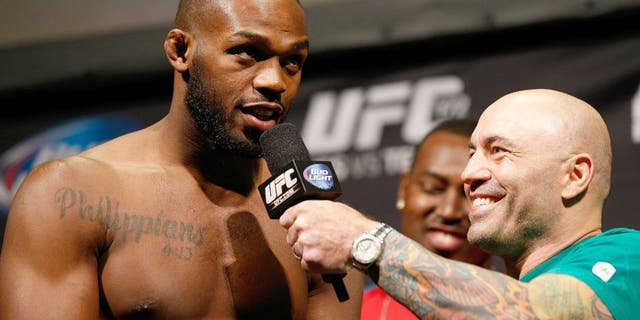 Jon Jones getting into weight training and fitness during his year out of competition got a lot of positive attention leading into his UFC 197 return. Jones stayed lean, added muscle and, perhaps most important of all, seemed to develop some new, good habits and discipline.
After his unanimous-decision win over Ovince Saint Preux, however, Jones' head coach Greg Jackson trashed Jones' weight training routine.
"Powerlifting is a problem," he could be heard saying to Jones' wrestling coach Israel Martinez during the pay-per-view, on television. MMA Junkie happened to transcribe the exchange.
According to Jackson, Jones got tired, or "gassed-out" during the fight. In Jackson's mind, Jones' powerlifting routine was to blame.
"He gasses," he continued.
"I only want to do an 'I told-you-so' dance, right now."
Speaking at a press conference in New York on Wednesday to promote his UFC 200 headlining contest against light-heavyweight champion Daniel Cormier, Jones rejected criticism like Jacksons'.
"I disagree with it. I felt great," he said (at about the 9:55 mark of the above video).
"I had the same pace going the whole fight. I really didn't do too much. I did just enough to win the fight. I started out the fight pretty slow. Every round of the fight was a consistent speed so there was never an issue with cardio."