Jon Jones remains in custody, court hearing scheduled for Thursday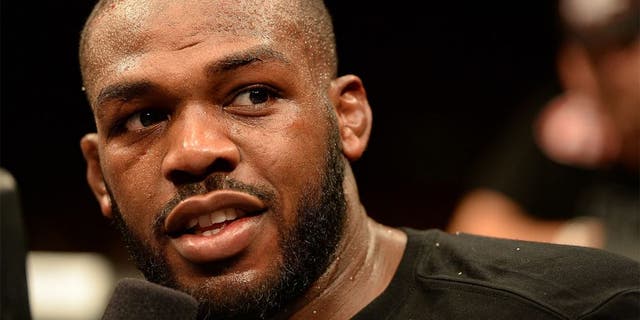 Former UFC light heavyweight champion Jon Jones remains in custody on a potential violation of his probation as he awaits a court date on Thursday when a judge will rule on his case.
Second district court representative Tim Korte confirmed to FOX Sports on Wednesday that Jones is expected to appear before Judge Michael Martinez at 8 a.m. MT on Thursday and is expected to remain on hold in lockup until his court date arrives.
Local NBC affiliate KOB Channel 4 has asked to broadcast the proceeding and New Mexico law allows only one camera in the courtroom at the time of the hearing.
Jones was arrested on Tuesday following a traffic stop last Thursday where he received five citations, including a ticket for drag racing.
Jones is currently serving 18 months probation after pleading guilty to a hit-and-run accident last April when the former UFC champion smashed into two separate vehicles and then fled the scene on foot.
Judge Charles Brown handed down the 18 months probation to Jones at the time of his hearing last September.
This time Jones will appear before Judge Martinez, who court representatives explained is a retired judge who comes in three days a week to hear probation violation cases to move the court docket along quicker.
This latest infraction for Jones came a day after he settled a previous traffic violation after he was stopped and cited for driving without a license, registration or proof of insurance. Ultimately, Jones avoided that ticket under the promise that he would donate $100 to a local charity and he would receive no further citations for the next 90 days.
The next day Jones was stopped by an officer, who claimed he was drag racing before handing him several citations for the incident.
Jones has vehemently denied that he was drag racing, but the offense was serious enough that he was arrested for a potential violation of his probation this week.
Jones' representatives have stated that they believe the former champion will be released once a judge has a chance to hear his case and that this recent arrest shouldn't affect his upcoming fight with Daniel Cormier on April 23.
The judge will ultimately decide what comes next for Jones when he hears the case on Wednesday.