John Hunter Nemechek wins the NCWTS race at Gateway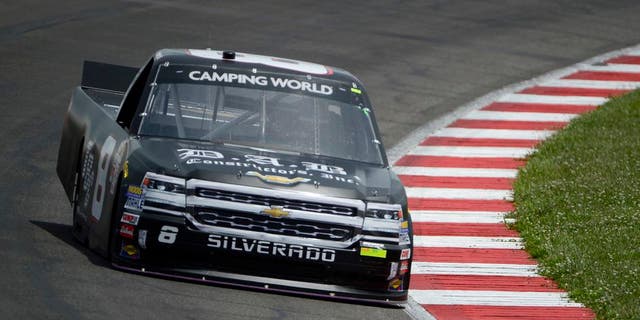 NEWYou can now listen to Fox News articles!
John Hunter Nemechek kept his No. 8 NEMCO Motorsports Chevrolet near the front most of the race and capitalized in the closing laps by passing Christopher Bell and Matt Crafton to win the Drivin' for Linemen200 at Gateway Motorsports Park.
Chase Briscoe battled from 13th to second with eight laps to go on fresh tires, followed by Johnny Sauter, Matt Crafton, and Grant Enfinger who round out the top five.
Crafton took the lead from Briscoe on a late-race, fuel-only pit stop and looked poised to score his first victory in nearly a year before a caution came out with 12 laps to go.
Crafton stayed out on old tires against Bell and Nemechek who both took tires on their final pit stops with about 25 laps to go.
Nemechek quickly moved into second-place on the restart and then used his two tires to pass Crafton and open up a solid lead.
"Its an emotional win. All the hard work that goes in. Everyone works their tails off," Nemechek said during an emotional interview in Victory Lane. "We havent had the best of luck this year. This is an awesome Fathers Day present for dad and team owner (Joe Nemechek). Not knowing how many more races were going to get, this win means a lot."
Nemechek's father, Joe, who is the team owner of his No. 8 NEMCO Motorsports truck, was equally emotional in celebrating his son's victory.
"Weve had some great partners come on board but we only have half our season sold," Nemechek said about his son's funding. "We didnt know if we were going to go next week or when. Its just tough because John Hunter has so much talent. Hes going to be a Cup champion one of these days. Right now were just trying to get to the next race."
Outside of the caution for Josh Reaume with 12 laps to go, the only other cautions came from the stage-ending cautions at Laps 35 and 70.
Briscoe started on the pole but didnt lead a lap in Stage 1. He won the race off pit road at the end of the opening stage and led every lap en route to winning Stage 2.
Nemechek won the first stage after starting on the front row next to Chase Briscoe and led all 35 laps of a caution-free opening stage.
On Lap 114, Todd Gilliland suffered a transmission issue after running in the top 10 for most of the night.
Check out the full race results by clicking here.