John Elway speaks highly of Colin Kaepernick: 'I've always liked him'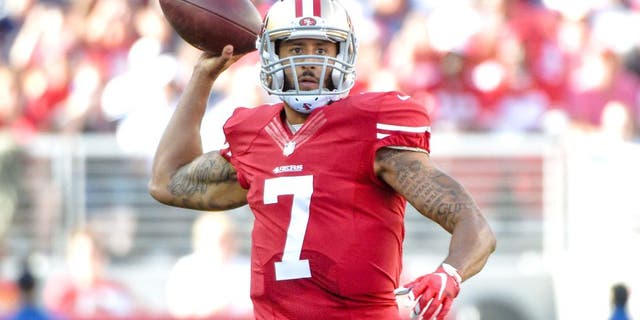 NEWYou can now listen to Fox News articles!
Colin Kaepernick received instruction from two-time MVP Kurt Warner in the offseason.
Now he's receiving praise from Hall of Fame quarterback John Elway.
After the 49ers and Broncos joined together for two practices, Elway had nothing but positive things to say about Kaepernick.
"I've always liked Colin," Elway said, via the 49ers team site. "I think he's very athletic, and he's a guy that can make a lot of big plays. He's doing more within the pocket, which I think will continue to help him. He's a great athlete, and he's got that big-play ability to avoid things and make things happen."
A lot of Elway's comments are what many saw in Kaepernick after he burst onto the scene in the NFC Divisional Playoff game against the Packers during the 2012 season.
Kaepernick totaled 444 total yards of offense and four touchdowns, and led the 49ers to the Super Bowl that season.
Elway's comments are spot on regarding his physical tools, but can the 49ers win with Kaepernick steering the ship?
(h/t 49ers.com)