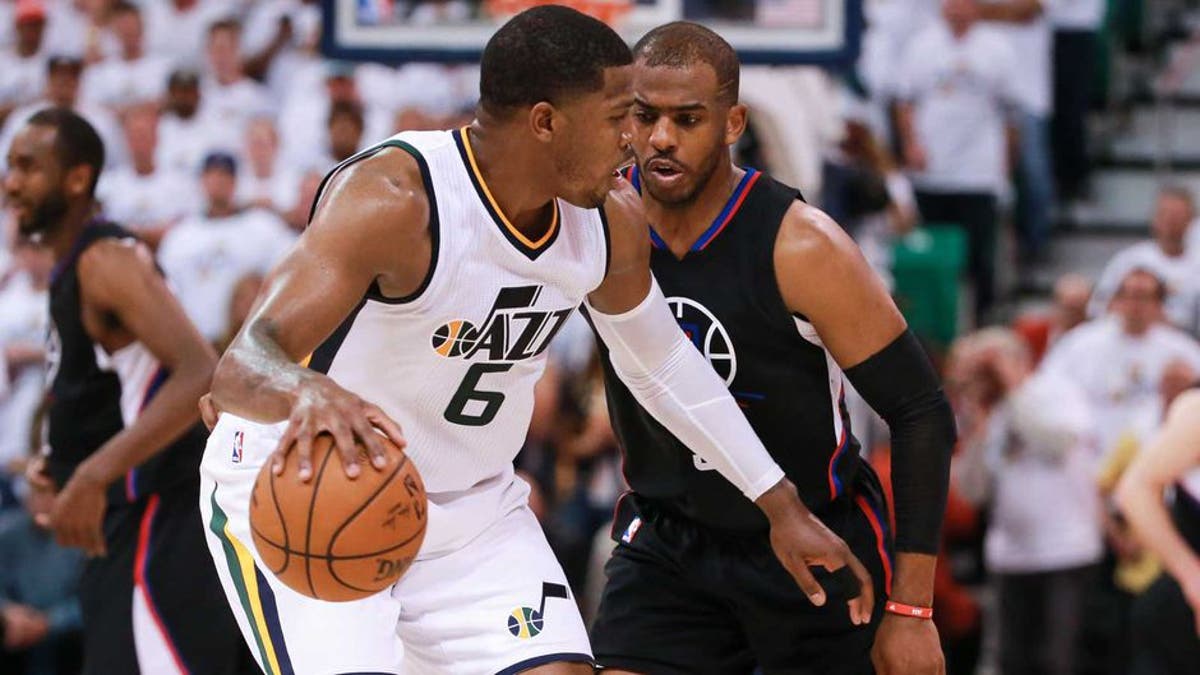 SALT LAKE CITY (AP) -- Joe Johnson saved the Utah Jazz -- again.
"Iso Joe" has become a major problem for the Los Angeles Clippers.
Johnson scored 28 points, and the Jazz beat the Clippers 105-98 on Sunday night to tie their first-round playoff series at 2-all. It was Utah's first home playoff win since 2010.
"He's so sure with the ball," Jazz coach Quin Snyder said. "It's not often you find a guy that has that combination of skill, as far as his ability to handle the ball and make plays. And the strength to get to spots on the floor.
"The thing that really takes us to a unique place is he's such a willing passer. He basically either scored or assisted on every basket (down the stretch). … We knew this is who he is and he knows it's playoff time."
Johnson, who hit the winning shot in Game 1, scored 11 straight Jazz points during a crucial stretch in the fourth quarter, including a pull-up jumper for a 91-90 lead with 3:55 remaining after Utah trailed by seven with 7:37 left. The Clippers never led again after controlling the game for most of the night.
"Just trying to be aggressive and make plays," Johnson said. "We had to get stops, which kind of fueled our offense. … We were getting into the teeth of the defense, whether we had layups, dunks or kick-outs for 3s, thought we did a good job of making the right decision."
Rodney Hood and Joe Ingles, who had a career-high 11 assists, also hit huge baskets for Utah down the stretch. The Jazz needed all the help they could get after Gordon Hayward left with food poisoning.
The series returns to Los Angeles for Game 5 on Tuesday night.
Chris Paul had 27 points, 12 assists and nine rebounds for Los Angeles, which played without Blake Griffin after he suffered a toe injury in Game 3. Griffin has been ruled out for the rest of the postseason, increasing the pressure on the rest of the Clippers.
"We let that one slip away," Paul said. "It was 87-80, and that's on me. Being the point guard, I have to manage the game better and make sure we get good shots.
"We came here to get back home court. Had an opportunity to get two, but it is what it is."
Jamal Crawford scored 25 points, and DeAndre Jordan had 12 points and 10 rebounds. But Los Angeles shot 44 percent from the field, compared to 54.1 percent for Utah.
The Jazz got Rudy Gobert back from a knee injury, and the center finished with 15 points and 13 rebounds. But Hayward departed in the first half.
"We really couldn't score down the stretch," Clippers coach Doc Rivers said. "Joe Johnson and Joe Ingles, those two in particular were phenomenal tonight. (Johnson) made tough shots on our best defender. We should have given him more help.
"He's a tough shot-maker."
TIP-INS
Clippers: Austin Rivers sat out again with a strained left hamstring. He has not played in the series. … Marreese Speights started in place of Griffin.
Jazz: Dante Exum, the No. 5 overall pick of the 2014 draft, made his first appearance of the playoffs. … Hood scored 18 points. Derrick Favors had 17 after being held to two in Game 3.
UNDER THE WEATHER
Hayward played just nine minutes. He spent much of the second quarter in the locker room and was ruled out at halftime. Snyder said Hayward was on his back before the game and received IV fluids. He scored just three points and looked physically sapped. The first-time All-Star was coming off a career-high 40-point effort in Game 3.
BACK IN THE MIDDLE
Gobert returned to the starting lineup after missing the last two games with a left knee hyperextension and bone contusion suffered 17 seconds into Game 1. There was concern he was done for the season when he went down. The crowd roared with his announcement in the starting lineup and he moved well throughout, throwing down dunks and affecting shots on defense.
GRIFFIN GONE
The Clippers are without Griffin for the rest of the playoffs after suffering a plantar plate injury to his right big toe in Game 3. Utah guard George Hill understands after missing 16 games with a big toe injury this season.
"You've got to think, your big toes are the main part of your body to help with balance and explosion and things like that," Hill said. "Just like if you didn't have thumbs, it'd be hard to do a lot of things in your daily life. Just think about your thumbs and big toes are your main points of your body. I'm sure it's something that's excruciating pain for him because I've been in that situation."