Jimmie Johnson, MWR teammates Bowyer, Ragan tangle at Bristol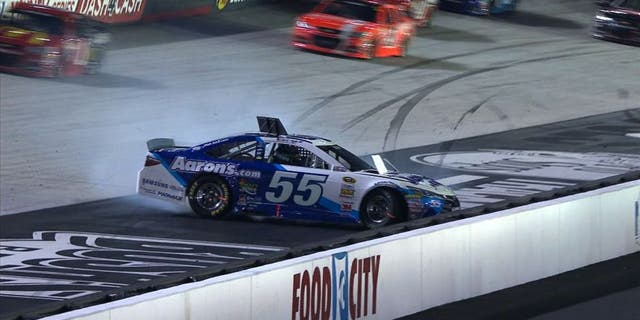 While things were looking up for Michael Waltrip Racing teammates David Ragan and Clint Bowyer during Saturday night's Irwin Tools Night Race at Bristol Motor Speedway, an incident following a restart with 133 laps to go involved both cars.
Racing for the third spot, Jimmie Johnson was on the high side of the track with Ragan in the middle and Bowyer on the bottom as they ran through the corner. As they raced off the turn, Johnson's car made contact with Ragan's No. 55 Toyota, sending him down into Bowyer's No. 15 Toyota.
The contact between the teammates sent Ragan's car sliding down the track where the nose of the car struck the inside wall. As the field raced by, Brad Keselowski's No. 2 Ford could not get slowed down in time and spun Bowyer in the corner.
After the incident, Bowyer was not happy with his MWR teammate, but spotter Brett Griffin told his driver Johnson crowded Ragan, who had nowhere to go. Bowyer was also told Keselowski apologized for spinning out the No. 15 Toyota, saying he could not get slowed down in time.
While Bowyer's team was able to make repairs on pit road, Ragan was forced to take his car to the garage for repairs.
Ragan returned to the race with 84 laps to go, but was 40th on the leaderboard, 44 laps down to the race leaders. Despite being back on track, Ragan was not able to improve his finishing position before the end of the race.
"The 48 (Johnson) jumped on my outside and we were really good on the bottom and it kind of surprised me by getting out there and he held me tight coming off of Turn 2 and then I guess the 15 (Bowyer) got a little bit of a run and there just wasn't enough room for the three of us," Ragan said after the race. "That's the way things happen at Bristol sometimes. It's unfortunate. Our Aaron's Dream Machine was really fast and we had a chance to win. It's uncalled for to get wrecked and to be involved in a wreck like that but all in all just one of those racing things."
With little damage to the car, Bowyer was able to overcome the incident with his teammate and climb back to a fifth-place finish as Joey Logano took the checkered flag at the end of the night.
"You hate to have that good of a car -- have two good cars and the last person you want to get into and have trouble with is your teammate," Bowyer said after the race. "I'm sick to death about that. We had two top-five cars and MWR really needed that run. With that being said we desperately needed a solid run right there. I mean obviously you're hungry for a win with this organization given everything it had and I drove my ass off we just come up short."
With both Bowyer and many within the MWR organization facing an uncertain future after this week's announcement that the team would shut down after the season, the driver of the No. 15 Toyota remained committed to giving it his all through the final 13 races, and that is just what they did Saturday night.
By rallying back to finish fifth, Bowyer now holds a 35-point advantage over Aric Almirola for the final spot in the Chase standings. With just two races left before the Chase field is set, Bowyer is doing all he can to be a part of the 16-driver Chase field.
"This was a big night for us. We needed this," he said. "Great night for us given everything that's happened this week this was certainly what we needed as a group, as an organization to have two cars run in the top five. Sick with what happened with the 55 (Ragan). David has done such a good job of stepping in and filling in that seat and being a good teammate. We certainly didn't want to see that."