Jimmie Johnson after All-Star Race: 'The damn rule book is too thick'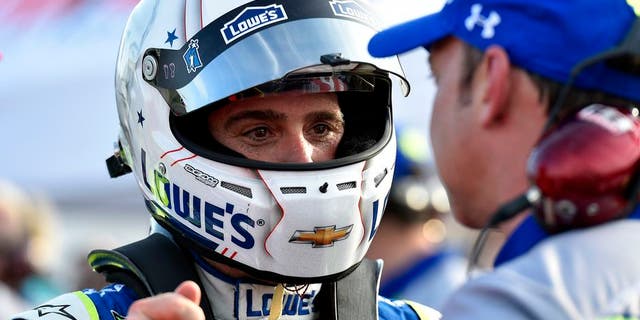 CONCORD, N.C. -- If there's one thing we learned in the Monster Energy All-Star Race at Charlotte Motor Speedway, it's that drivers had a hard time making passes after the first few laps of a restart.
Jimmie Johnson won Stage 3 of Saturday night's four-stage, 70-lap event and started first for the final 10-lap stage. But it was Kyle Busch that cruised to victory after making quick work of Johnson on the final restart of the race from the third position.
Johnson tried to fight back for the lead as hard as possible, but it was to no avail, finishing third after Kyle Larson made a last-lap pass in the final corner.
Despite the lack of passing, there was no shortage of effort from NASCAR and Goodyear, providing a pair of tire compounds -- the harder Prime tires and softer Option tires.
When asked if NASCAR should consider moving the all-star event to a different venue despite valiant efforts, the driver of the No. 48 Hendrick Motorsports Chevrolet had a mixed opinion.
"There's no doubt that mile -- and -- a -- half racing puts on a certain type of show," Johnson said. "There's some that argue line us up at Bristol for an All -- Star Race and we'll have the wildest night of racing you've ever had in your life. I've had so much success here. I love being at home. I'm really torn on where to go with it."
In the same breath, Johnson commended the efforts Charlotte puts forth each year to make the race as entertaining as possible.
"I think Charlotte Motor Speedway works as hard as they possibly can put on a great show," said Johnson. "They're open -- minded to any and every idea."
Johnson is a four-time winner of the Monster Energy All-Star Race. For that reason alone, he would hate to see it leave NASCAR's backyard.
"So I don't mind whichever direction it goes," Johnson added. "I think I'd be sad to see it go because I've won so many All -- Star Races here, and I would naturally want to pick one of my best tracks to have it go to. I think the All -- Star Race should move to Dover. It would be a great night (smiling)."
Going back to the racing style of 1.5-mile racetracks, Johnson indicated that part of the issue is just how equal all of the cars have become.
"The one thing I don't want to overshadow, we're always looking to make things exciting," Johnson said. "We all run the same speed. You can't pass running the same speed. It's just the bottom line."
That puts track position at a premium, making the race off pit road that much more crucial.
"Pit road is so important," Johnson said. "The short run when the tires are cool, how the car acts and behaves, two to three laps, it's where the race is won or lost now. It's just the environment we're in."
"It's a credit to the garage area being smart, not in a negative sense, but the damn rule book is too thick," he added. "There's too much going on. We're all running the same speed."
NASCAR has made great strides in ensuring that all the cars and competitors are on a level playing field, but that effort also comes at a price.
"I just know when you look at qualifying and you look at the cars on the track, we want parity, we want the manufacturers to all have the same opportunity to go fast," Johnson said. "These teams all build the same stuff. We all sit there and run the same speed. I mean, it makes sense. We all have access to the same stuff."
At the end of the day, the seven-time Cup champion believes the sport collectively has to look at the situation as a whole in order to come up with a proper solution.
"I'm just like everyone else in this sport -- I have an opinion, but I don't have an answer," Johnson said. "I guess I say that in trying to not say that it's the track's fault or something that's going on here. Mile -- and -- a -- half racing is mile -- and -- a -- half racing. It's kind of that way. When all the cars are qualifying as tight as they do, we can't pass as easily as anybody, we have to logically look at it and say, 'Hey, we're all going the same speed, no wonder we can't pass.'"